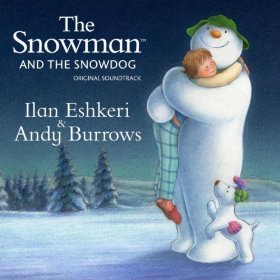 Snow Business
As The Snowman and The Snowdog flurries onto DVD and Blu-ray™ for the first time this winter, we take a look at the history of our cold companions
American journalist Bob Eckstein is so intrigued by snowmen that he has devoted his life to becoming the world's leading expert. Now to mark to launch of the enchanting animated story The Snowman and The Snowdog, on 4th November 2013, Bob shares 10 of the most fascinating facts he has collected during his career.
1 The Snowman and the The Snowdog is one of 23 movies with the word "snowman" in the title.
2 There are more than 500 books with Snowman in the title – all but 15 of these are for children.
3 A total of 12,379 snowmen were built by people in Sapporo, Japan, in 2003, setting a new world record.
4 The record for the world's largest snowman was set in 2008 in Maine, USA. The snow-woman stood 37.21 m in height, and was named in honor of Olympia Snowe, a local politician.
5 The average number of snowflakes it takes to make a snowman is 10,000,000,000.
6 Famous artists and sculptor Michelangelo created a snowman as well as his more famous works of David and the Sistine Chapel. It didn't snow often in Florence but there was a tradition among artists to populate the city with snowmen if it did. Michelangelo was commissioned to create one in January 1494 as part of a winter festival.
7 Hundreds of snowman festivals and contests take place around the world every year. The biggest is the Ice Lantern Festival in northern China.
8 Tibetans believe that Snowmen live on the slopes of the Migo, known as Snowman Mountain. Tibet is also where the legendary Abominable Snowman is believed to have first been spotted. Some now suspect it was a bear that had been spotted and mistaken for a mythical monster.
9 In 1876 a prudish women in Paris called Madame de La Bresse left money – today worth £30,000 – with the instructions it should be used to clothe naked snowmen in the streets of the city.
10 During a very bad winter in 1511 the people of Brussels covered the entire city in snowman as part of a government backed scheme to boost the moral of those suffering plague and sickness
Take home your own piece of snowman history when The Snowman and The Snowdog was released on Blu-ray and DVD for the first time on 4th November 2013.