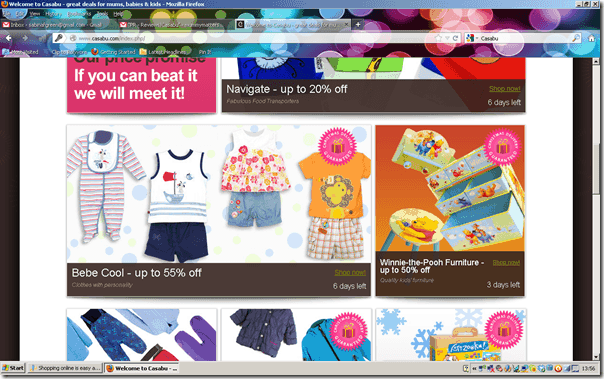 Shopping online is easy and rewarding!
Before having children, a day out shopping was something to look forward to, a day which I would normally spend with my Mum and would really enjoy but since having children I pretty much hate having to hit the shops with my children in tow. Quite understandably they find it boring and get rather testing of my patience. They play up, I get stressed out, we go home early, they win and I end up with nothing that I went out for! So is it any surprise that since having children I have begun to do more and more of my shopping online, not just the weekly food shop but much of my Christmas shopping, clothes shopping and general gift buying is all done online. It's stress-free, I can do it in the evenings when the children are in bed, I can search for EXACTLY what I want and compare prices without having to leave the comfort of my sofa with a cup of hot chocolate at my side. Because of this I was asked if I would like to review a couple of online shopping sites and this is what I thought;
Casabu.com – Great deals for Mums, babies and kids
My first impression of this site was how clean and modern it looked, I also liked the fact it advertises "great deals" as I am always on the lookout for a bargain!! To shop on Casabu you need to sign up to become a member but it takes just a few minutes and the cost is FREE!!!
If you're in a hurry and know exactly what you are looking for then you can just type it in the search box at the top right of the screen, otherwise you can browse at your leisure by Brand, Age or Category. When you log in to your home screen you will be shown a list of the current deals on offer and how many days are left for you to take advantage of the offer but make sure you don't miss it or you'll miss out.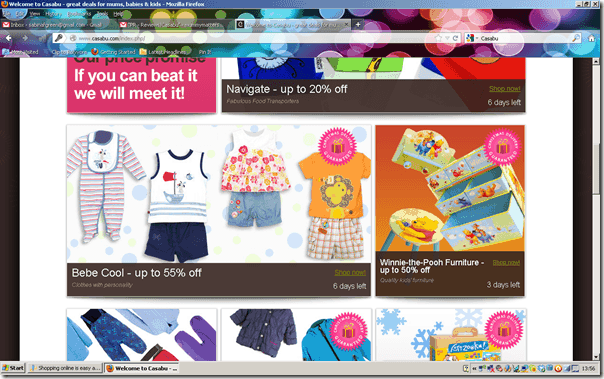 With Christmas just around the corner, Casabu want to be sure that you don't miss out on that vital gift so every item that is marked like this can be delivered in time for Christmas and you get free delivery on all orders over £75.
The ordering process is really simple and the items that I ordered were with me in just a few days. I really like this site and will definitely be shopping here again in the future!
MyICE.com – Where you get paid to protect the environment!
Myice.com is another free to join online shopping site which enables you to save money on the brands that you love and the ones that you haven't yet heard of. ICE's shopping partners all have one thing in common, they are provide sustainable and energy saving products and services which you can then purchase and be rewarded for because you are helping to do your bit for the environment. ICE recognises the strength of consumer purchasing power and wants to harness that for a better future for the younger generation and by rewarding those who help to make the difference now with points to spend on their future purchases.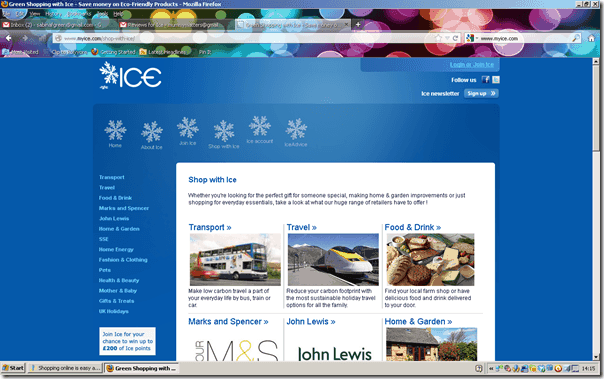 My combining the points you earn with cash/card/paypal you can get earn great discounts and rewards whilst feeling proud of yourself for caring for the environment at the same time. Each ICE point is worth 1p but on some purchases you will find that ICE doubles up on your points for added discount.
For a full list of ICE partners click here. You can make savings and earn rewards for transport, travel, home & garden, food & drink, M&S, John Lewis, SSE, home energy, fashion & clothing, pets, health & beauty, mother & baby, gifts & treats and UK holidays.
Boots Treat Street – because we all deserve a little treat now and then!
Yes Boots Treat Street has been around for a while now but it's still great isn't it. I'm a big fan of Boots anyway so why not do all my shopping online with Boots or one of it's partners and earn points to treat myself or my family with whilst I'm at it?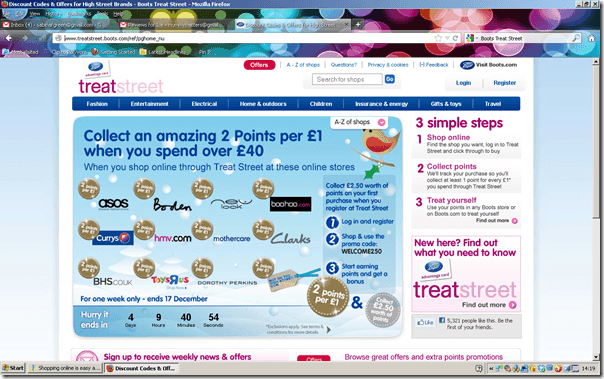 Boots Treat Street is really easy to navigate with drop-down menus for ease of selection and a handy little counter which tells you how long you have left before the current deals expire. If you're a first time user, you can collect £2.50 worth of points on your first purchase when you register for Boots Treat Street using the promo code WELCOME250 and that's on top of the 2 points per £1 spent that you would normally receive anyway. To make sure that you don't miss out on the best offers you can sign up for a weekly newsletter and it's all for free!