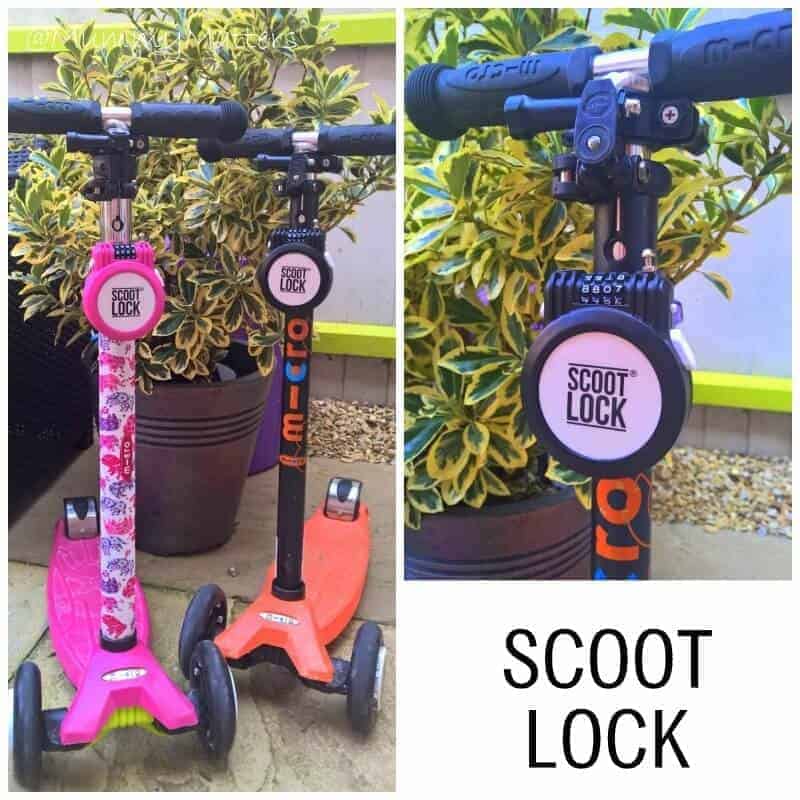 Scoot Lock Review
The School run before . . .
Ever since the Beans have been at school they have loved it when we have walked to school or I have surprised them by walking to collect them. They used to ask if we could do it every day but I'm not particularly a morning person so it hasn't always been possible. Jelly Bean went to pre-school in a different town two days a week I couldn't physically make the journey on foot between the two schools in time so we always travelled by car.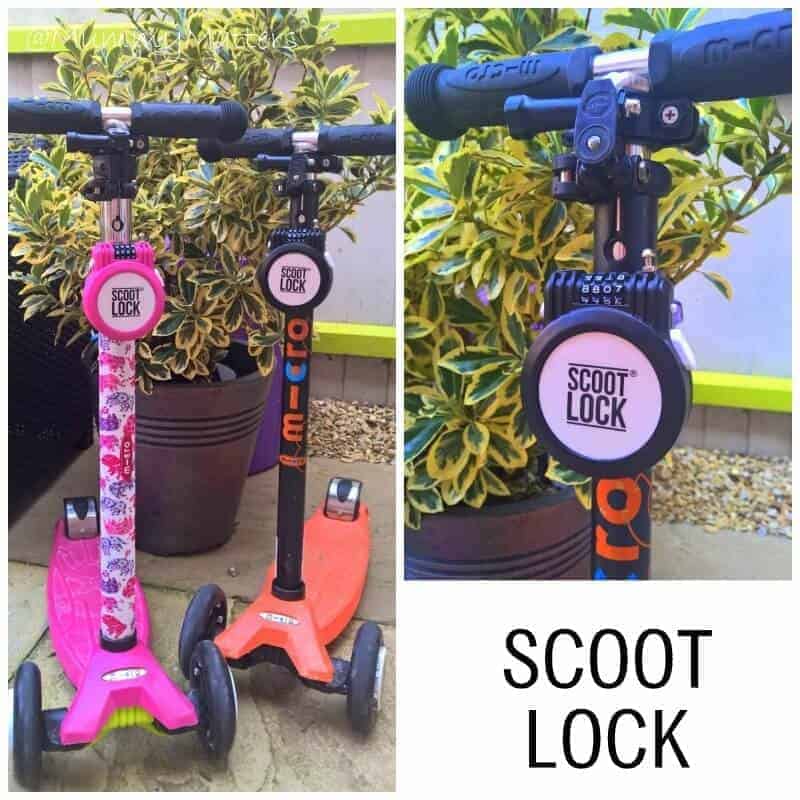 The School run now . . .
This school year things are different, Jelly Bean now attends the preschool attached to their school and so last week we walked to and front school every day and the Beans loved it. We have been taking their scooters which has given me the added bonus of a brisk walk which adds to my daily exercise so it's a win all round. The only thing which makes me slightly nervous is leaving their scooters at school. These things don't come cheap and sadly my friend had their son's scooter stolen. Not only did they have to deal with their son's heartbreak but they had to find the money to replace his scooter too.
So last week we put the new Scoot Lock to the test and they received lots of positive attention at the school gates. Scoot Lock is a brightly coloured lock with a reflective front and rear panel, great for being seen by motorists during the Autumn/Winter months and a combination lock with cable.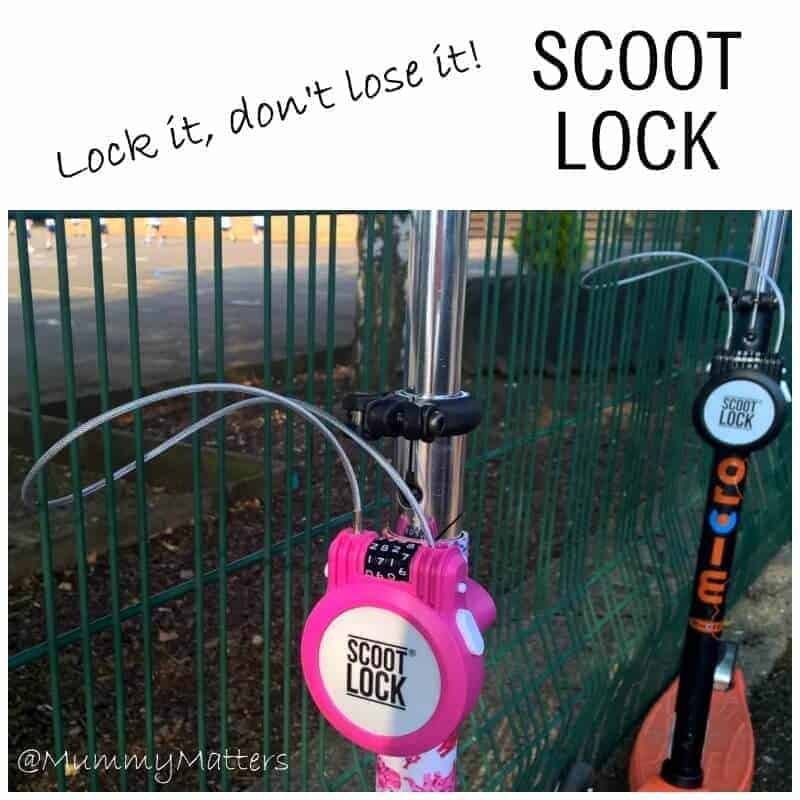 Fitting Scoot Lock
Hubby had the Scoot Locks fitted in less than 5 minutes using the Alan key provided and with the protective cover in place the Scoot Lock was ready. Little Bean's scooter has a decorative cover on the stem which made it a cosy fit but it fitted all the same. If you happen to have a scooter with a narrow stem the Scoot Lock comes with rubber filler pads to make it a secure fit.
Setting the Combination Lock
Setting the lock is really easy, just press the small button on the side whilst you scroll each dial to your selected combination and then release. The code is now set.
Lock up your scooter
Lock it or lose it, it's as simple as that. When we arrived at school we locked the scooters to the bike racks or school fence depending on where there was space. It was just a case of pulling out the lock cable from Scoot Lock, looping it around a secure object just as a fence, lamp post or bicycle rack and then clicking it back into the Scoot Lock.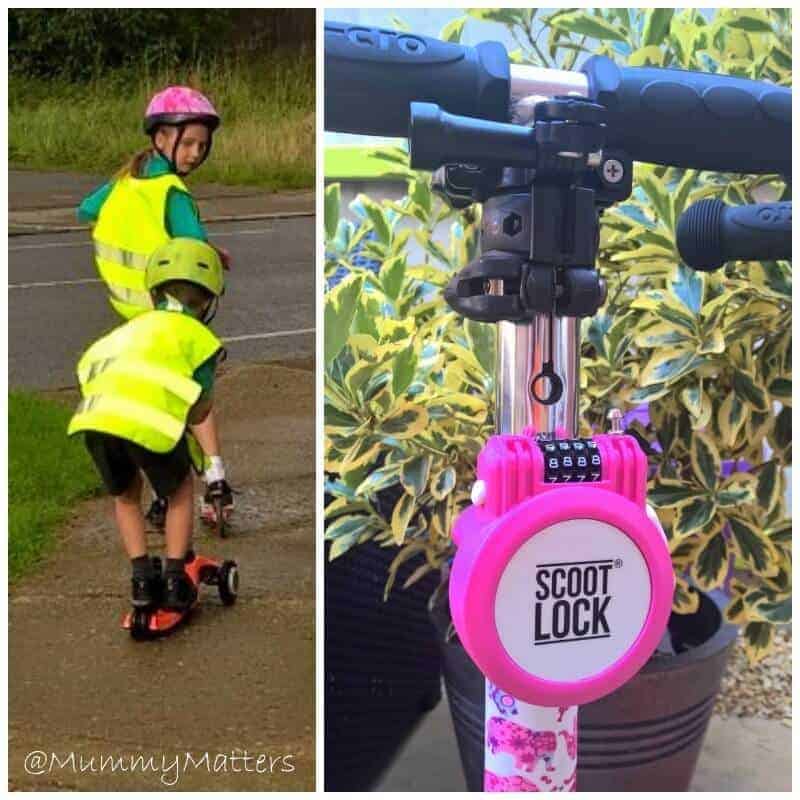 Unlocking Scoot Lock
To unlock Scoot Lock simply turn the dials to the correct combination and the cable is released, then with a quick depress of the large white button on the side, the cable recoils into the lock and you are ready to scoot once more.
The Scoot Locks come in a choice of 4 bright colours and 1 black so they will go with most scooter colourways. Each unit costs just £19.99 and is available from Amazon.