Romance isn't dead yet!
Aren't they beautiful? These were the flowers which my lovely husband presented to me for Valentines Day and I loved them for being so much more than just a flower. You see romance isn't dead yet!
Romance is alive and kicking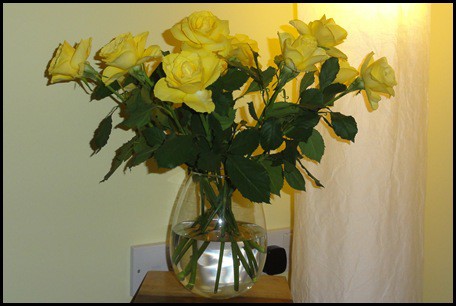 Many of you may be thinking 'they're not red' but there is a reason for that.  I've always loved yellow roses, I don't really know what it is about them, I guess they look cheerful and summery even in the middle of winter. They also remind me of my Grandma's garden where she planted roses of all colours.
In Victorian times the yellow rose represented jealousy but thankfully in modern times this has been updated to friendship, joy and caring which is definitely the basis of our relationship. We were friends for almost two years before we began dating.
A little bit of history
Before Hubby and I got together we worked together at opposite ends of an office. I was having a conversation at my desk with a colleague and we were talking about gifts we had received on previous valentines and what we liked.
At the time, Hubby (who wasn't my Hubby or even my boyfriend at the time) was sat at his desk at the other end of the room earwigging getting on with his work.
I told my colleague that I actually preferred yellow roses to red and that if a man wanted to catch my heart he'd just have to buy me yellow roses and lemon bonbons (because I love them too!!).
What a lovely surprise!
I didn't really think about that conversation again until the following year as I was leaving work and approached my car in the car park to find a bouquet of yellow roses and lemon bonbons sat on the windscreen.
At this point, we had only been seeing each other for about two weeks so I was completely blown away. We have now been together 7 years and each year he still buys me yellow roses and lemon bonbons without fail – until this year that is! As you can clearly see I have my roses but he says that he couldn't find lemon bonbons anywhere – I guess I'll let him off just this once.