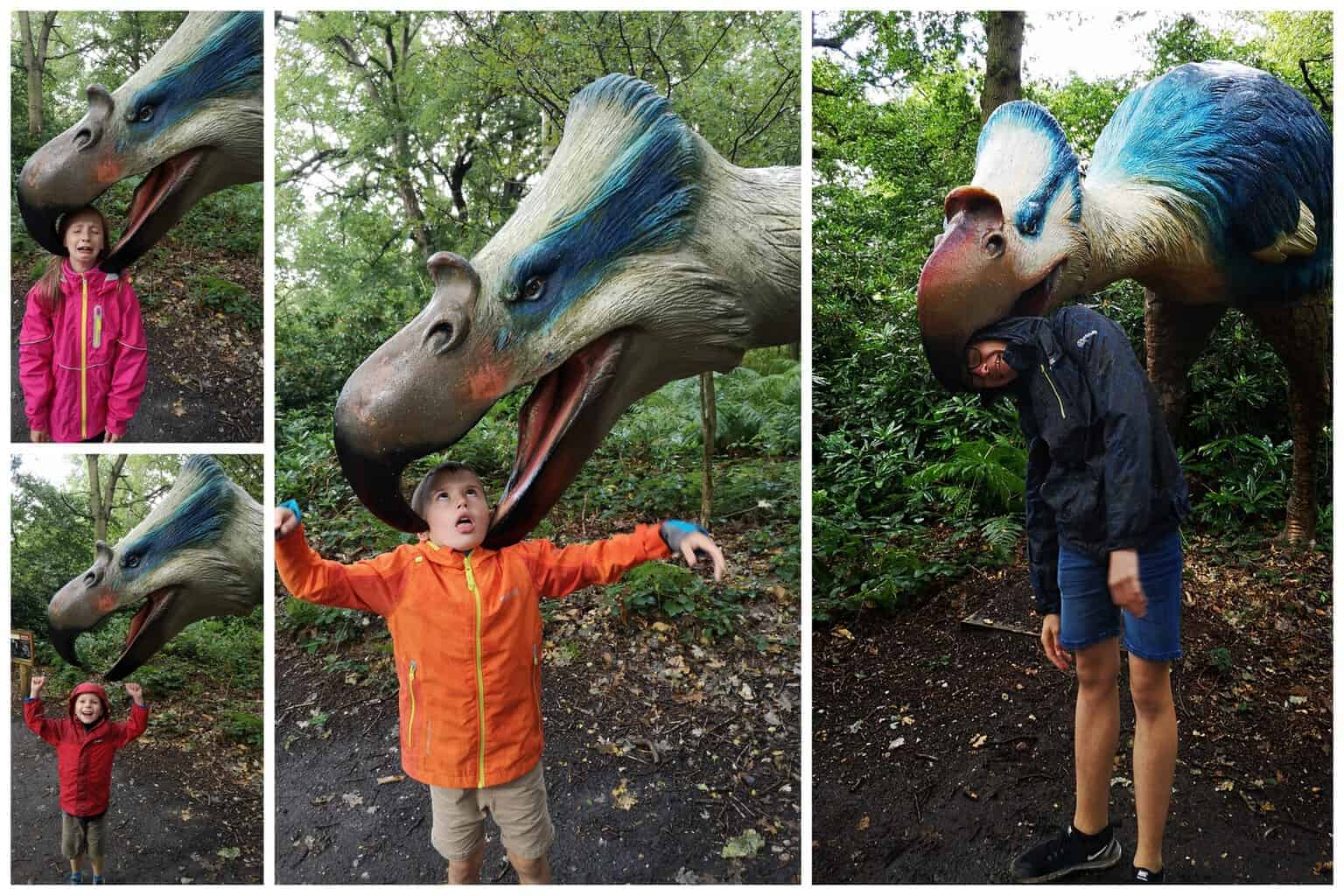 Roarr! Dinosaur Adventure – a day in the rain!
The last time I visited Roarr! Dinosaur Adventure in Norfolk it was as a special Mummy and Ollie day out before he started in Reception at Primary School. It's a day that he has talked about often since then. When we were camping at West Runton last week the children handed me the leaflet for Dinosaur Adventure and asked if we could go.
Rain won't spoil the play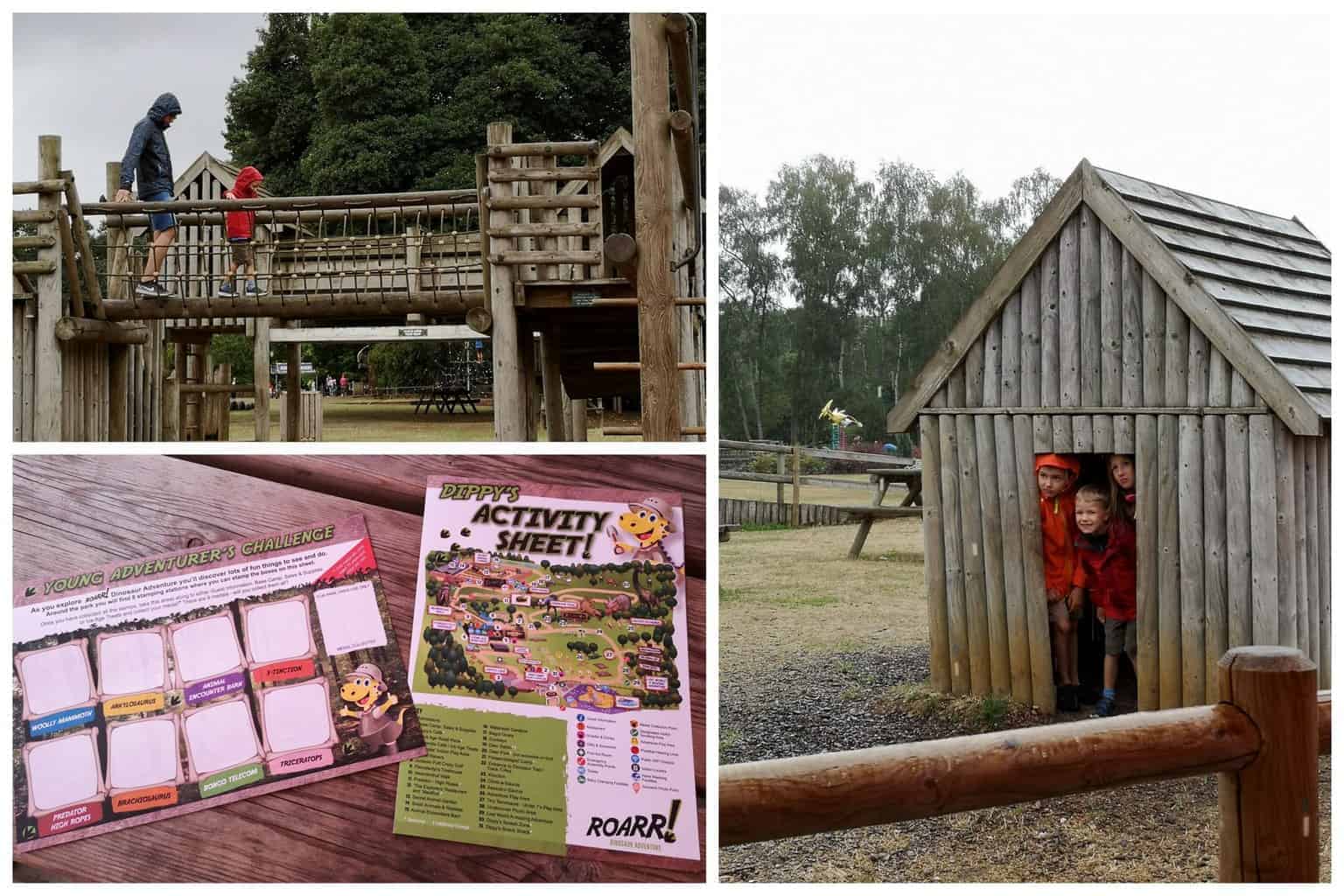 When we arrived the sky was already starting to look quite grey so it came as no surprise to us that within 10 minutes the heavens opened and the rain began to pour. We had two choices, bail and go home or put up our hoods and get on with our day. We chose the latter!
Jurassic Putt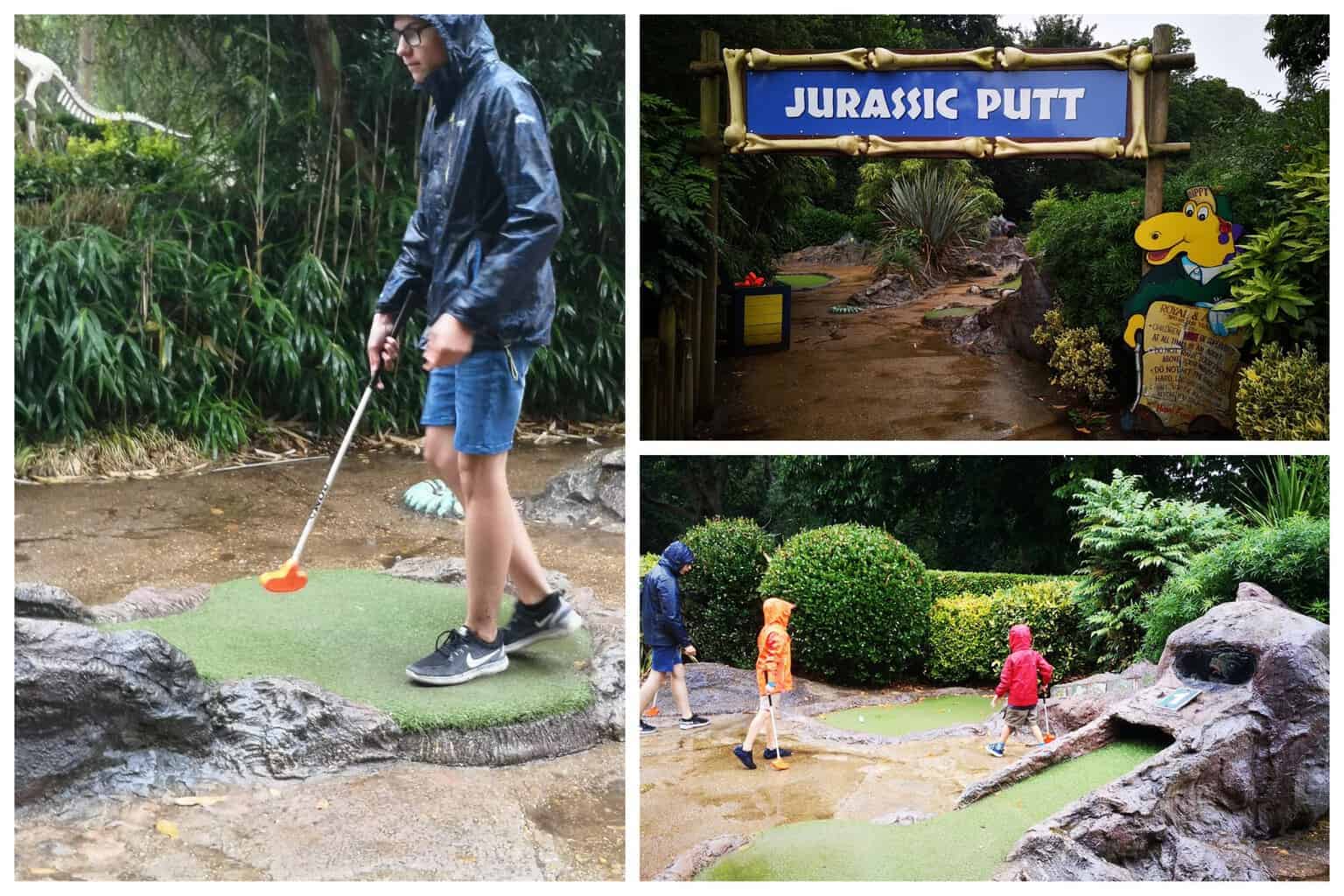 Now that Albie is that little bit older we are loving playing crazy golf as a family. The rain was pouring so hard at this point I kept dropping my phone because it was so slippery. All of the activities apart from the Deer Safari are free once inside so it can be a 'yes' day where you just allow the children to do whatever they want. They loved playing on Jurassic Putt, even though the holes were full of water. We also went on the Raptor Racers but I didn't manage to get many good photos because they were zooming around so fast.
Neanderthal Walk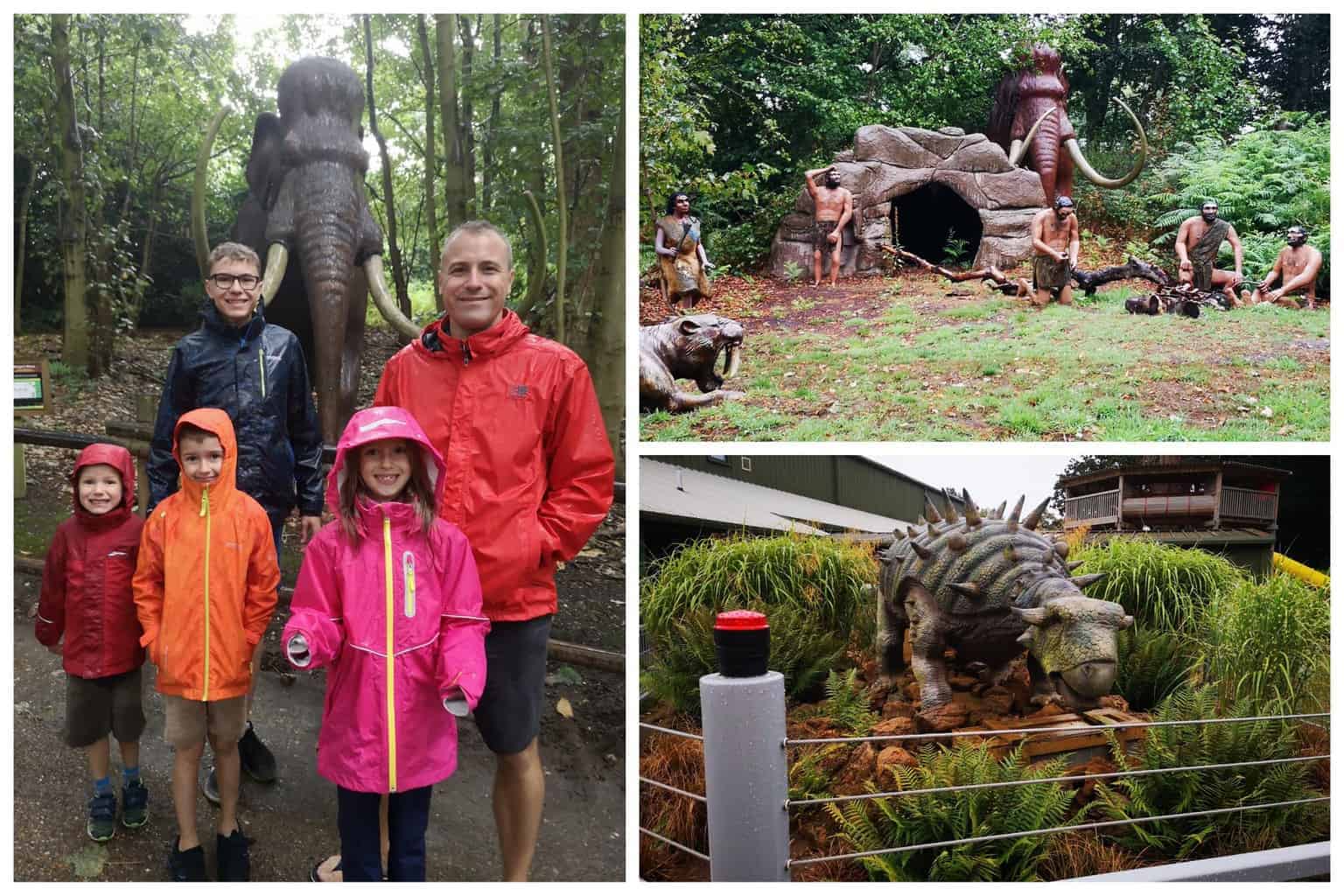 Ollie and I noticed some differences since our last visit to Dinosaur Adventure a few years ago as we walked down through the trees to the lower level area of the park. The woodland creatures and prehistoric cavemen were still living in the woods but the long zip wire had gone, luckily I knew what had taken its' place and it was something I knew they would all love.
Predator High Ropes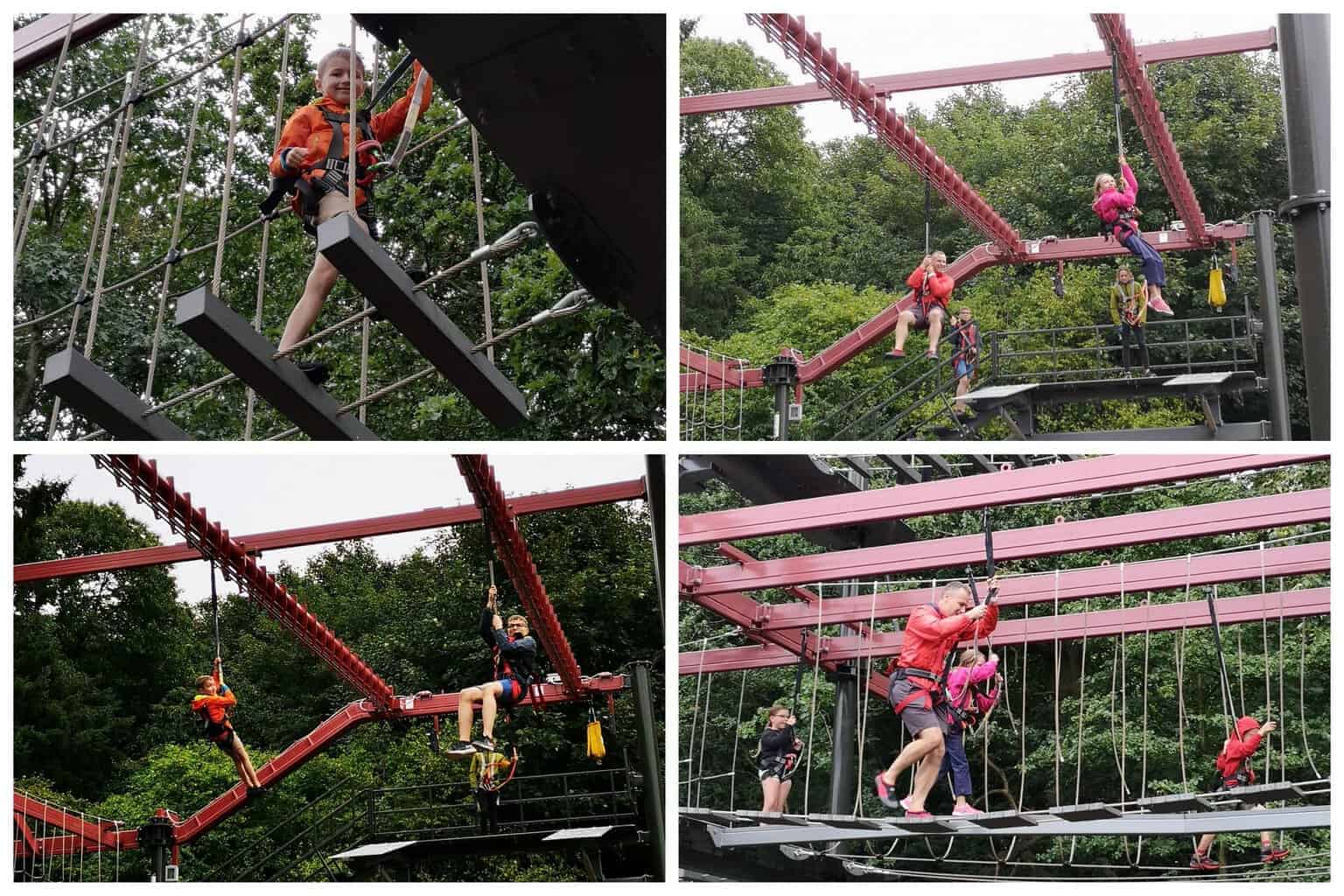 The Predator High Ropes were a huge hit with Dad, Will, Lillie and Ollie. Albie and I could have joined them but Albie wasn't feeling so brave. After watching a short safety video they were all kitted out in their safety harnesses and attached to the rails. Once they were locked in they could move around the High Ropes in any direction they choose over two levels, each time coming back to the start via a controlled zip wire.
Secret Animal Garden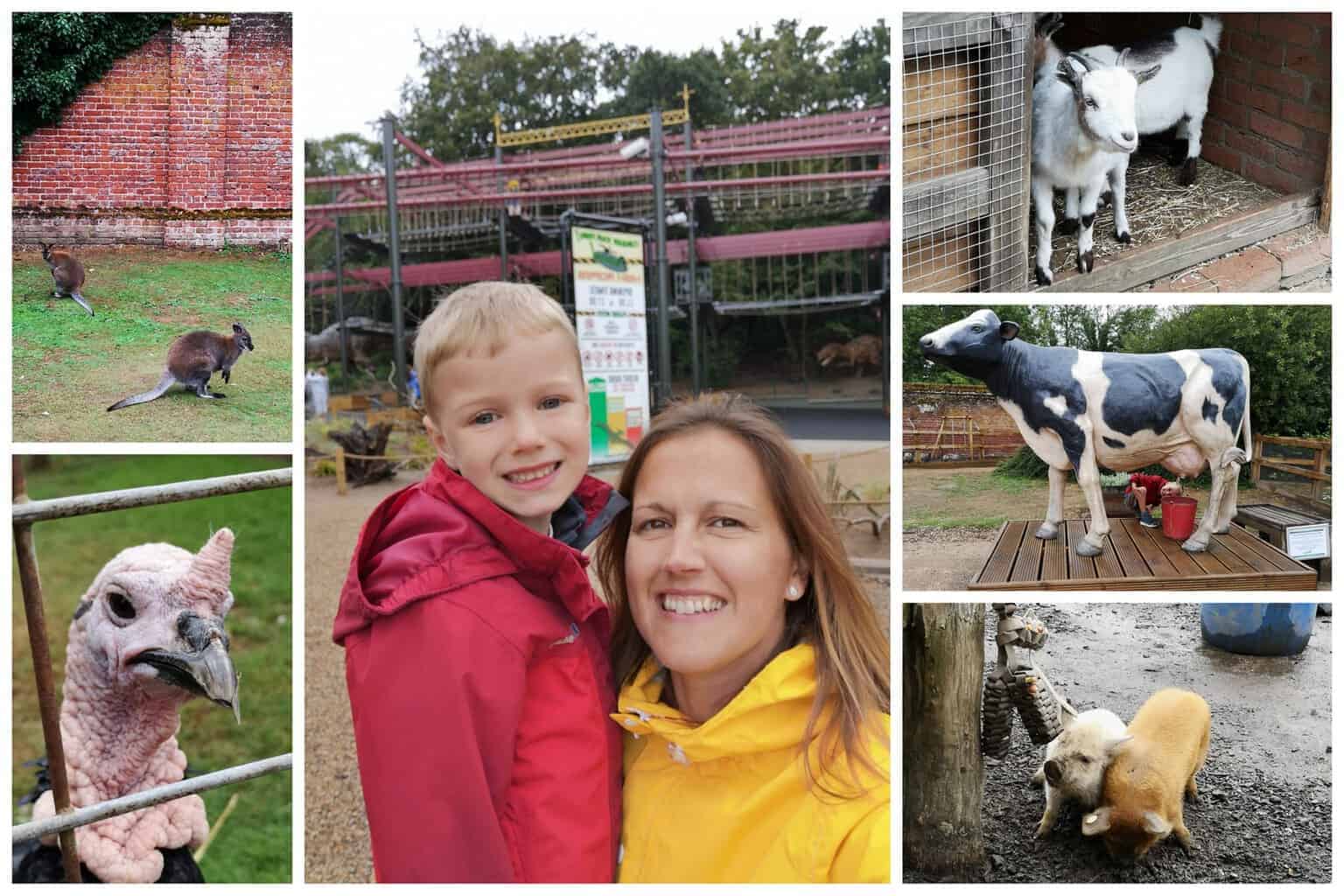 With the rest of the gang swinging around in the air, Albie and I went off on our own to check out the Secret Animal Garden. We met a very curious turkey with a broken beak, rabbits, guinea pigs, reptiles and rats. We both laughed out loud watching the pygmy goats headbutting each other and cooed over the miniature pigs who were very cute indeed.
Animal Encounters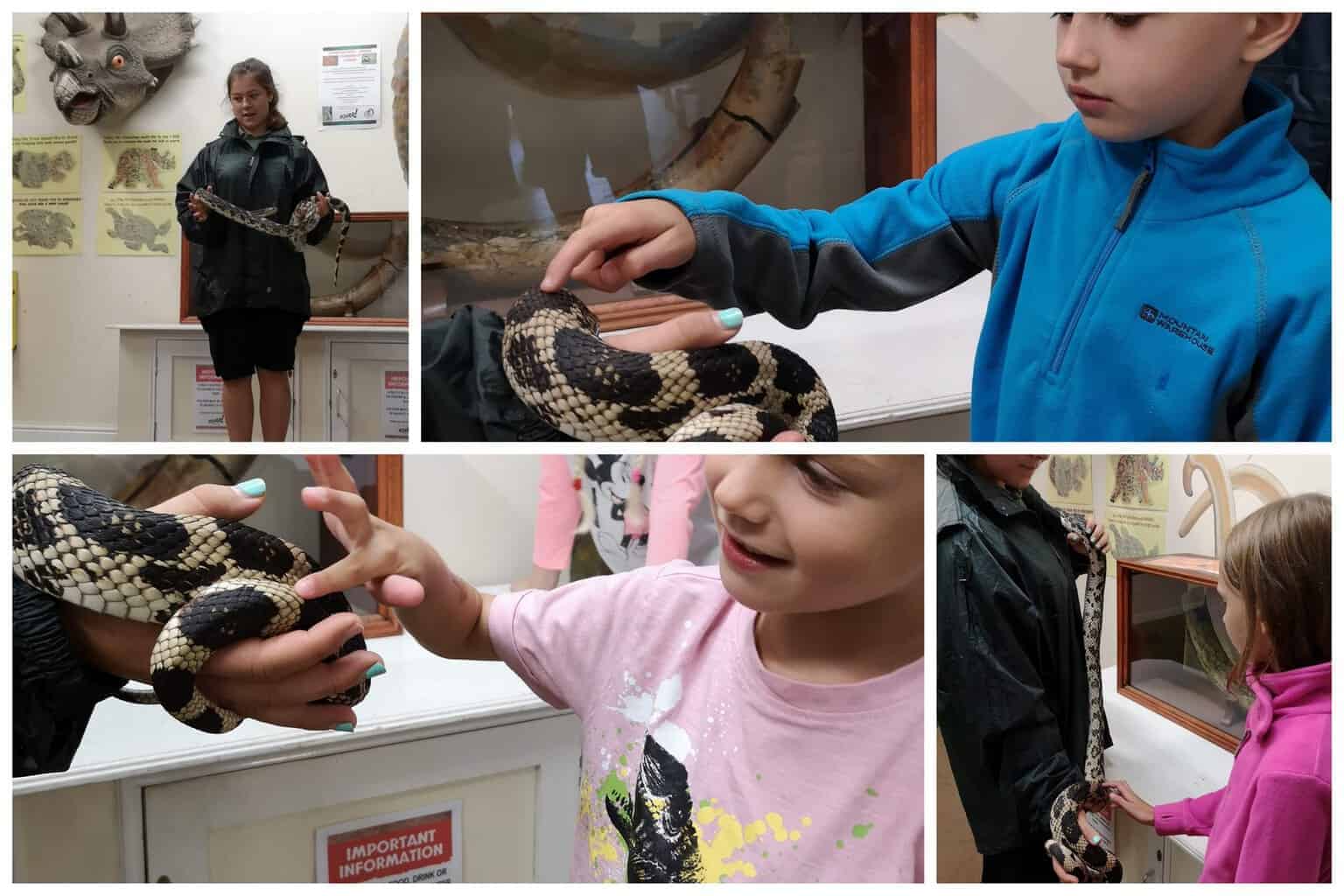 Ollie remembered the Animal Encounters room very well as this was where he first got to stroke a Bearded Dragon, they are still one of his favourite reptiles today. We visited Animal Encounters twice during our visit, firstly to meet the snake and later to meet a Ferret. Albie was initially very worried about touching the snake but once he had plucked up the courage he didn't want to leave it.
Deer Safari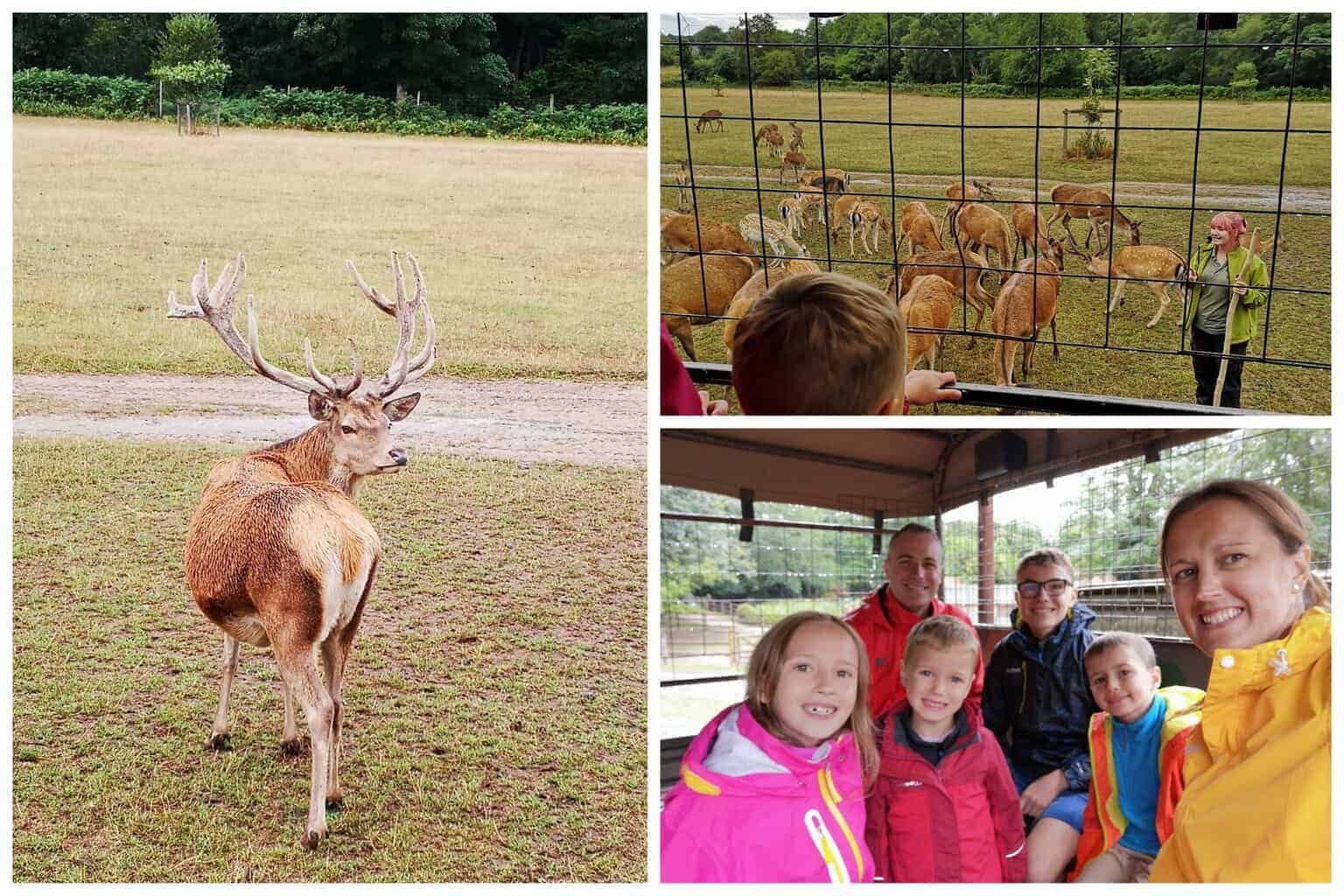 The Deer Safari took us out in trailers on the back of a tractor into the fields to the back of Dinosaur Adventure where we were introduced to their two herds of deer who live together. They have a herd of Red Deer and a herd of Fallow Deer. It was fascinating to hear stories of how high they can jump (you would be amazed), how fast they can run and how one deer jumped into the enclosure and loved it so much they never left and so now they have a new family thanks to the outsider making himself at home (if you know what I mean).
Dinosaur Trail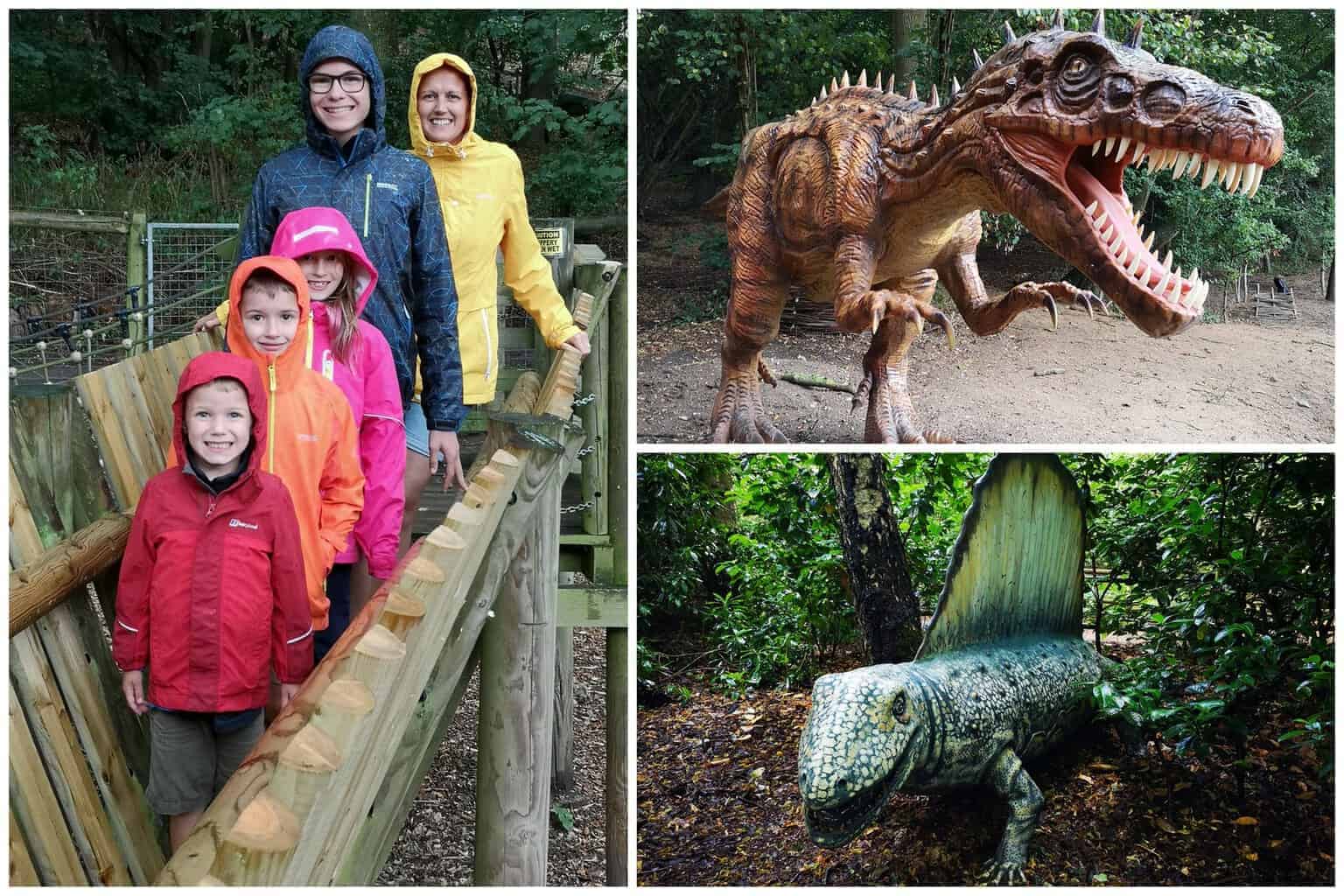 With the rain still falling we began our walk through the woodland to follow the Dinosaur Trail. The Beans loved this because (a) the woodland canopy shaded us a little from the rain and (b) lots of the Dinosaurs had plaques explaining who they were and how they got their names. There were so many hidden in amongst the trees, you'll have to pop over to our Facebook page to see the rest of the photographs of our day.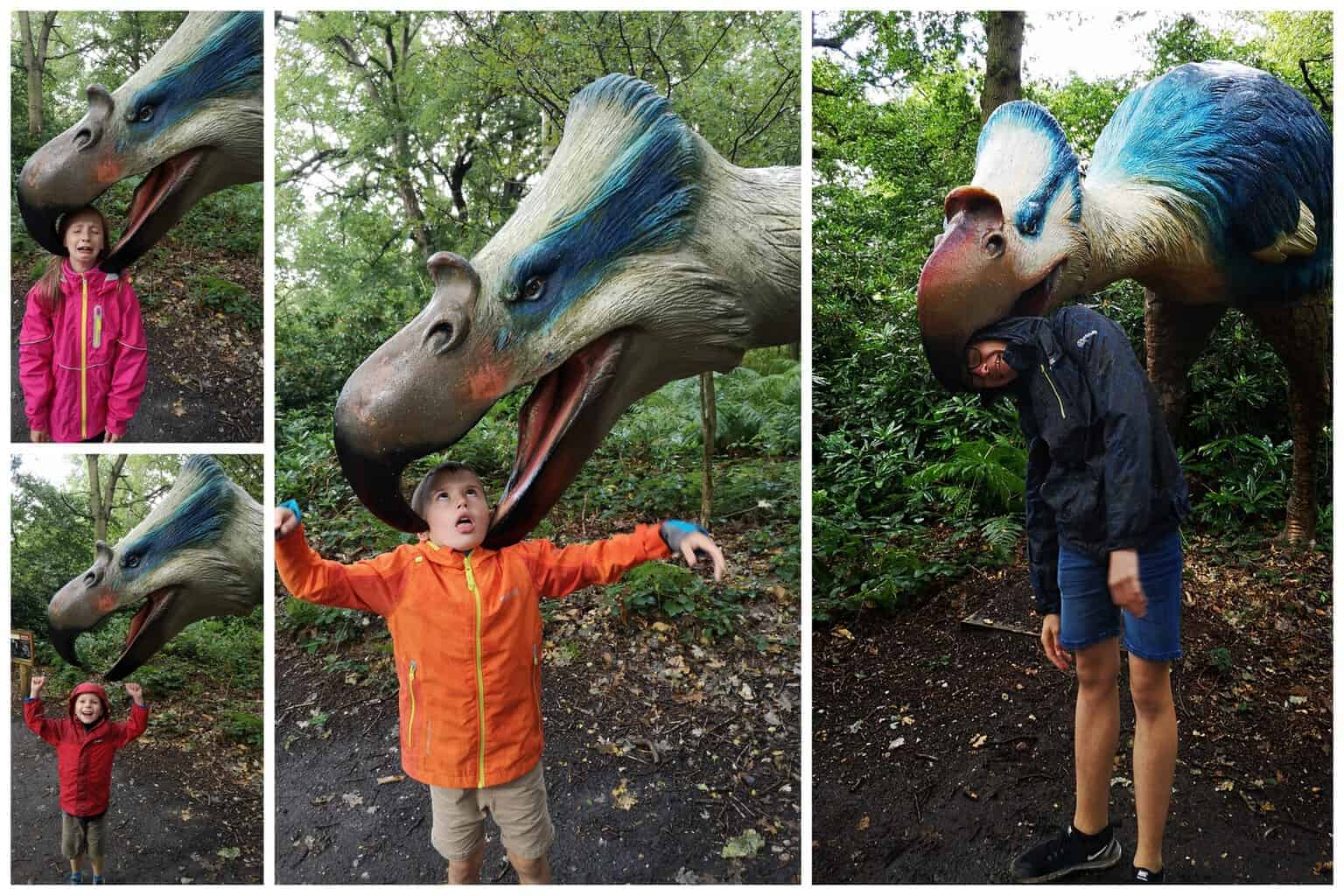 This group of photographs makes me giggle, the Beans are always a bunch of jokers and drama queens so they couldn't wait to stick their heads into the dinosaurs mouths and pretend they were being eaten or attacked. When it got to Albie he couldn't reach which I thought would raise a tantrum and tears but instead, he cheered and said: "yay they can't eat me".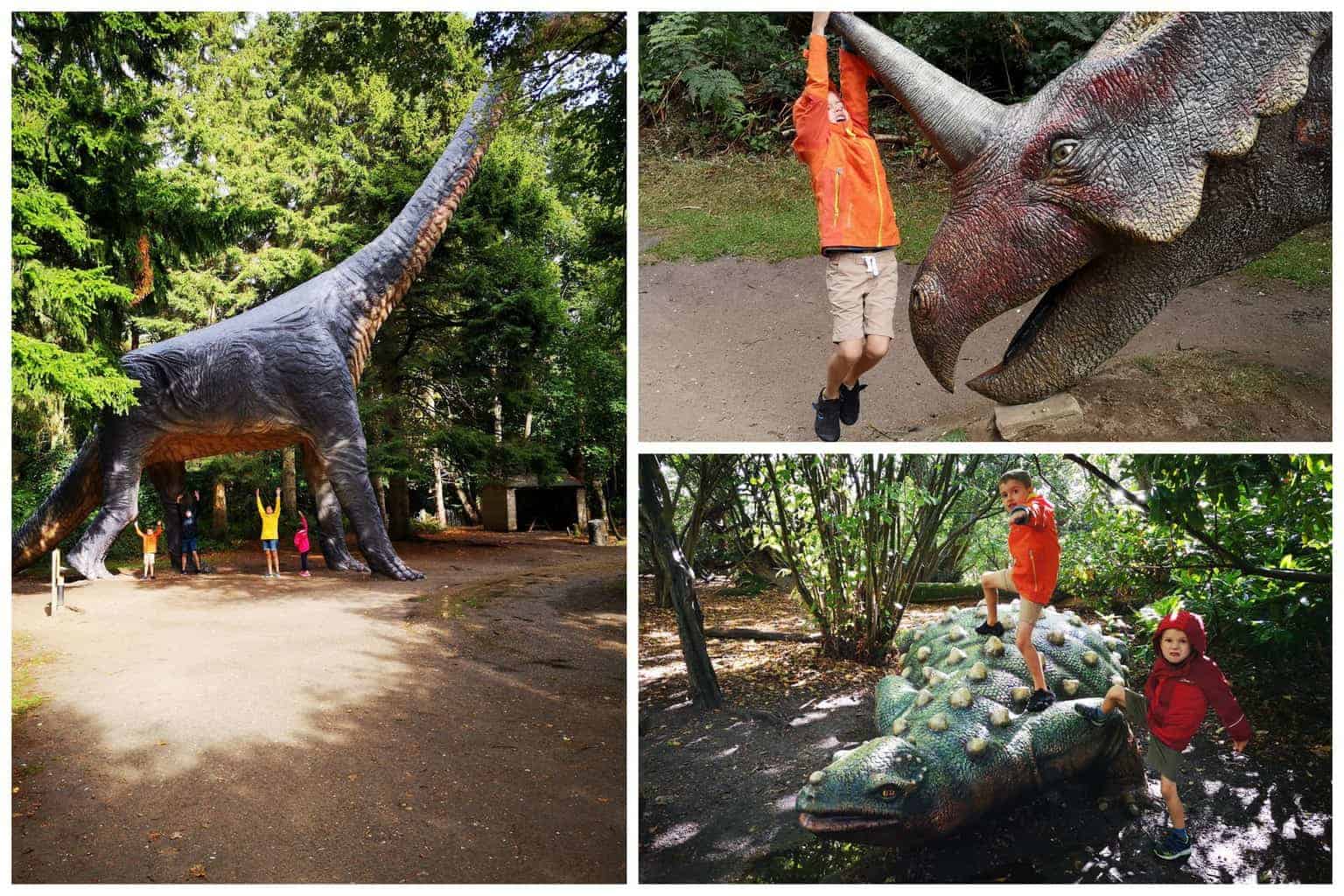 We tried to tickle the tummy of the friendly Diplodocus but alas he was just too tall, even for Will and I. Ollie and Albie decided to be Dinosaur Hunters and captured themselves a dinosaur (whose name escapes me – answers in the comments please).
Xtinction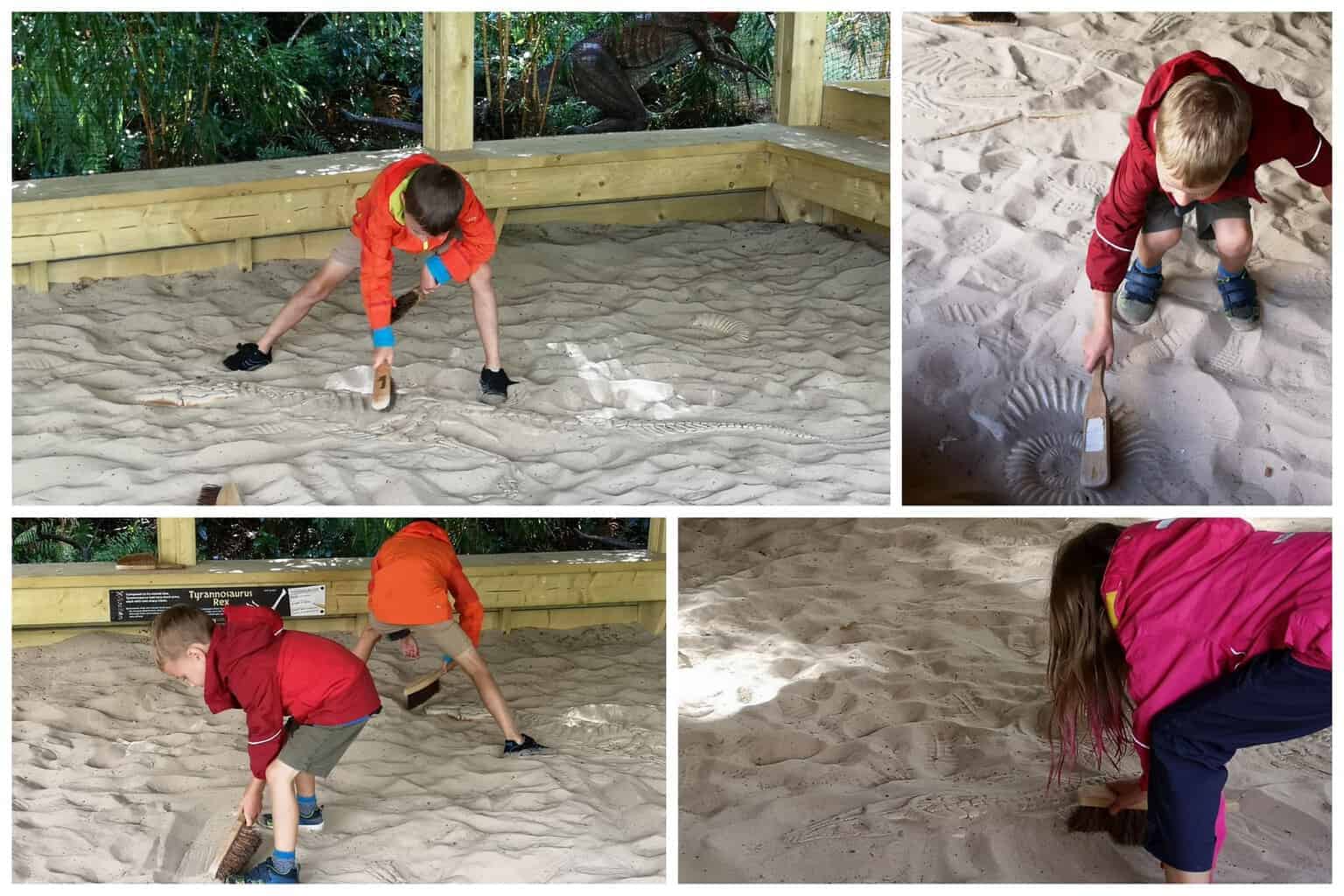 At the end of the Dinosaur Trail, the Beans tried their hands at being archaeologists for the day and used brushes to carefully expose the fossils of ancient dinosaurs. Albie and Lillie loved doing this and stayed for ages trying to find all the hidden fossils.
Climb-a-Saurus and Assault-a-Saurus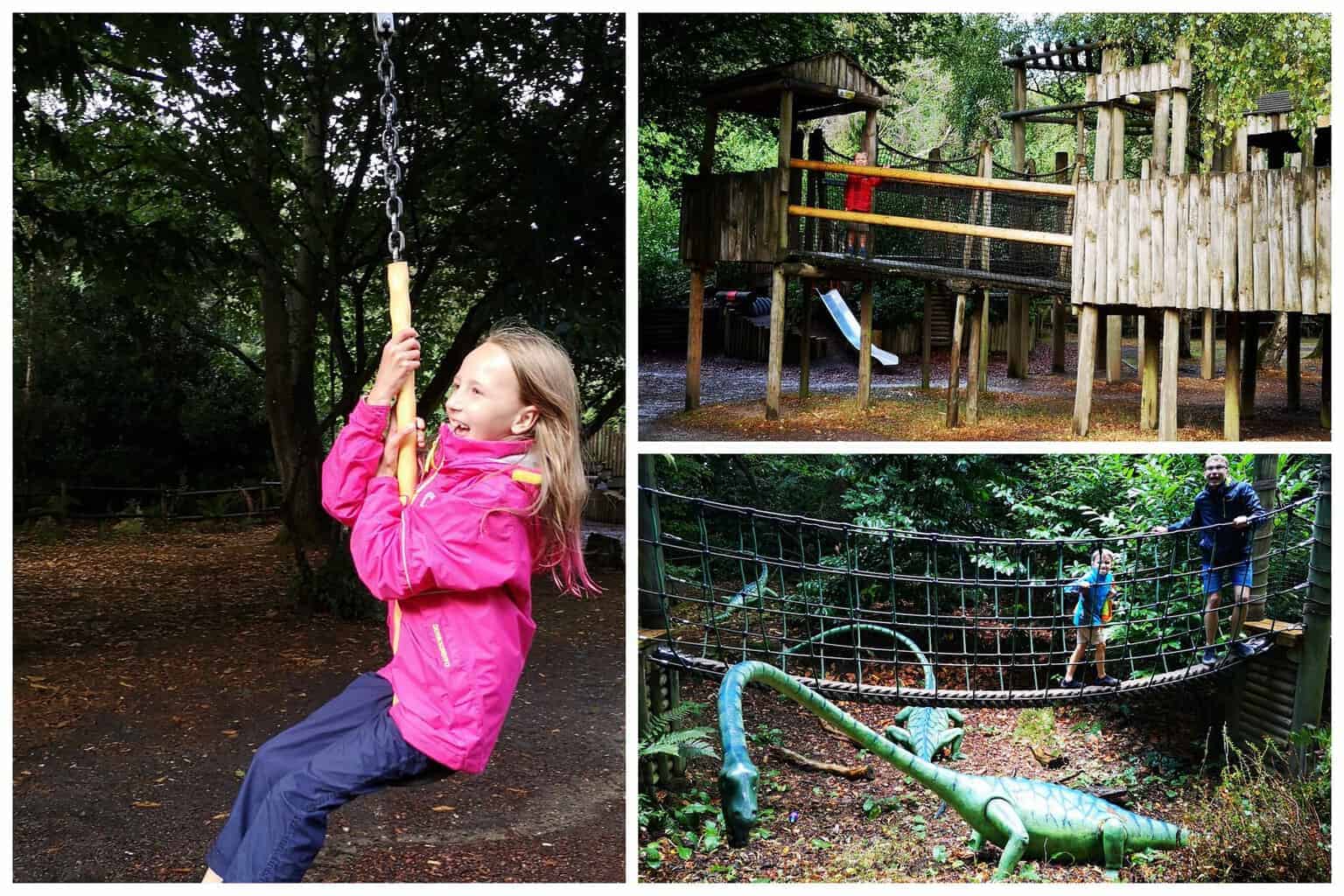 As our day was drawing to an end the sun came out and the rain dried up so the Beans had a blast on the climbing frames, assault course, zip wires and searching in the Lost World (although Albie did get a little worried in there).
Dinomite Indoor Play Area
We finished off our day at Roarr! Dinosaur Adventure in Dinomite Indoor Play when the majority of the visitors had gone home. This meant the Beans had a blast chasing each other around and interacting with those children who were staying to the very end like us. I didn't take any photographs in here unfortunately as I was too busy relaxing after a busy day with a well-deserved cup of coffee from the cafe.
It's a shame that the rain came with us to Dinosaur Adventure but as you can see we didn't let it spoil things for us, we just made the most of it. There were a few things that we couldn't do like Dippy's Splash Zone because it was too cold and some of the outdoor climbing equipment as it was too wet and slippery earlier on in the day. We asked the children on the way home what they thought and it and a resounding cheer of "brilliant", "awesome", "wicked" and "amazing" which I think meant they thought it was pretty good and they will definitely want to go back again.
DISCLAIMER: We were given complimentary access to Roarr! Dinosaur Adventure in exchange for our honest review of the park. All words, images and opinions are my own and may not be copied without my permission. I have not been instructed what to write.