Review: The Sixty Minute Grandparent by Rob Parsons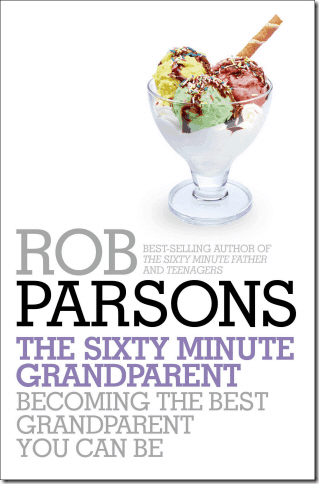 I was recently sent a copy of The Sixty Minute Grandparent to review, the book was released on the 11th April and is a 'go to' book for Grandparents.
There are many different kinds of grandparents – tired-out or over-eager, super-involved or unsure how to help, unwilling or ever-ready. In this simple book Rob Parsons will help you reach the common aspiration: to be the best grandparent that you can possibly be. An accessible and enjoyable opportunity to rethink your grandparenting priorities including:

Why grandparents matter
The baby stage
Helping out without interfering
Toddlers
When to speak and when to keep your mouth shut
Grandparents as carers
Finding your place in a blended family
Teenagers
Keeping your daughter-in-law onside
Long-distance grandparenting

In the current financial climate Grandparents are becoming more and more important in the childcare equation – here's how everyone can get the most out of it.

Rob Parsons OBE is a bestselling author and international speaker, and the founder of Care for the Family, a national charity committed to strengthening family life. His books include The Sixty Minute Father and Teenagers! Find out more about Rob and Care for the Family at www.careforthefamily.org.uk
I already know that my Mum is a great 'Nanna' to my children so I asked her to read the book for me and tell me her thoughts, this is what she has to say;
As a child growing up my Nan and Grandad were always so special to me, as were my parents to my own daughter. They would welcome us all with open arms and give us nothing but undivided love. This experience gave me an invaluable insight to the role once I became "Nanna" myself.

My grandchildren are so very special to me being the extension of my daughter who is my world. They make me laugh and sometimes make me cry with joy but most of all they never cease to amaze me. Their thoughtfulness is endless, especially as the tots are only 2 and 4 years old but already they recognise emotions and act accordingly. They are never selfish and will willingly share their toys, cakes, sweets and stories with me at the drop of a hat – I do love them all. My youngest grandson is only a couple of months old but already he recognises my funny face and his face lights up with a beautiful smile when he sees me.

Having read The Sixty Minute Grandparent from page to page I can only agree with the information and confirm that this is my style of being a grandparent to a tee. I like to be fair, I don't have favourites (being the middle child from a family of three girls I know what it's like to take a back seat). I like to encourage and also to listen intently should things be on the tot's minds. It is amazing what information you can extract with a few chosen words (also a kiss and a cuddle is an essential "Nanna tool").

I always ensure I am singing from the same hymn sheet as my daughter and son-in-law. I would never override family rules whatever the reason, this is just not fair. Whatever my take on the situation is my daughter has sole control of the children throughout the day so support is important from all members of the family. However, a Nan never wants to be a 'baddy' so any reprimands are short and sweet.

In closing I think many people will benefit greatly from this book, it offers some good advice.
Details:
Hodder & Stoughton
11th April 2013
£11.99 Hardback
DISCLAIMER: I was sent a copy of The Sixty Minute Grandparent for the purpose of this post. I was not instructed what to write.