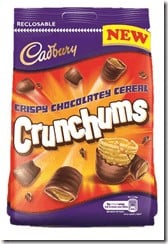 Review: New Cadbury Crunchums
"Would you like to review some chocolate?"
"Ermmmmmm, let me think about that for a minute? No, thank you I'm trying to eat healthily"
"YES PLEEEEEEEEEEEASE!!!!"
There was no chance on earth that I would be turning down the chance to 'have' to eat chocolate. The latest offerings from Cadbury are Cadbury Crunchums the crispy chocolatey cereal.
Cadbury launches curious, crunchy, chocolatey combinations, made in Joyville

Cadbury, renowned for its great tasting chocolate, has launched a new product set to tantalise the nation's taste buds in an unexpected way.

The deliciously different new Cadbury Crunchums are a one-of-a-kind, wonderfully moreish snack of crunchy cereal bites, coated in delicious Cadbury milk chocolate.

Unleashing an entirely new taste experience, bags of Cadbury Crunchums are the perfect way to bring something new to the party: they're a unique way to enjoy delicious-tasting Cadbury chocolate and a crunchy snack all in the same mouthful.

Delivering all you need for a tasty treat, new Cadbury Crunchums deliver an unpredictable chocolate taste that unexpectedly works.
When it comes to chocolate I will often select the ones which have crunchy pieces in, I love chocolate with nuts, biscuits, popping candy, really anything crunchy at all so I thought Crunchums would be a sure win for me. Unfortunately though, I didn't really like them, I didn't dislike them but they just didn't do it for me and I don't know why.
I gave the remainder of the bag and the other bags to friends and family who all thought I had lost the plot as it turned out that I was the only person who didn't like them. They said that they enjoyed them as a light chocolatey snack with the great Cadbury's chocolate taste. They come in a resealable bag but honestly, I don't ever see the point in them, who EVER only eats half a bag????? Perhaps it's so that you can reuse the bag for storing something else like the children's stone collection or something?
DISCLAIMER: I was sent three bags of Cadbury Crunchums for the purpose of this review. All words and opinions are my own. You may not copy my work without my permission.