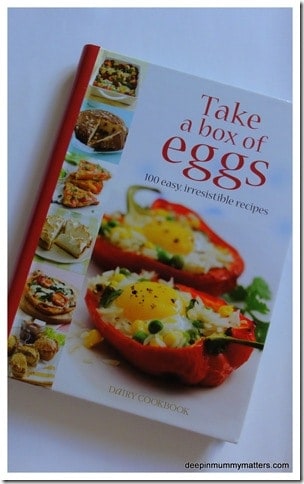 Review: Take a box of eggs Cookbook + Recipe
When you have a fussy eater as I do in Little Bean, you will try anything to get some 'good' food into them. One of the foods that I consider good, would be eggs as they are full of protein. Even better if they simply refuse to eat meat. Eggs I find can be quite adaptable as you can easily hide them in some foods without Little Bean even noticing. Of course, life with Little Bean couldn't be so simple that she would like boiled egg and soldiers (my childhood favourite) or even scrambled eggs (Beanie Boy's favourite) or Omelette, oh no not Little Bean, she won't even attempt to try something like that.
Take Box of Eggs Cookbook
The part where I generally fall down with cooking is lack of imagination because I'm not a big fan of cooking I don't tend to let my imagination run very far, I need prompts and ideas. A couple of weeks ago an email landed in my inbox which immediately perked up my interest, the title "Take a box of eggs". Initial thoughts were 'egg decorating for Easter'? Nope too far away, so not wanting to make my brain fizzle out with the stress of thinking (come on I am pregnant!!) I decided to just read the email and see what they had to say. "How would you like to review the new Dairy Cookbook: Take a box of eggs". Now I remember Dairy Cookbooks from way back when I was moving out of home and my Mum gave me her old copy of the Dairy Cookbook and it was brilliant, nothing too fancy, just plain and simple cooking – right up my street! So I said, "yes please".
Lay flat book
When the book arrived I was pleasantly surprised to find a cookbook not much bigger than a DVD case, perfect as I'm running out of storage space in this house. I also like the fact that it is spiral bound with a covered spine so it's got a bit more chance of lasting more than just a couple of months AND you don't have to fight with the pages to keep them open (never good when working with eggs as it can get very sticky!!). The book is divided into user-friendly sections; Introduction, Toasts & Snacks, Vegetarian, Fish, Meat, Bakes and Desserts (always save the best until last!! Each recipe gives a breakdown of the preparation time, standing and cooking time. The number of calories and fat per portion as well as a QR Code which you can scan into your Smartphone to add to your shopping list.
Baby steps
Now I would love to say that I have converted Little Bean and that she is eating happily from the Vegetarian, Fish and Meat sections but who would l be kidding. I'm taking things slowly and we have been doing a little more of the recipes from the Bake section and she even tried some French Toast the other day, we still had to put tomato ketchup on it but I can let that slide if she is eating more eggs.
Bread and Cheese Bake Recipe
Another recipe which I have found that Hubby and I liked for a snack on a Saturday lunch time is the Bread and Cheese Bake. It looks rather like Bread and Butter Pudding but it's more savoury and a little bit delish!!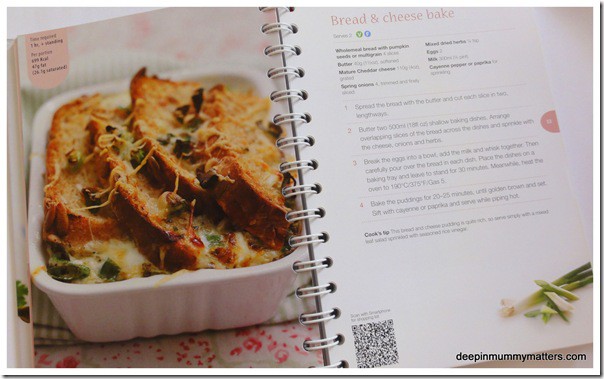 Serves 2
Ingredients
Wholemeal bread with pumpkin seeds or multigrain 4 slices
Butter 40g (1 1/2 oz) softened
Mature Cheddar cheese 110g (4oz)
Spring onions 4, trimmed and finely sliced
Mixed dried herbs 1/4 tsp
Eggs 2
Milk 300ml (1/2 pint)
Cayenne pepper or paprika for sprinkling
Method
1. Spread the bread with butter and cute each slice in two, lengthways
2. Butter two 500ml (18fl oz) shallow baking dishes. Arrange overlapping slices of the bread across the dishes and sprinkle with the cheese, onions and herbs.
3. Break the eggs into a bowl, add the milk and whist together. Then carefully pour over the bread in each dish. Place the dishes on a baking tray and leave to stand for 30 minutes. Meanwhile, heat the oven to 190C/375F/Gas 5.
4. Bake the puddings for 20-25 minutes, until golden brown and set. Sift with cayenne or paprika and serve while piping hot.
Cook's tip: This bread and cheese pudding is quite rich, so serve simply with a mixed leaf salad sprinkled with seasoned rice vinegar.
Giveaway Time – CLOSED
If you would like to get your hands on one of these Dairy Cookbooks for yourself or perhaps for a Christmas present, then just enter my competition below using the Rafflecopter entry form to win one of three copies.