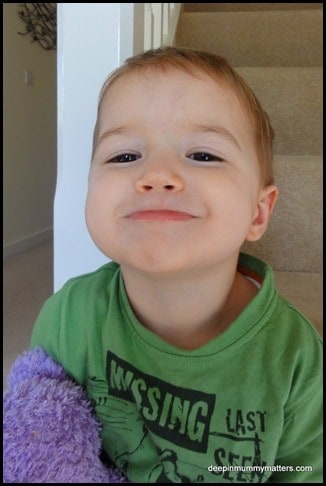 Jelly Bean got his first telling off!
In the last couple of weeks Jelly Bean's kicks have been getting much stronger and he is less inclined to hide away when a hand is placed on my bump. He is becoming quite inquisitive and will push or kick against my tummy wherever the hand is, more so if the person attached to the hand actually talks to him. I really want Little Bean and Beanie Boy to bond with Jelly Bean before he arrives so I encourage them to talk to Mummy's tummy and pat it, kiss it or in Beanie Boy's case, he loves to blow raspberries on it!!!
Last night whilst having our tea Jelly Bean began to kick and wriggle around and so I said to Little Bean "quick he's kicking, do you want to feel" so excitedly she placed her hand on my tummy and said "hello baby, this is your big Sister talking" and he responded with a kick to her hand which made her face light up with delight.
This morning whilst having a cuddle on the sofa with Beanie Boy I felt Jelly Bean wriggling and kicking so I quickly placed Beanie Boy's hand on my tummy and said "talk to baby" and so he copied what Little Bean said last night "hello, me big Sister!!" (yes I need to explain this to him) and again Jelly Bean responded with a kick which Beanie Boy clearly felt. He looked at me with a shocked expression and said "what's that?". I said "that's baby kicking you" to which Beanie Boy looked at my tummy and said "no baby, no kicking, naughty baby!". Oh dear, that told him then!!
(I asked Beanie Boy to show me his 'cross' face for this photograph – he couldn't because he was too busy stifling a laugh!!).