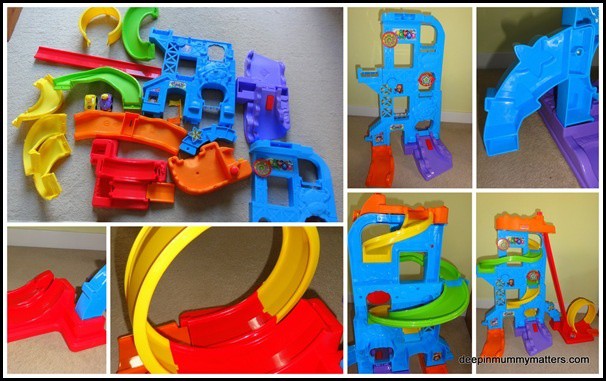 Review: Fisher Price Little People Wheelies Loops n Swoops Amusement Park
Can you believe that Christmas is less than 10 weeks away already? I can't, I don't know where that time has gone but it's time to start thinking about Christmas presents again. Yesterday afternoon, Little Bean, Beanie Boy and I spent the afternoon playing with the new Fisher Price Little People Wheelies Loops n Swoops Amusement Park (I don't think they could have picked a bigger title for it if they had tried!!).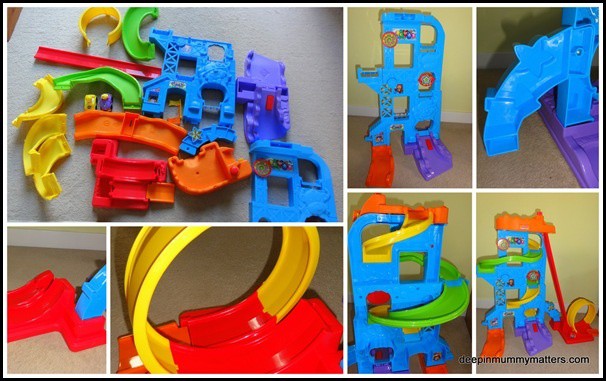 I have learnt in the past that any toys which require building before being played with need to be hidden away from the children's beady eyes until it is ready to be played with so I tried to be sneaky yesterday afternoon, I found a DVD which they hadn't watched in a long time and got them firmly glued to the square babysitter in the playroom whilst I tried to sneak into the lounge with the boxed up toy. It would appear however that my son is far too clued up on my tricks as he promptly followed me into the lounge and said "Mummy what doing?" then his eyes laid on the Fisher Price box and he declared "for me?" very excitedly. Upon hearing those words Little Bean came running in behind to see what she was missing out on and then all hell broke loose. I told them they could only stay in the lounge with me if they promised they wouldn't interfere, who was I kidding?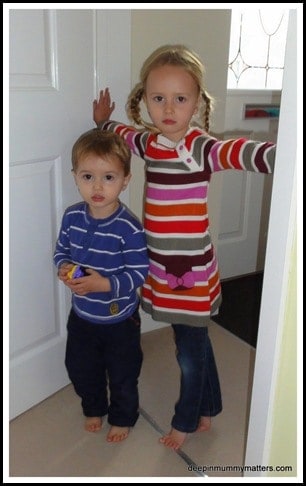 I emptied out the contents of the box and for once decided that perhaps following the instructions was the best way to go (especially with such a dedicated team of helpers). Within 5 minutes the children were driving me mad, running off with pieces of the toy that I needed so I tried giving them the two cars to play with that came with the playset, this kept them amused for another 5 minutes until they saw another piece of the playset which took their fancy – the stickers!!! At this point I banished them to the doorway, look at their faces aren't I a mean Mummy!!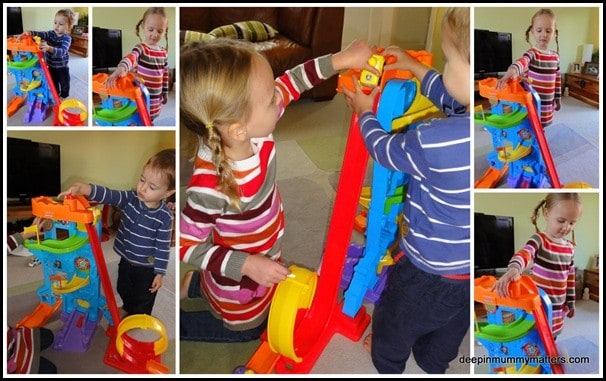 With those two out of the way, building the playset became far easier and within minutes it was complete and ready for action. Once Little Bean and Beanie Boy had picked up their bottom lips they set to on fighting for who could put their car down the steep ramp first, Little Bean won, declaring "this is wicked". Closely followed by Beanie Boy's abbreviated "wicked". This was definitely the highlight of the playset for them, although Beanie Boy was quite impressed with the spinning disc on the whirly ramps and then when his car came whizzing out of the bottom it hit the button to activate sounds, cue jazzy music ad dancing from Beanie Boy. After a while they decided that rather than waiting for the car to come out of the bottom to activate the music they would just hit the button with their feet like it was a foot pedal and carried on shooting their cars down the steep ramp and seeing who could get their car to travel the furthest.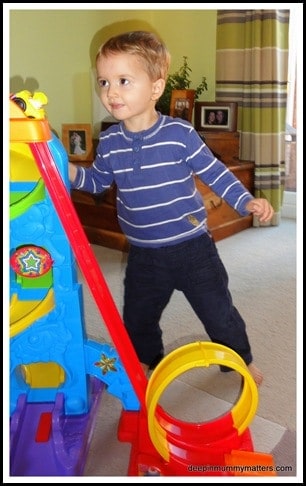 The age range for this toy is 18mths to 5years and whilst Beanie Boy happily played on it for quite a while, the minute I left the room Little Bean lost interest in playing (she is 4yrs) but I think the play factor completely depends on the child in question. Little Bean is a bit of a social butterfly when it comes to her toys, she likes to spread herself around them never spending too long with each toy. We have previously reviewed the Stand 'n' Play Rampway which is very similar to this but this one is more unisex as a Little Bean was less inclined to play with "a garage" (her words). The amusement park is spot on for this time of year as the travelling fairs are doing their rounds and so they have been able to do a bit of role play with it based on recent experiences of their own (not that I would let them go on a ride that steep!!).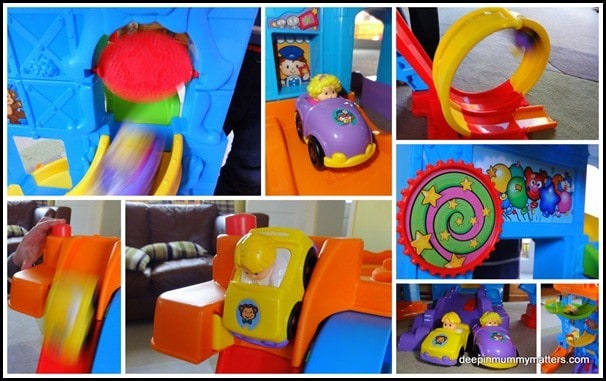 RRP £44.99
Available from Amazon, Argos and all major retailers.