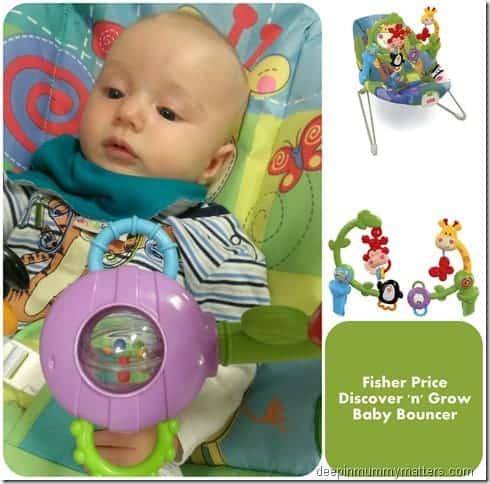 Review: Fisher Price Discover n Grow Baby Bouncer
It's been a while since I have had the opportunity to review anything for Fisher Price but being one of my favourite brands I was keen to see what they had to offer. I still loved the Fisher Price baby bouncer we had purchased for Beanie Boy so we decided to use it again for Jelly Bean until we were offered the Discover n Grow Bouncer.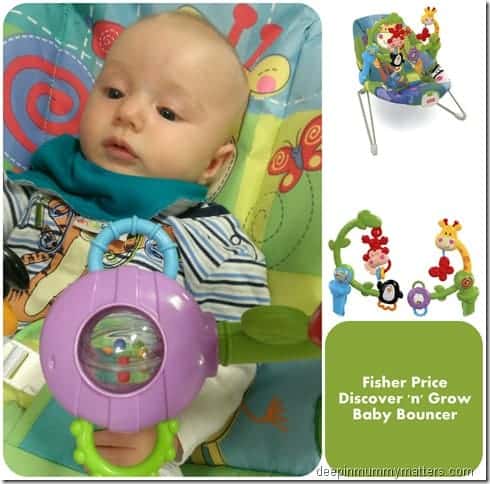 On first impressions of receiving the Bouncer I was shocked by how small the box was, I wondered if this too meant that the bouncer would be small but my fears were allayed once the bouncer was built as it is a generous size. The instructions were really simple to follow and the bouncer was ready for it's test-ride very quickly.
I love the lovely bright colours of Fisher Price products, it's a great unisex mixture of colours which is brilliant if you are intending on expanding your family further because you will certainly have a product that is built to last for more than just one baby.
The brightly coloured toys quickly captured Jelly Bean's attention and had him smiling as if they were his best friends who had dropped in for the day.
The toy arms are great for encouraging Jelly Bean to reach out and interact rather than just laying back to watch the world go by.
Toys include: a rattle ball bee, a clacker monkey, a spinning penguin and a swaying butterfly.
When baby gets tired you can move the toys out of the way and switch the calming vibrations on to soothe baby to sleep. This is actually something which I never use on any of our baby products as all three of my children have hated vibrating seats but I do know that many babies love it. At least the option is there.
In the unfortunate event that your baby is sick whilst in their chair or has one of those exploding nappy moments in the comfort of their bouncer you'll be pleased to know that the seat covers can be easily removed and machine washed so they are as good as new again.
For the full range of Fisher Price bouncers have a look on their website.
DISCLAIMER: We were sent the Fisher Price Discover n Grow baby bouncer for the purpose of this post, I have not been instructed what to write. All words and images are my own, you may not copy them without my permission.