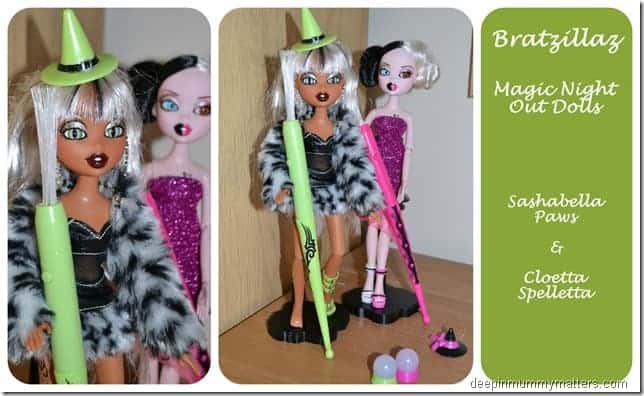 Review: Bratzillaz Magic Night Out Dolls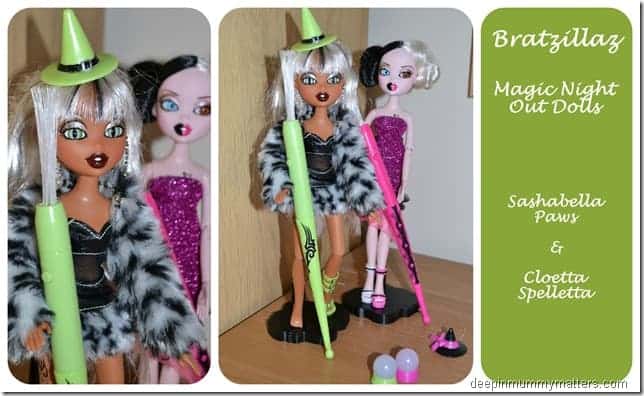 Little Bean is a typical little girl, she LOVES dolls!! Baby dolls, Barbie dolls, boy dolls, she just loves dolls!! I was the same when I was little, I loved nothing more than playing with all my dolls, changing their outfits, doing their hair and acting out all kinds of different scenarios. When I was little there was NOTHING like the Bratzillaz Magic Night Out Dolls, they are just so glam and trendy. I can see that lots of people might not be happy about these for their little girls because they have tattoos, high heels, vampy clothes and over the top make-up but at the end of the day, it's just a doll and Little Bean only sees them as a doll at the moment. At 5 years old she is a long way off wanting to think about tattoos. She is just starting to show an interest in make-up but I only let her wear a very small amount for special occasions.
We were sent Cloetta Spelletta for the purpose of this post which was handy as Little Bean already had Sashabella Paws (who I love!). They are both fully poseable and when you twist them at the waist their arms wave around as if they are dancing. Also included in the pack is a hair brush, stand which holds them upright and a light-up broomstick which you can change the end to make it into a wand for you.
As with most toys these days, the dolls were so securely attached to their packaging I nearly needed a wrench to get them out, Hubby made the mistake of using scissors to cut all the ties for Cloetta and accidentally cut the elastic band which holds Cloetta's witches had on so now Little Bean can't use it which is a shame. Both dolls came wearing removable clothes, shoes and jewellery but like most dolls were naked within a matter of minutes and now Sashabella only has one shoe whilst Cloetta has lost her earrings and cape  but Little Bean doesn't mind, it all adds to creating her own style for her dolls. At the end of the day girls just want to have fun and these Bratzillaz are providing her with plenty of fun at the moment.
DISCLAIMER: We were sent a Cloetta Spelletta doll for the purpose of this post. This is my own work and opinions, I have not be instructed what to write. You may not copy my work without my permission.