Naturally, one persons happiness could be another persons woe but for me the recipe for happiness is simple.
Ingredients
One Husband free from work for a day
One Curly back with his family for a couple of days
One Little Bean after a good night's sleep
One Beanie Boy fresh from a nap
One Mummy fresh from a little lie-in
Oodles of sunshine
One large garden to play in
And one camera to record it all . . .
Directions
Start the day full of the joys of spring after a good night's sleep.  Wake up to a cup of tea in bed from Hubby and three beautiful smiles from the most gorgeous children.
Enjoy a quiet breakfast whilst the children play together in the playroom WITHOUT arguing (there is a god!)
Jump for joy as Hubby suggests that he take Curly and Little Bean out for the morning so that Mummy can work whilst Beanie Boy has his nap.
Mix the whole family together around the kitchen table for a spot of light lunch lovingly prepared by Hubby, add a few giggles and a bit of playful banter.
Have some post-lunch wind-down, Hubby to read his book, Mummy to tie up loose ends for work and receive some very interesting emails to put a smile on her face, children to play nicely together in the garden (again with no arguing – this must be a miracle!!).
Head out for the afternoon to local gardens with a bucket full of sunshine, marinate the children in sibling affection, take a few photos for evidence in years to come!! Hand out chocolate buttons for exceedingly good behaviour.
Add a little time for Mummy and Daddy to have a cuddle on a bench!!
Return home for family tea with Nanna fresh from work, add promises for more fun tomorrow, give big cuddles to everyone and then let Mummy's heart melt ever-so-slightly watching Curly reading his Little Bean a bedtime story and tucking her up for the night . . .
et Voila – Happiness!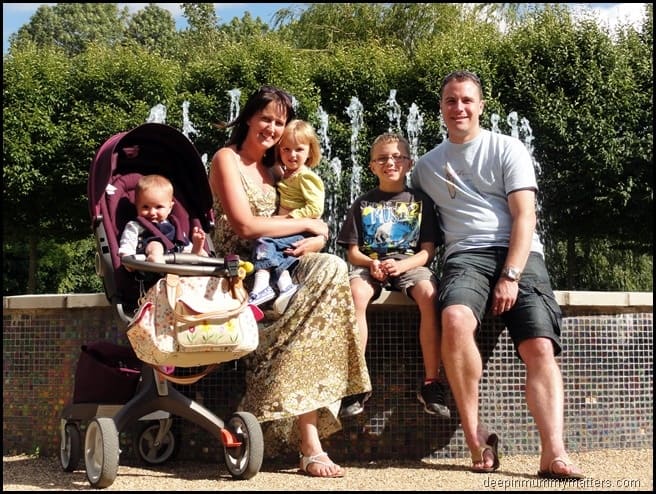 This post was inspired by this post written by Northern Mummy with Southern Children – I hope you don't mind!! I love her blog, it's filled with lots of laughter, lots of love and real life, you should hop on over and take a look.
Latest posts by Sabina Green
(see all)