With a little over 10 weeks to go until Christmas it's time to start getting into the Christmas spirit. All things that sparkle and yell "It's Christmas" are starting to creep into Queensgate so as a Queensgate #QBlogger I was set the fun task of creating my very own Queensgate Winter Wish List and I've had so much fun doing it. I could almost hear Hubby breathe a sigh of relief when I told him of my latest challenge, Christmas day should be a winner this year.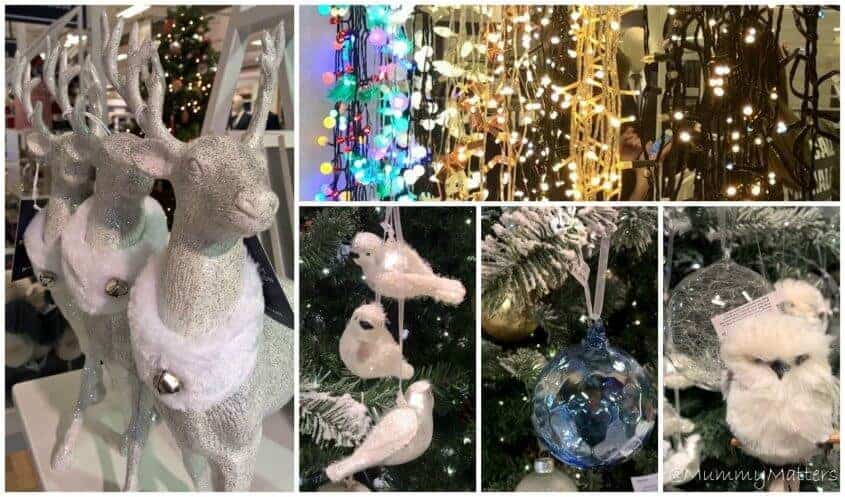 So what does a 40 year old Mummy of 3 really want for Christmas? Let me tell you . . .
Silver Mini Satchel Bag – River Island – £22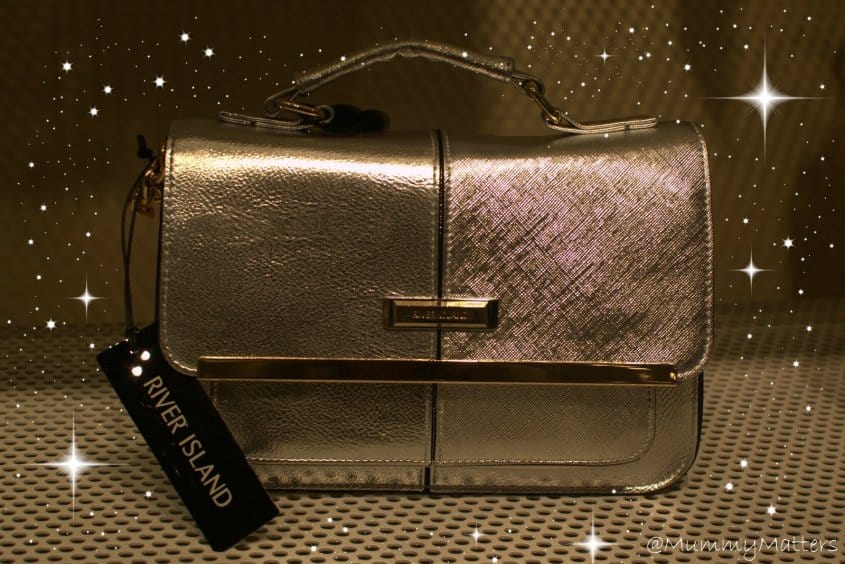 I have always been a bag lady for as long as I can remember. Us ladies can never have too many bags right? Well, with Jelly Bean now out of nappies I can finally ditch my changing bags and go back to carrying pretty bags again which are all about me. I spotted this little beauty in River Island and fell in love instantly. The metallic fabric is eye-catching (and wipeproof – still necessary for Mums), has a popper front fastening, grab handle and chain shoulder strap plus a front and inside zip pocket to keep the essentials safe and secure.
Height 15cm, width 23cm, handle drop 6cm, strap length 127cm
Chanel No5 L'eau – Boots – 50ml – £68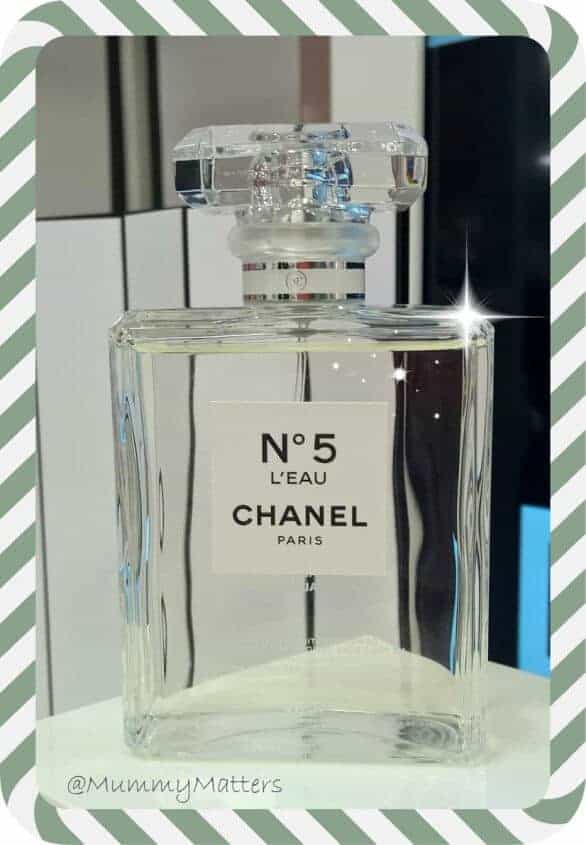 It was at the Boots Emporium launch that I was first introduced to Chanel No 5 L'eau and there were two distinct things that I loved about it. First, of course, was the fragrance – it oozed 'Chanel' from the outset but yet there was something younger and more modern about it, I knew that I liked it. Then I saw the tag line for it and I loved it even more, 'You know me and you don't'. This is how I feel about myself, people know me but only those closest to me really know me.
Black Crystal Longline Necklace – Next – £14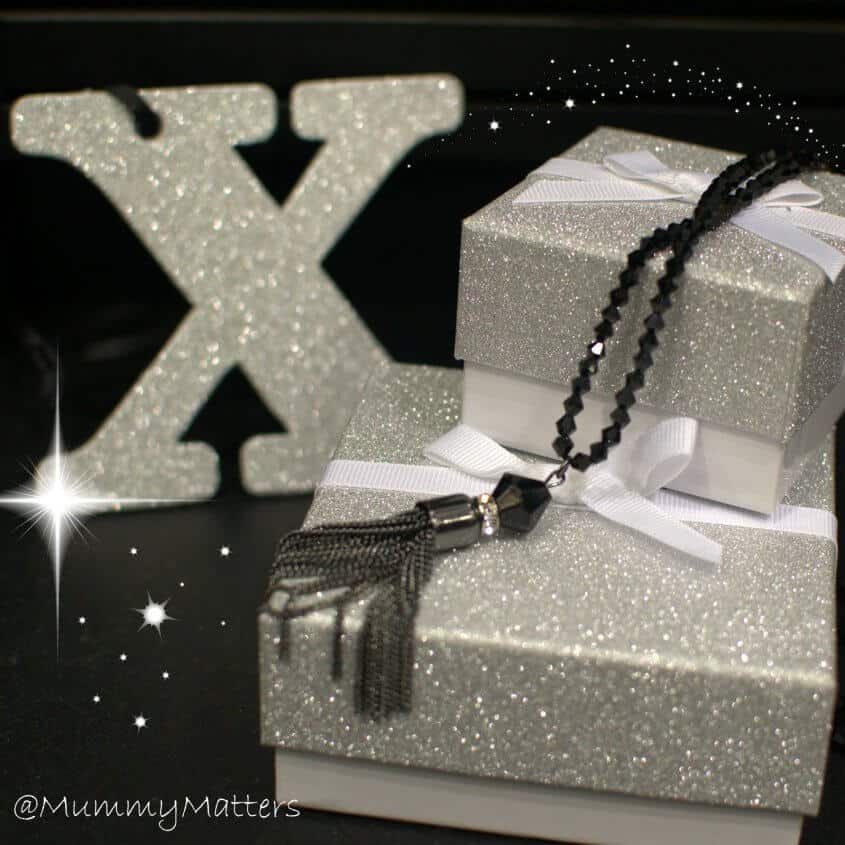 I couldn't even hazard a guess as to how much costume jewellery I own but I make a lot of my own too so I have quite a collection. Longline necklaces are my preferred style because they draw the eye down making you look slimmer. Last week I realised that I do not own a longline black necklace and then I spotted this one in Next which is perfect. The tassels on the end are therapeutic to play with whilst I'm thinking things over and black faceted crystals reflect the light, bringing the necklace to life and would look beautiful over a jumper or with a simple Christmas dress.
Knitted Pom Pom Scarf – £19, Crochet Pom Beanie Hat – £17,
OPP Plain Capped Gloves – £7 – Accessorize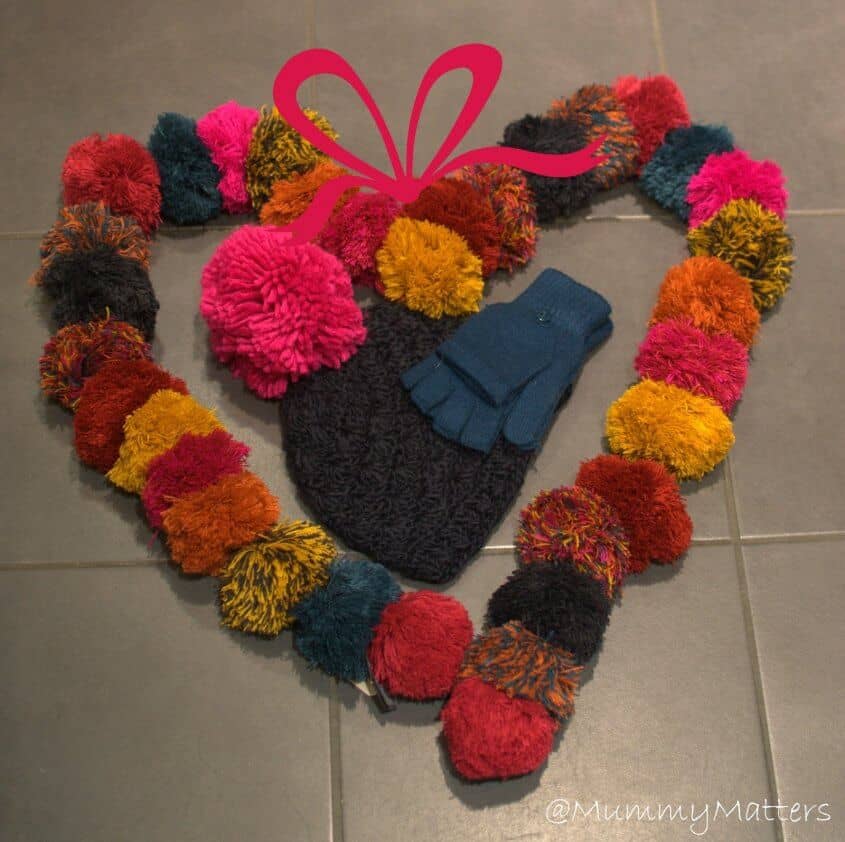 It can get pretty chilly on the school run and hanging around on the playground waiting for the bell to go so it pays to have a scarf, hat and glove set. I spotted this Pom Pom scarf before I had even walked through the doors of Accessorize so then it was just a case of finding items to match. I have been looking for a navy Pom Pom hat to go with my lovely warm navy Joules coat so this one is perfect and for gloves I do like a pair of capped gloves, they are great for driving, using mobile phones or cameras and sorting out snacks and drinks for the Beans without ever having to actually remove my gloves.
Ugg Australia Wilcox Brown Boots – Shuh – £160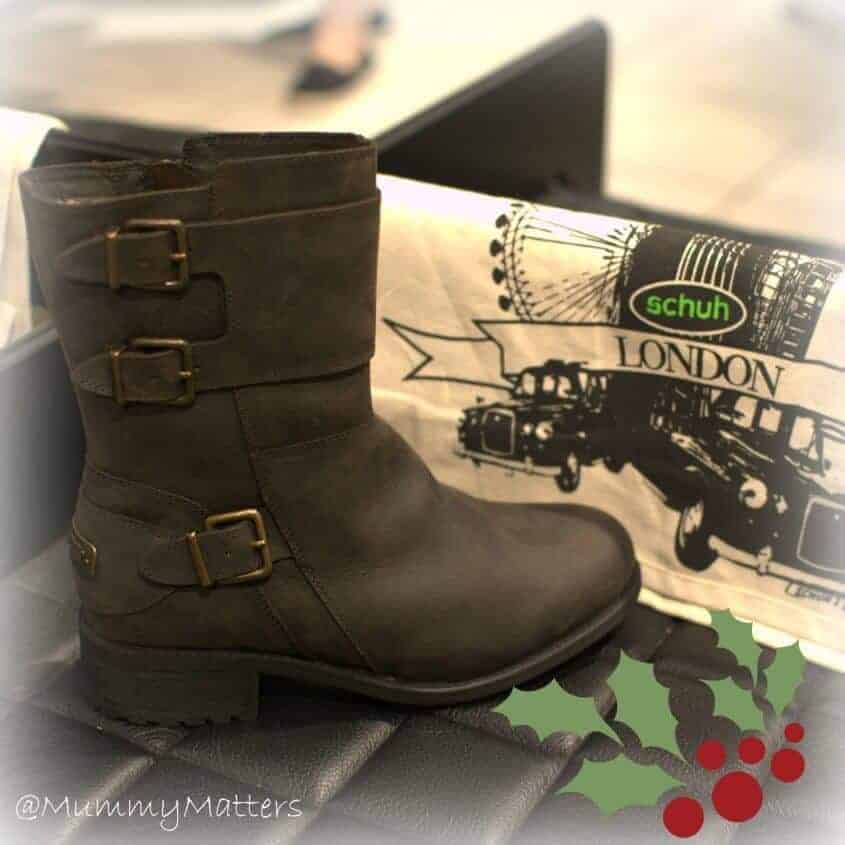 Still thinking about those school runs, it's essential to have a great pair of boots and they don't come much greater than Uggs. I love my dark brown sheepskin Uggs but I won't wear them in the wet because they get spoilt but these look perfect. The Wilcox have a water resistant upper making them more durable and winter-proof, they have a sturdy rubber sole which will be ideal on the icy mornings and Ugg Pure Wool Lining for warmth. My toes are aching for them already!
Sparkling Love Knot Ring – Pandora – £50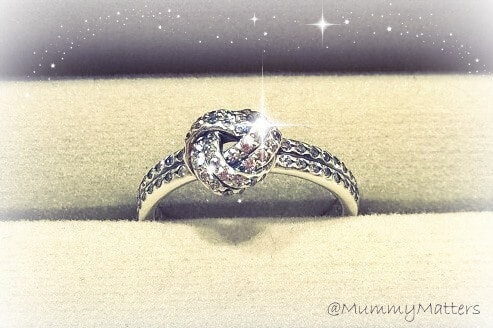 What's Christmas without a bit of sparkle? I have been eyeing the sparkling love knot ring up for some time now, it's just so pretty and really catches the light. It is a beautiful hand finished ring with rows of glittering stones for a timeless look.
Pink/Black Lace Lingerie – H&M – £12.99 & £4.99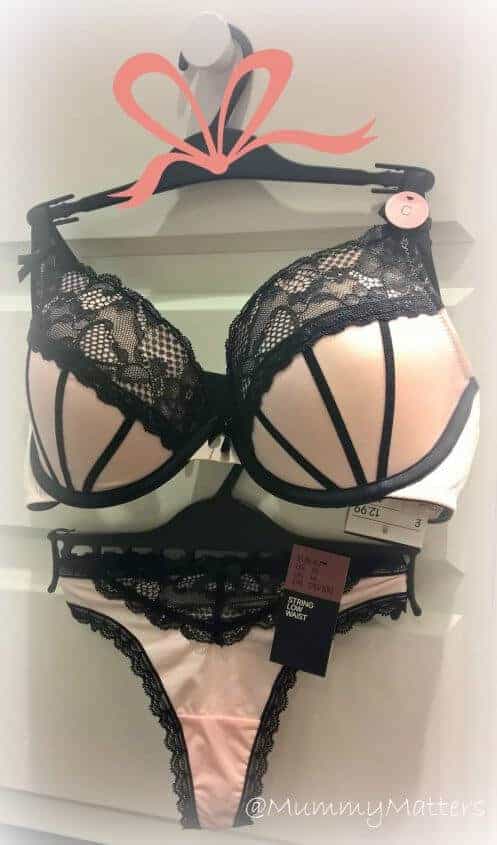 Before children I could nearly have had a whole wardrobe just for my lingerie, having worked on the lingerie department at M&S for many years I accrued quite a collection and would only wear matching sets. Then maternity and breastfeeding hit and style moved over for comfort. Well I'm pleased to say that those days are behind me and now I'm determined to get back to more visually appealing lingerie (did Hubby just do an air punch?). I really liked this set from H&M because it had just the right amount of 'pretty' with a splash of 'sexy' thrown in for good measure and at these prices it doesn't break the bank.
Camera Tin with Fudge – Lakeland – £8.99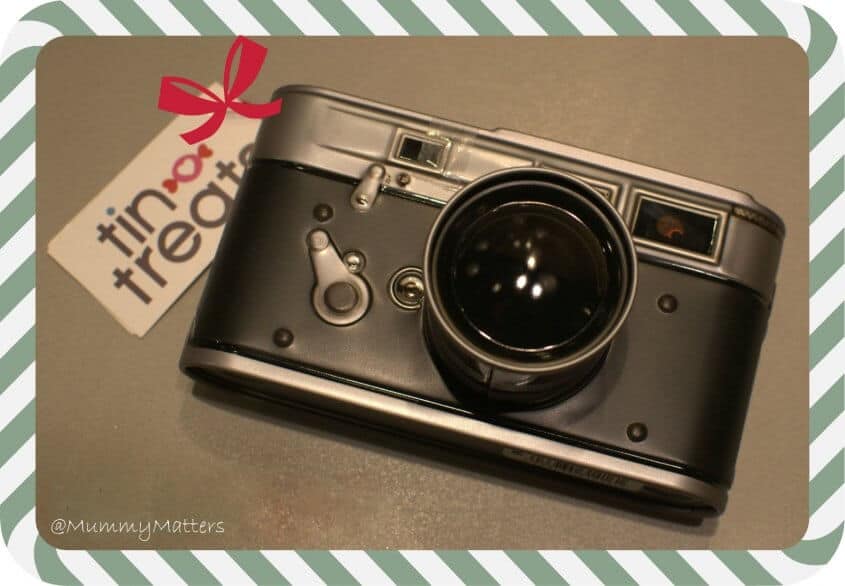 Some people like pigs, others like ducks but me, I like cameras! This retro camera is actually a tin of creamy vanilla fudge (another favourite) from Lakeland. It would make the perfect stocking filler and afterwards you can make it into a cute ornament which is exactly what I intend to do with it if/when someone buys it for me this Christmas. I'm hoping to finally get myself sorted with an actual 'office' at home in the not-too-distant future so this would look great on a shelf along with my camera moneybox and my Lego Campervan (my other great love).
Winter Puddings Sleekster – £22.50, Christmas Baubles -£7.50,
Mint Baby Bombes – £5.50 – Hotel Chocolat

Christmas without chocolate? Surely there must be some kind of law against that sort of hypocrisy? From the 1st November it will be full steam ahead for Christmas in Hotel Chocolat but being special, we were given a sneak peek at some of their Christmas specials and I was quite taken with the Winter Puddings Sleekster – I could almost taste the chocolate oozing from the box.
Sony Xperia XZ Smartphone – O2 – from £552 Pay & Go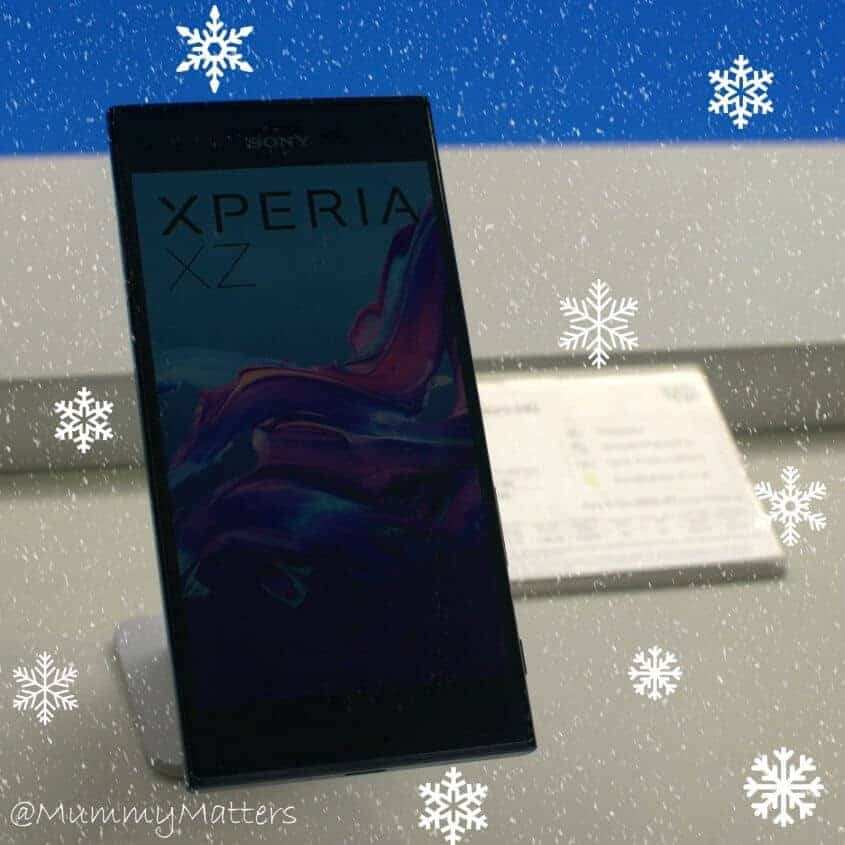 A mobile phone isn't normally something that I would add to my Christmas list but I made the mistake with my last mobile phone contract of taking it over a 2 year period to keep the cost down and now that I am only a year into my contract, my phone is giving me lots of grief with no escape. My phone is my lifeline for my family and my work so I need one which does what it is supposed to. After having a chat with O2 Guru Rob we decided that the Sony Xperia XZ would be the phone for me and when I got home I saw that it was available in pink – even better! The Xperia XZ is available on contract to those of you who are free to move or to pay off their current contract and start afresh.
The Sony Xperia XZ has a 23MP camera plus a 13MP front camera for great selfies every time. It has an outstanding two day battery life with it's smart power saving features. Oh and did I mention it's also water resistant? I need this phone in my life.
My Ultimate Gift?
But given all these amazing gifts, what do you think would be my ultimate present? The gift that I would place at the very top of my Christmas List? If you were paying attention earlier, you might have spotted what I said was my 'thing' . . . a camera of course!
Olympus PEN E-PL7 Compact System Camera – John Lewis – £399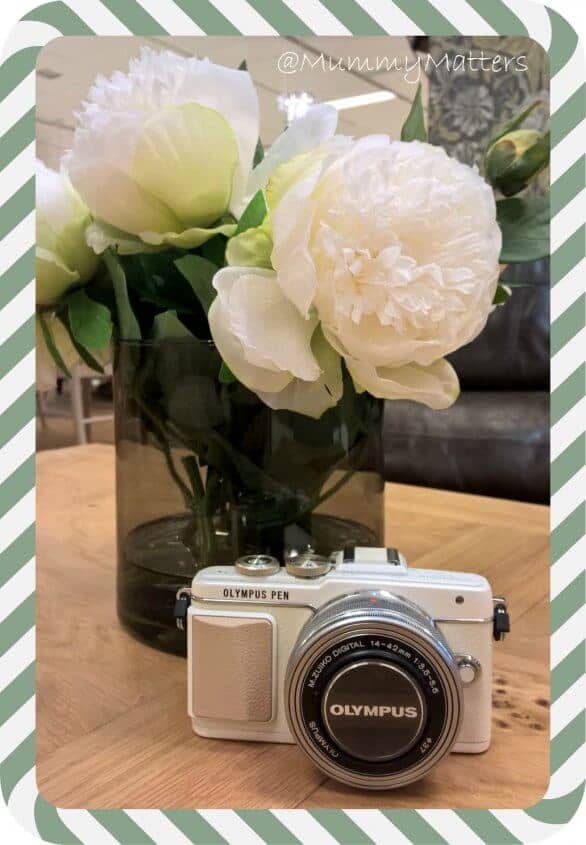 Cameras are pretty much at the top of my Christmas Wish List every year. Last year I was given money so that I could buy the camera of my choice and I failed miserably. I have a DSLR which I love (although I am looking to upgrade it too) but I also like to carry a high performance digital camera purely because of ease of transport. The DSLR is very bulky and heavy for every day use when you have three children in tow and all that comes with them so I bought a compact which I fell out of love with very quickly.
A few months ago I spotted the Olympus Pen E-PL7 and its appeal has been growing on me more and more. I like the idea of a compact but can still change the lenses to give me the results that I want from my images. The Olympus Pen E-PL7 features an amazing 81 focus points to quickly and accurately focus on the subject of the shot. It has a tiltable screen, built-in Wifi, detachable flash, image stabilisation, smart EZ lens with electronic zoom and built-in filters for creativity.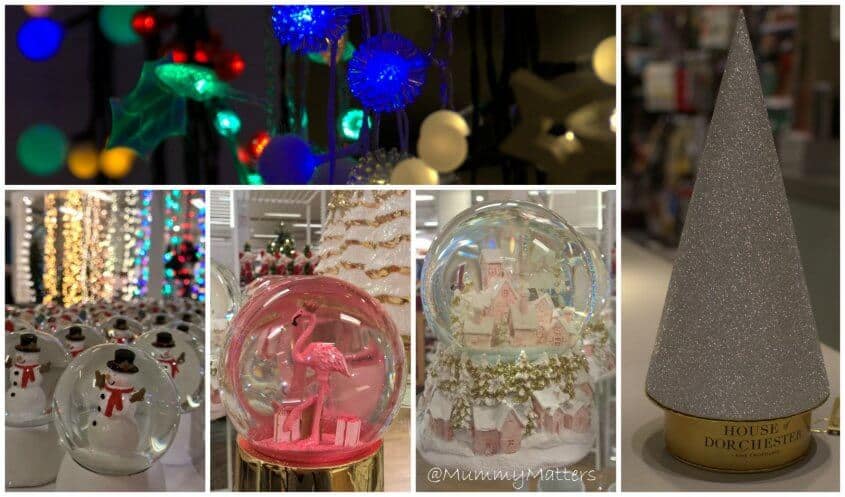 Now I'm just hoping that Santa remembers to check out #QBlogger so that he sees my list. I promise I have been a good girl this year xx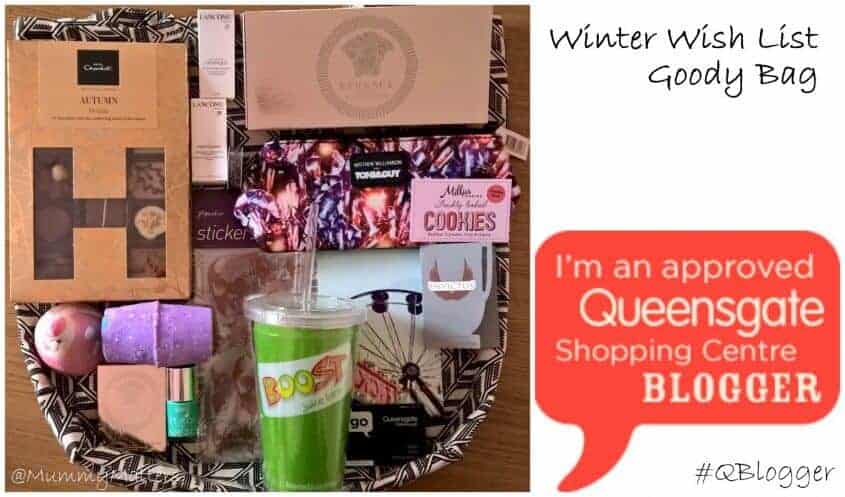 As part of this task we were each given a lovely Goody Bag of treats from various stores around Queensgate Shopping Centre, so in no particular order I would like to thank; Boots, Boost Juice Bars, Hotel Chocolat, Paperchase, Millie's Cookies and Lush.