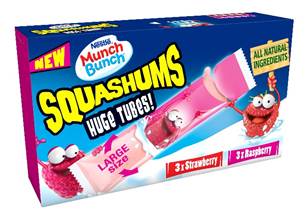 Put out the flags, Munch Bunch Squashums Huge Tubes have arrived!
When Munch Bunch Squashums first hit the shelves, I breathed a sigh of relief. Finally I could stop sending spoons in Curly's school pack-up with no hope of them ever returning. He loved yoghurt, but the plain and simple idea of putting the spoon that you have just eaten from, back into your lunch box seemed to be beyond him??? As a family we love the fruity, creamy flavours of Munch Bunch but since they were designed with children in mind, they aren't always big enough for those with *ahem* slightly larger appetites and as Curly has grown, so too has his appetite. He would often ask for two in his lunch and we would tell him not to be a piggy.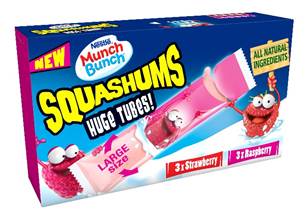 Like music to Curly's ears, Munch Bunch have listened to the woes of parents who have told them their children felt the standard 40g tubes were too small and have introduced Huge Tubes.
Offering 50 per cent more fromage frais than the existing fromage frais tubes on the market, Huge Tubes, which are made from all natural ingredients and contain fruit puree. We buy Squashums and Squashums Huge Tubes for family picnics as well as pack-ups as they are the perfect snack to eat on the go.
Available in two great-tasting fruit flavours – strawberry and raspberry – Huge Tubes passed the taste test from Munch Bunch's panel of young testers before making it onto the supermarket shelves, so mums and dads can rest assured their kids will enjoy the two satisfying flavours.
What's more, Huge Tubes feature a transparent tube with twofold benefits: kids can see how much fromage frais remains in the tube so they can enjoy every last yummy mouthful, whilst mums and dads no longer need to worry about leftover fromage frais leaking all over their youngster's lunchbox.
Featuring the same cast of fruit heroes as the remainder of the Squashums range, Huge Tubes are available in the chilled dairy aisles of Asda, Morrisons, Tesco, Sainsbury's, Waitrose and online at Ocado, priced at RRP £1.99 per 6 x 60g multipack.