The Beans making the most of Bluestone Activities
Normally when you get rain on your holiday it pretty much ruins it if you're in the UK but at Bluestone Wales, it didn't matter one bit. Sure enough, sunshine would have been a bonus but it certainly wasn't a necessity.
Bluestone Village Centre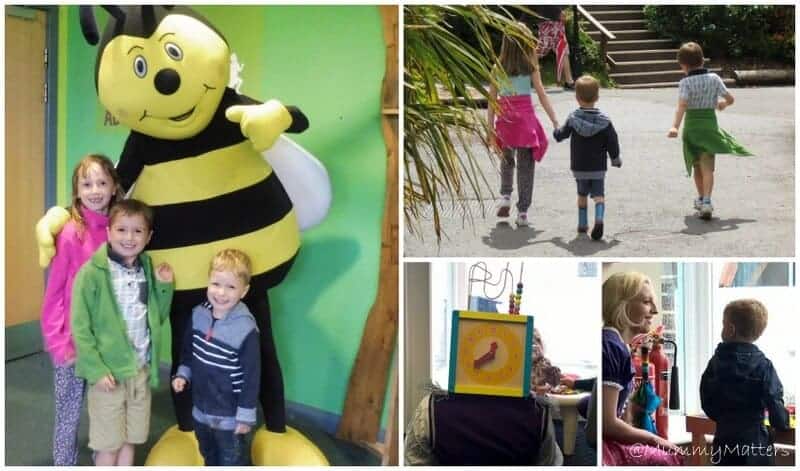 After a great night's sleep, we awoke on our first morning and made our way into Bluestone Village Centre to go to the Booking Office to book activities for our weekend. You can book these before you arrive at Bluestone but we decided to wait until we arrived to see what we felt like doing.
Booking Activities
The ladies in the office were very helpful in advising us on activities and so we booked the Climbing Wall for Little Bean, Bluestone Buccaneers for Beanie Boy, Puppet Making for Jelly Bean and a Neck/Shoulder Massage with Thermal Spa for me at the Well Spa. Hubby said we didn't need to book anything for him (so I went back later and booked him the Sky Wires).
Once we were all booked up we walked to the Adventure Centre to see what there was to do indoors and were very impressed. Crazy golf, tots trikes, soft play, climbing ropes, ladders and tunnels, a bouncy castle, DVD snug, Lego wall/tables and computers were all free to use as little and often as you required.
You could also pay for further activities such as the indoor Low Ropes for children over 8 years, climbing walls and an amusement arcade.
Little Bean's Climbing Wall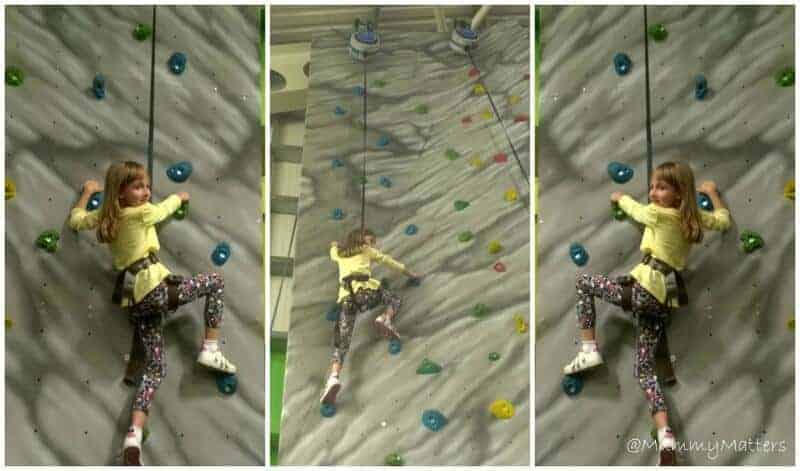 Little Bean first tried a Climbing Wall in our local shopping centre a few years ago and loved it so she had no fear of getting stuck in with the Bluestone Climbing Wall. She received a safety talk before she began and the instructor made sure that her safety equipment was properly secured.
She began by having to scale the wall sideways along the bottom to make sure she was comfortable with moving between the hand and footholds easily.
Then it was time to climb up the wall, initially, she was a little apprehensive and would drop off the wall when she reached halfway but after a few tries, she was climbing to the top of the wall each time and thoroughly loved it.
Beanie Boy's Bluestone Buccaneers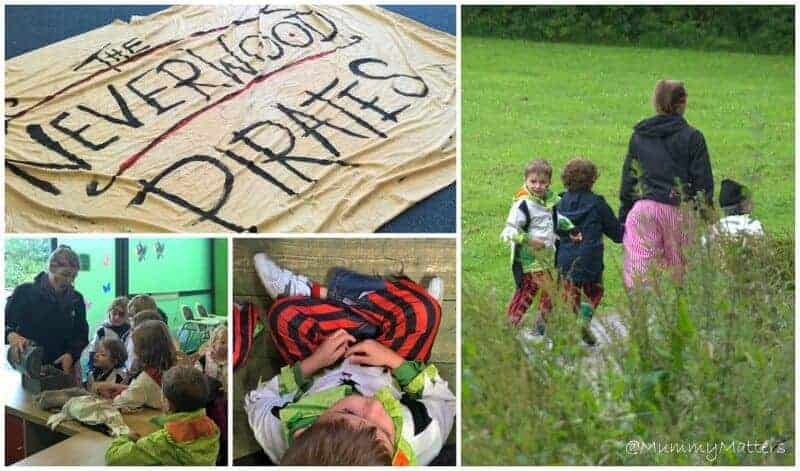 This was an activity with a difference as Beanie Boy would go out exploring Bluestone with his other Pirate Pals and two Pirate Leaders in search of treasure. Most parents would take this as an opportunity for some quiet time as he would be gone for two hours but ever trying to capture photos of my Beans having fun I followed them in stealth mode, hiding in bushes and behind trees with my telephoto lens!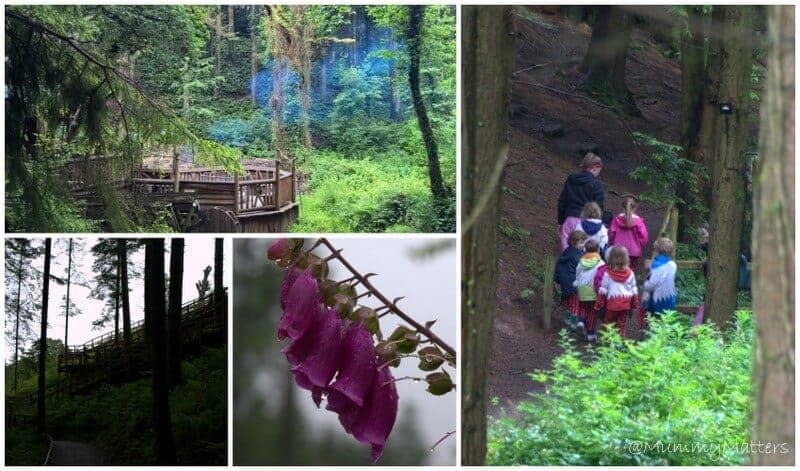 I dropped Beanie Boy at one of the Activity rooms in the Adventure Centre where I had to complete a form detailing emergency numbers etc whilst he was in their care. Beanie Boy was made to look like a pirate and even let them give him a face paint scar which is unheard of for him!!
He told me they had been set a task to follow the clues to find the Pirate's treasure. Together they searched Bluestone following the clues and keeping their eyes peeled for 'bad guys'. As a bystander, it was fun to watch too, they were sneaking across the greens, hiding behind trees and shouting "aarrghhhh" at anyone who dared to challenge them. It was thirsty work so they stopped off at Camp Smokey for light refreshment before winding their way back to the Adventure Centre to open their Treasure Chest which was full of gold chocolate coins.
Jelly Bean's Puppet Workshop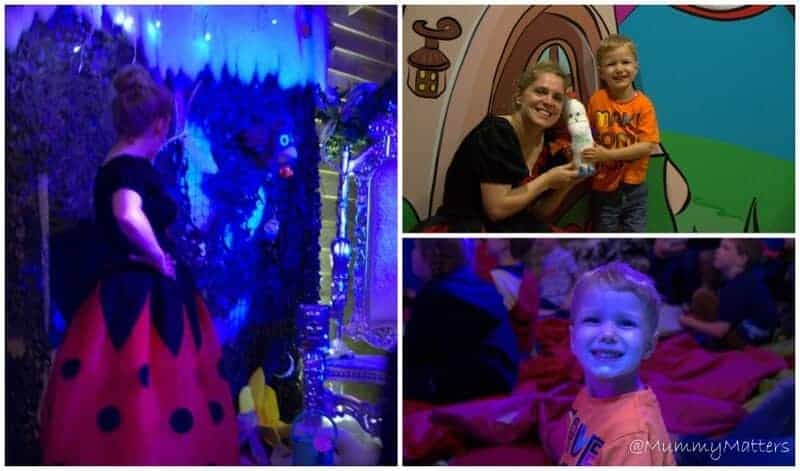 At 3 years old I was worried that we would struggle to find an activity suitable for JB but the Puppet Workshop was brilliant. We were met in the Adventure Centre Reception by Lola Ladybird who took us to see Tawny Owl. Initially, JB was a little scared by the darkness of the room but once Tawny Owl had woken up and was talking to the children he joined in and loved it. Tawny and Lola Ladybird really encouraged the children to join in the conversation and they all became very animated.
Afterwards we went to Lola's workshop where all of the craft equipment had been laid out for the children to make their very own Tawny Owl puppet with some guidance from Lola. Jelly Bean loved getting stuck in with the glue and glitter, he even managed to flutter his eyelashes enough to get Lola to help him because he was quite taken with her. The Workshop didn't quite last the hour as advertised but he had lots of fun and that was the main thing.
We found the activities to be very affordably priced and was a great way to give each family member their own bit of 'me time' during our weekend break. The following day it was all about Mummy and Daddy so pop back to find out how we got on . . .
DISCLAIMER: We were invited to stay at Bluestone Wales for a complimentary 3-night break in exchange for our honest review. All words, images and opinions are my own and may not be copied without my permission. I have not been instructed what to write.