Protest Ski Jacket – Gaby Puffer Anorak
Disclaimer: I was sent the Gaby jacket by Protest Sportswear for the purpose of this review. All words, images and opinions are my own and I have not been told what to write.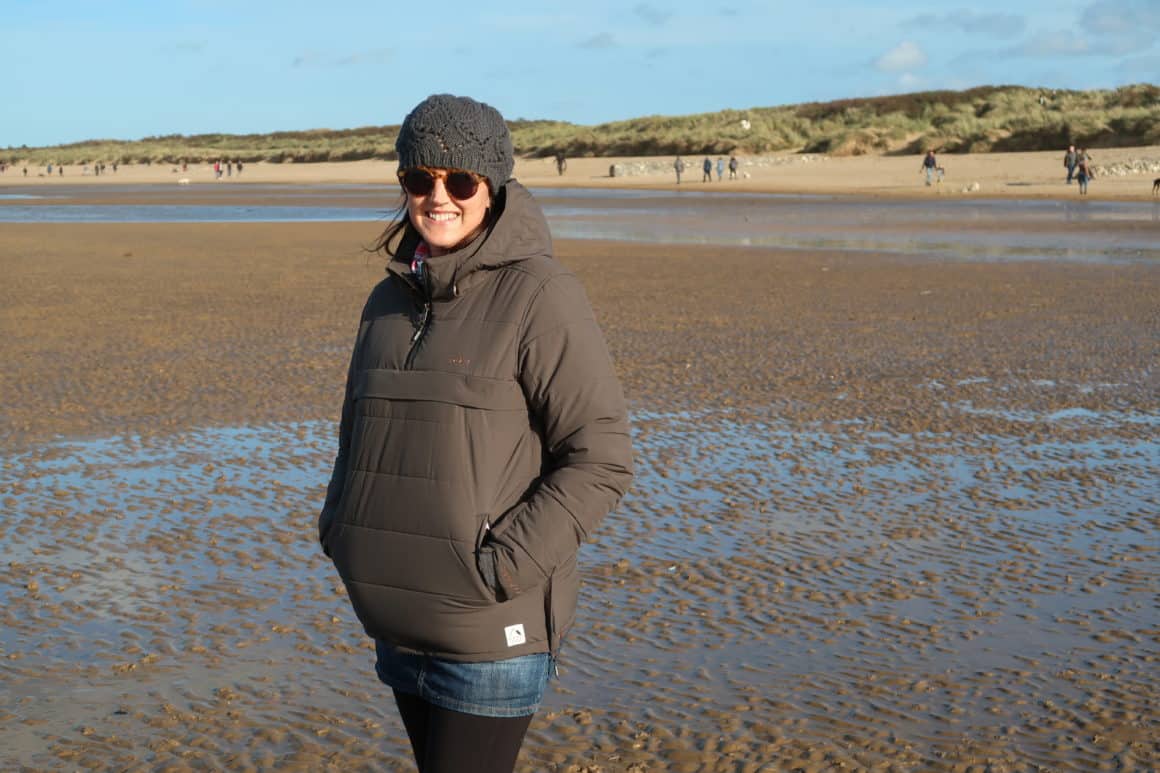 If you ask me, you can never have too many jackets! At least, that's what I tell my husband though he begs to differ. The latest addition to my jacket wardrobe (yes, of course, it's a thing) is my new Protest Ski Jacket, the Gaby Puffer anorak ski jacket and I am officially in love.
Protect Ski Jackets for Women
Asking me to select a new jacket from Protest Sportswear should have been quick and easy but one look at their website and my eyes grew so big they almost popped because there were so many amazing jackets to choose from. In the end, I narrowed my favourites down to just five and then asked Hubby to select the final one and he did good!!
What struck me first about searching on the website was how big and clear the images were with a mixture of lifestyle shots and product images to give you a real feel for them. To make life a little easier, you can also use the dropdown filter menus to reduce your choices. Then the compare Quickview tab helped to get a quick view which jackets had more of the features I was looking for, well-done Protest!!
Gaby Puffer Anorak Ski Jacket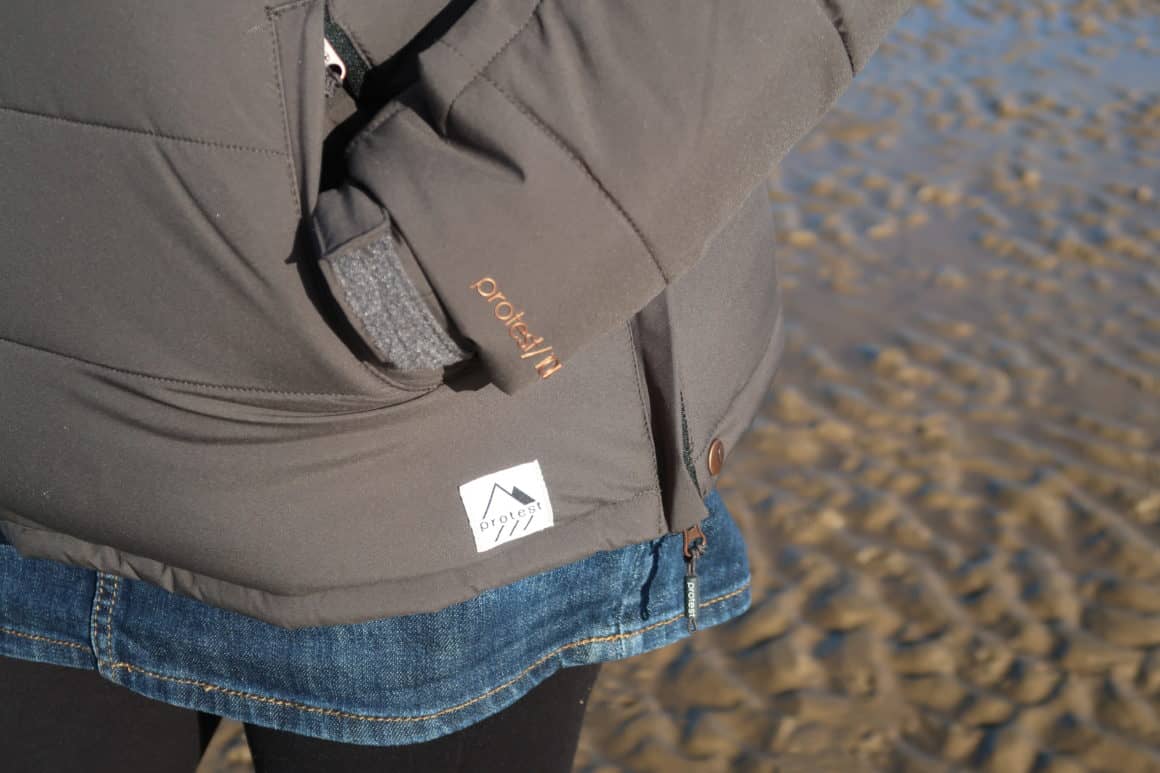 The Gaby Puffer is an over-the-head style jacket which might not be for everyone but I have one other ski jacket in this fit which I have loved for the last 15 years so I was over the moon to find another one. The side zipper makes it very easy to put on and take off.
It is available in two colourways, Think Pink or Swamped. I chose 'Swamped' which is a khaki green/grey colour and I love it. I have olive tones to my skin so this suits me well and can be brightened up with a coloured hat, scarf and gloves combo. The Gaby Puffer costs £159.99 from Protest Sportswear.
Style Features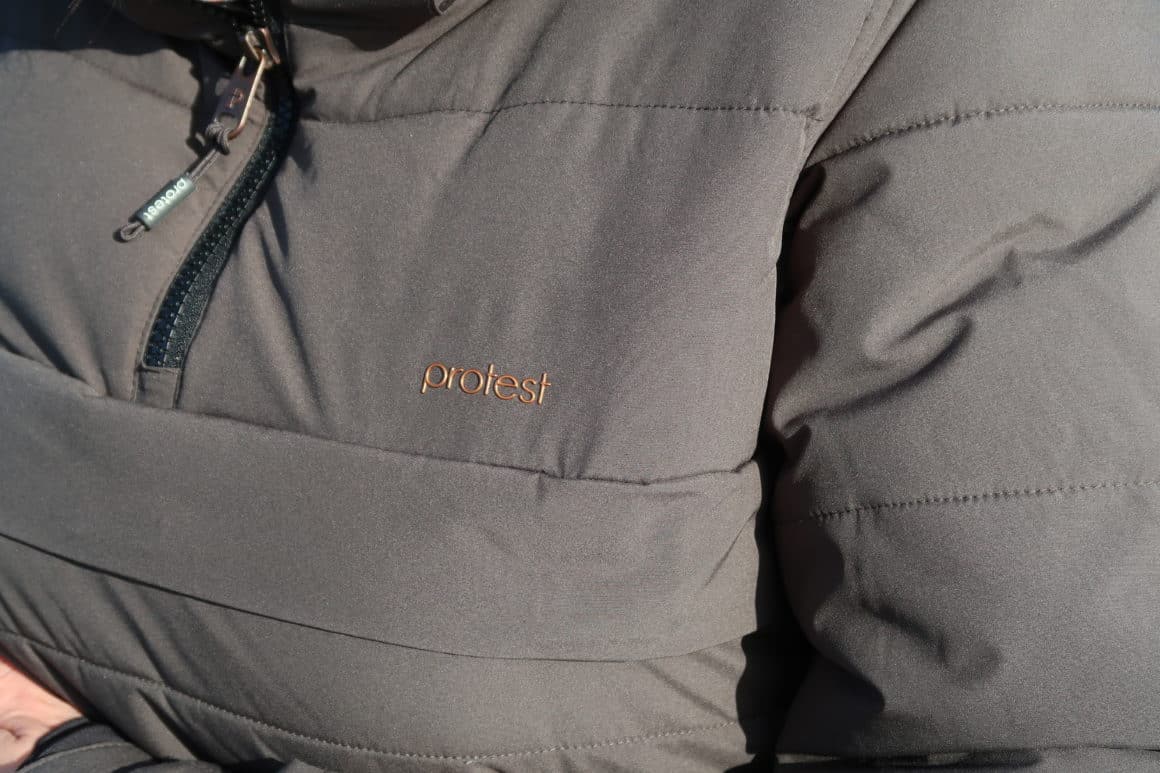 Being a very tactile person, I have never liked anything which is too 'formal' or 'stiff' so I like my clothes to feel soft and flexible, to move with me not against me and the Gaby does just that. It has been designed for Ski and Snowboard activities so you need the freedom to move and flex (not that I would know, I have never set foot on a ski or snowboard but I do love the outdoors).
Quilted Jacket
The soft, bouncy quilting traps air inside the fibres and stitching to increase insulation and keep you warmer for longer. The Gaby also has a 10K waterproof rating and 10g breathability. In layman terms, this means the water is kept out and moisture from the inside is allowed to escape. The 10k waterproof rating is very high for a jacket, it means that if you placed a square tube onto the fabric with an inner dimension of 30mm x 30mm, you could fill the tube with 10,000mm water before it began to seep through the fabric. The higher the number, the more waterproof the fabric.
I can attest to this after getting stuck on the sidelines of the football pitch at the weekend in torrential rain. Whilst everyone else was drenched in their down-filled shell puffer jackets, I was cosy and dry watching the raindrops bead up on my jacket and run straight off (onto my trousers which were soaked but we can't have everything).
PFC Free
The jacket fabric is PFC free which means Protest Sportswear has used an environmentally friendly method of waterproofing which reduces the harmful effects the chemicals have on our health and the world around us.
Chin Guard
Although I had worn the Gaby on a few school-runs before half term, I put it through its paces properly on a trip to the beach on a very blustery day. The front of the Protest ski jacket can be worn open or zipped up to create a warm chin guard to protect me from the elements and to protect my chin from chaffing on the zipper.
Removable Hood
It is possible to zip the hood off for when it is not needed but for the time being mine is staying put.
Pockets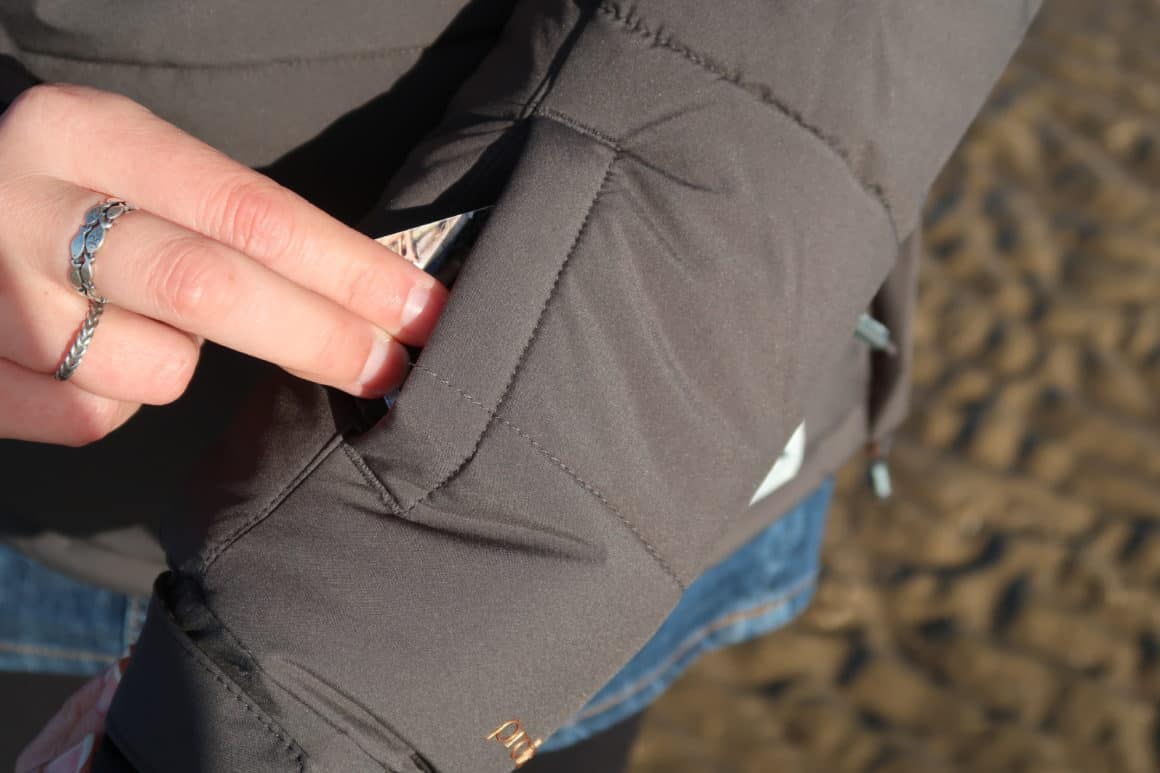 Thanks to a neck and shoulder injury, I suffer regularly with headaches. Recently it has been playing up and this is often exacerbated by carrying a handbag. Thankfully, my lovely new Protest Ski Jacket is equipped with enough pockets for me to leave my handbag at home. On the left sleeve is a pocket designed to hold your ski lift pass, but since I won't be going skiing anytime soon this is perfect for holding my bank card and a small coin purse. There are two side pockets which zip up and are very deep so I am able to put my car keys in one and my phone in the other and still keep my hands warm at the same time.
Cuffs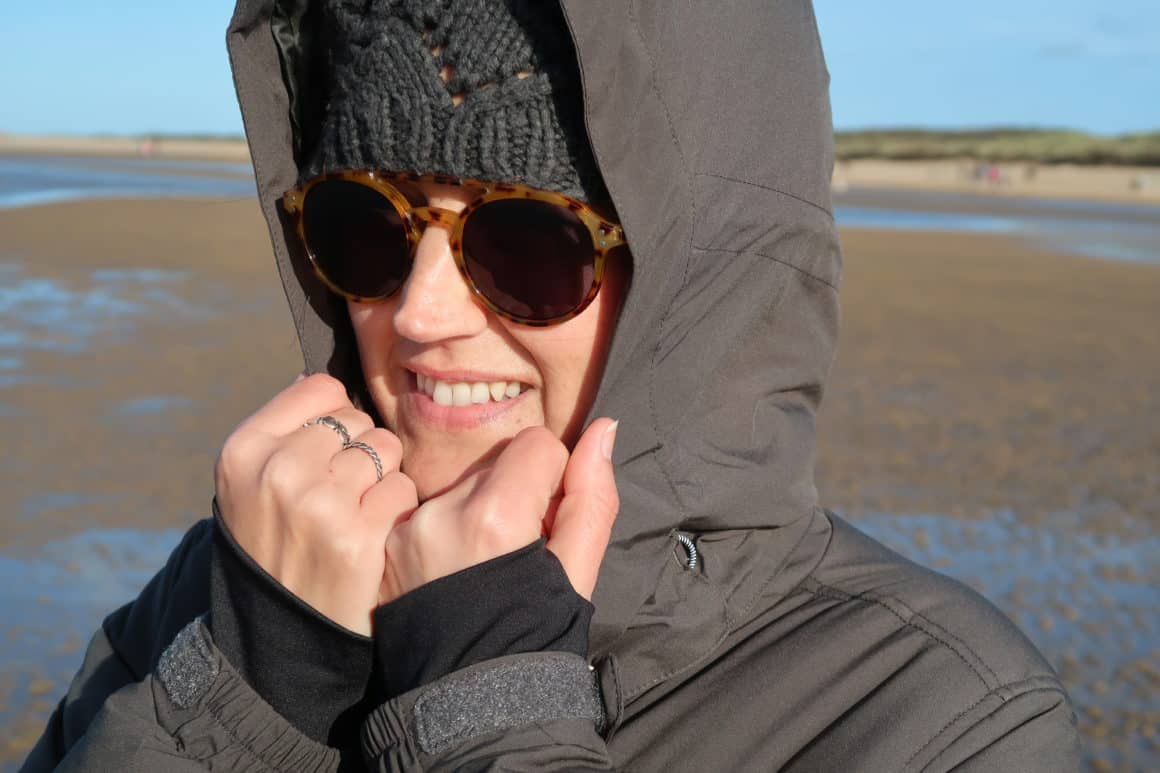 I don't often wear gloves but I do love a wrist cuff with thumb holes and the Gaby has some super soft lycra cuffs which can be worn over the hands or tucked up into the sleeve and the adjustable velcro cuff helps to stop the wind whipping up your sleeve.
Breathability
How often have you set off for a long walk in cold weather, all wrapped up only to start overheating 20 minutes into your walk? It's too cold to take your coat off but you're roasting with it on? This is me, all the time! Well, being a Ski Jacket, they really have thought of everything so there are side zippers which can be opened up under the arms to increase airflow and reduce body temperature without getting too cold.
Waistgater
A familiar design on ski and snowboarding jackets is a waistgater which prevents snow and the cold elements getting up inside your jacket. The Gaby has a waistgater for this reason, I haven't needed to use it unless it has been really cold but it's a great feature to have because it really helps to keep the heat in and the cold out.
Headphone Access
Finally, there is a headphone wire channel for easy access to your headphones, however, I wear wireless earpods so this isn't a feature I have had to use.
Sizewise, I ordered the Gaby in a size large. I had previously ordered the Xpress Camo Ski Jacket in a size Medium but it was a little snug over my hips and the Large was out of stock. I am so pleased though because I love the Gaby now and the size Large enables me to wear a thick fleece underneath without feeling too bundled up.
Protest Sportswear Discount Code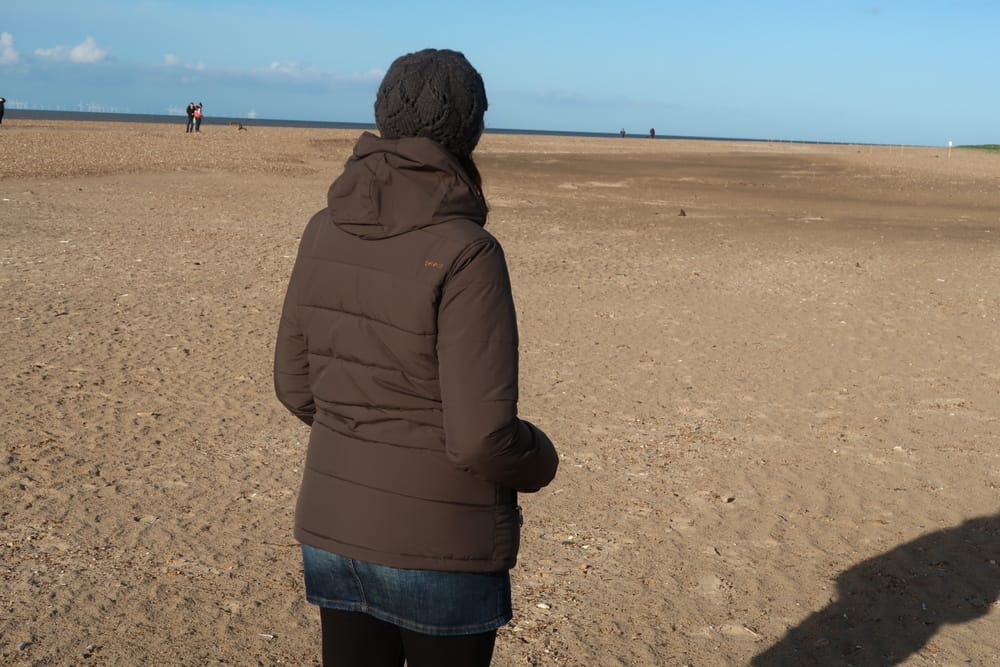 As well as Protest Ski Jackets for women, you can find a fabulous range of Ski Jackets for men and fleeces for men, women and children. You can grab yourself a 10% discount when you use the discount code: mummymatters10 when prompted in the basket. This discount is valid until 28th February 2021 so you can save yourself some money on your Christmas shopping and then some!