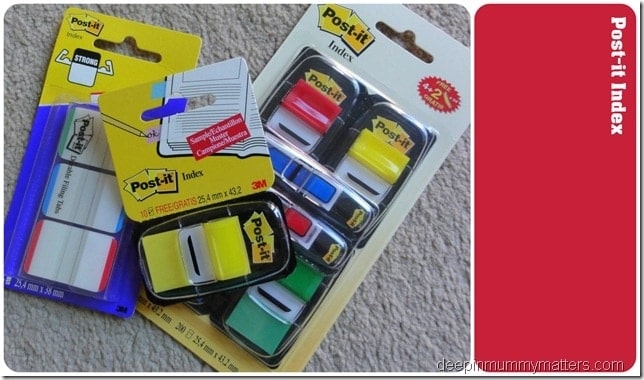 Post-it Index keeping busy minds organised
Once upon a time, I used to compare myself to Monica from Friends because I was so organised. I always knew exactly where everything was, I got jobs finished ahead of time, I never missed appointments or important dates, I was on the ball 100% . . . then I became a Mum and it all changed. With each child my brain has become as messy and disorganised as my house, although since Jelly Bean was born I think the disarray has doubled. I'm a stubborn old mule though, I will not be defeated so I'm currently doing all that I can to get myself (and my house) back on track and my latest review opportunity, the Post-it Index range from 3M has been just the ticket to help me on my way.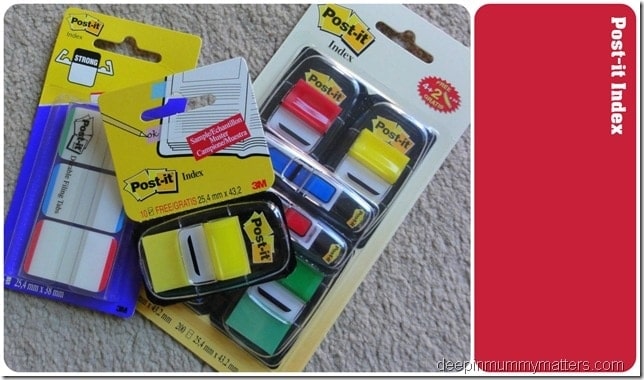 Meal planning, food shopping, Christmas shopping, home improvements, household admin, the list goes on, so how do you keep tabs on everything so that nothing gets missed? Well, for the past couple of years I would say I have been pretty haphazard, I've had odd lists here and there, piles upon piles of books, magazines and notepads covered in scribbles. Post-it Index tabs could be the answer I have been looking for, I have never been a big one for folding down corners of pages (I hate to deface books in any way, shape or form) but Post-it Indexes have are low tack and won't spoil the pages of a book yet will still mark my page so that I can find what I am looking for in a hurry. Since my little stash of Post-it Index tabs arrived at the weekend I have begun to put them to good use.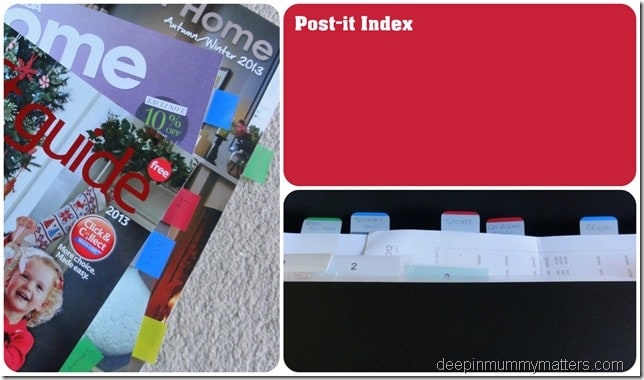 With Christmas fast approaching and four children to buy for as well as the rest of the family I need to be well prepared before I hit the shops. The best way to do this is to grab all of the free Christmas Gift Guides and then mark out the items using the Index tabs and writing on them who the present is for.
When it comes to keeping on top of my blog and in particular my Christmas Gift Guide which takes some putting together, my latest attempt at organisation has come in the form of an expanding folder in which I keep of the press releases and information and putting tabs on the edge of the sheets so that I can see them at a glance without having to rifle through the papers time and time again.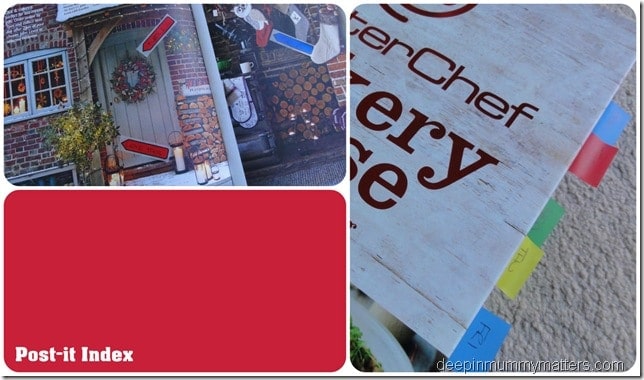 Everyone knows that one of the best ways of saving money and not wasting food is to meal plan but I get soooo bored of the same old meals all the time so we have been trying to get a little inspiration from our library of cookery books and highlighting meals for each day of the week.
I am also loving the pinpoint tabs which are great for reminders of specific items in glossy magazines or catalogues. I have been looking through the John Lewis Christmas decorations catalogue to get ideas for making our home feel festive this year and the pinpoint tabs are perfect for this job. Next I think I might be using them to leave gentle reminders to show Hubby items I quite fancy for myself this Christmas (well men generally need a little helping hand don't they!).
I'd love to know how you keep your life in order, is there anything I haven't considered? How could you make the Post-it Index range work for you?
DISCLAIMER: I received items from the Post-it Index range and was sponsored to write this post. All words, images, opinions and ideas within the post are my own and may not be copied without my permission. I was not instructed what to write.