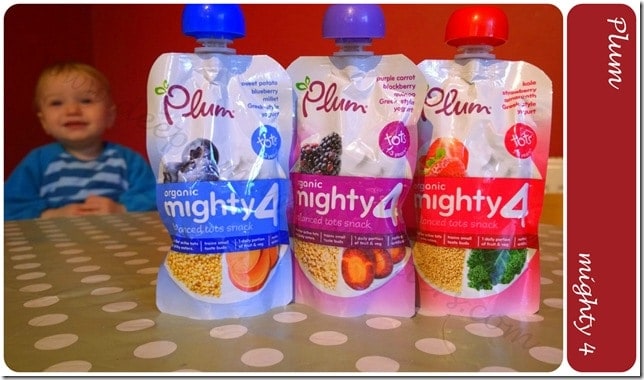 Plum Mighty 4 – Super Snacks for Mini Mouths and Fussy Eaters
My troubles as a Mum of a fussy eater have been well documented here on Mummy Matters. My troubles with Little Bean seriously affected my confidence as a parent when it came to weaning Beanie Boy, although thankfully he was a different kettle of fish and has been more open to trying out new foods. He isn't the best eater in the world but he is head and shoulders above Little Bean in the eating stakes and Jelly Bean is more adventurous again so things are slowly getting easier for me (if you don't count Little Bean – the stubborn little monkey!!).
In the past 5 years as a parent, I couldn't begin to hazard a guess how much money we have spent on Plum pouches. They have been my saviour as they are the one thing which Little Bean will generally eat quite happily and I can be confident that she is getting something of goodness in her diet.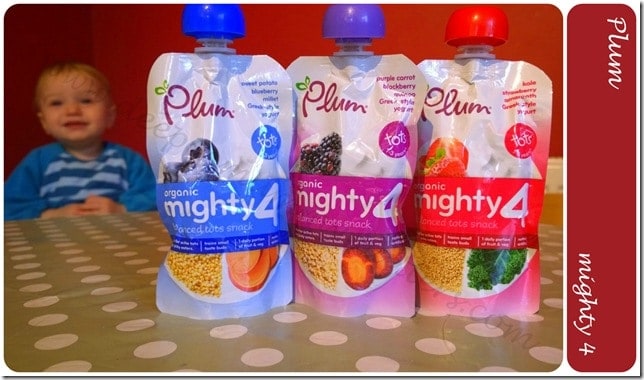 The latest range called the Mighty 4 has been very happily received by Jelly Bean who actually cried when he got to the end of each pouch because he wanted more. Watching Jelly Bean eat something he likes is hilarious, he flaps his arms and opens his mouth wide like a little bird as he eagerly awaits the next mouthful.
Plum Mighty 4 are nutritious organic snacks which cover four mighty food groups aimed at active toddlers and picky eaters. Each pouch contains fruit, vegetables, dairy and ancient grains and they taste really good. I should know because I tried them too. Plum know the importance of healthy diets for our children and they understand the trials and tribulations some of us go through in order to get our children to eat. They ensure that they are doing the best for our children by only using natural and nutritious ingredients.
Since a ban was placed on all nut-containing products at Little Bean's school we have found it particularly hard to make her pack-up a healthy one as she will only eat chocolate spread in her sandwiches and we were told that even nut-free spreads were banned because they wouldn't be able to tell who was sending nut-free and who wasn't. So in place of sandwiches we have been sending Little Bean with Plum pouches to ensure she gets some goodness in her diet and the pouches are perfect because they are mess free too. She doesn't need to take spoons or bowls, she just squeezes the pouch straight into her mouth and can even seal it up and save some for later if she so wishes.
There are currently three delicious flavours in the Plum Mighty 4 range:
Blackberry, quinoa, carrot and Greek-style yoghurt (12m+)
Sweet potato, blueberry, millet and Greek-style yoghurt (12m+)
Kale, strawberry, amaranth and Greek-style yoghurt (12m+)
The Mighty 4 range is available at Tesco, Asda, Boots, Waitrose, Ocado and Morrisons for £1.19 per 100g pouch and will be available between January and April 2014.