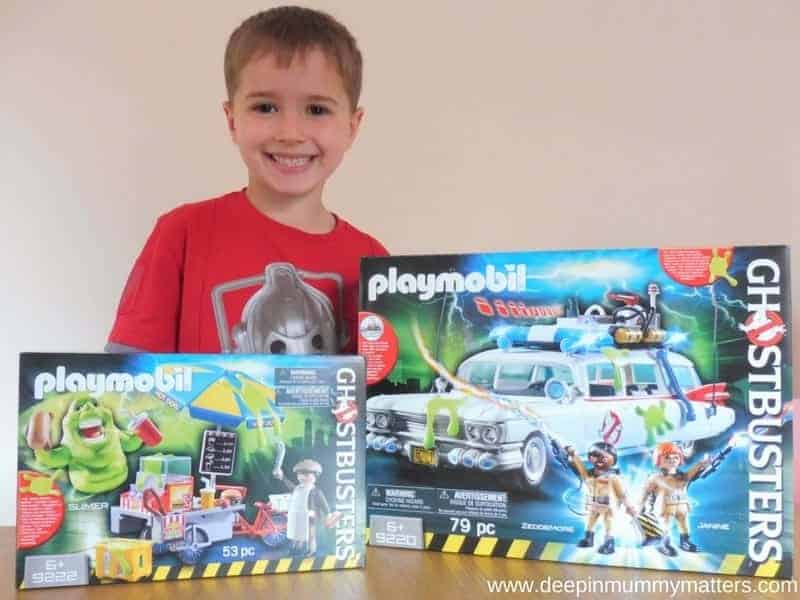 Playmobil Ghostbusters Play Sets
When I found out that we would be receiving the Ghostbusters Playsets to review from Playmobil, I knew that the Beans would be very happy and I wasn't wrong.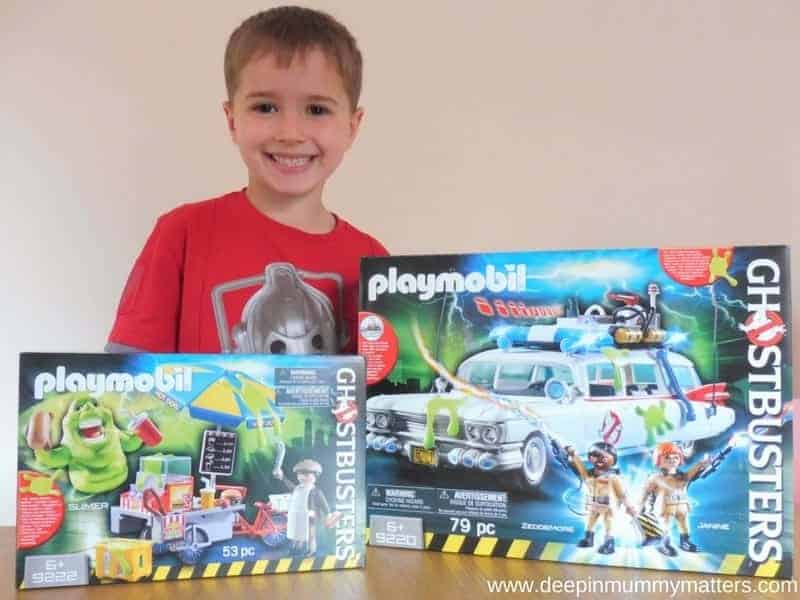 Who You Gonna Call?
Ghostbusters has been a family favourite for years and with the release of the new Ghostbusters movie last year, it's back in the forefront of everyone's minds. We still haven't actually seen the new movie but that didn't stop us getting excited about the new Ghostbusters Playsets from Playmobil, a top manufacturer within preschool toys. There are six sets to choose from including; Ghostbusters Ecto 1, Firehouse, Stay Puft Marshmallow Man, Slimer with Hot Dog stand, Venkman and Terror Dogs and last but not least, Spengler and Ghost.
Slimer with Hot Dog stand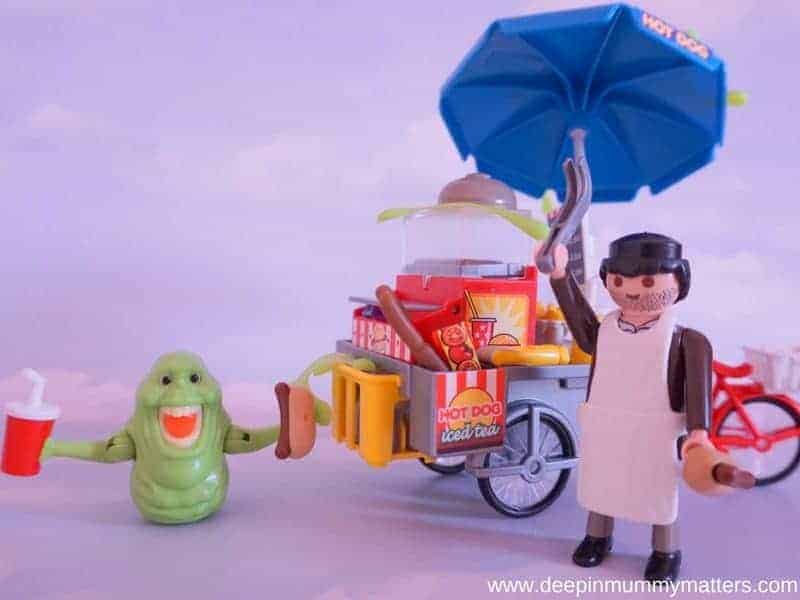 The first set which Ollie got stuck into building was the Slimer with Hot Dog stand, this is because he loves Slimer and couldn't wait to get him out of the set. Ollie is 6 years old and found it easy to build the set by himself, there were a couple of little pieces where he needed my help to clip something into place if it was a bit fiddly. The Hot Dog stand features a small red bicycle which tows the Hot Dog stand. There is a pull out basket which is filled with drinks bottles and various compartments to store all of the condiments, fries, hot dogs and drinks cups, all under a blue umbrella to keep the stall holder cool.
Slimer comes with a number of slime splats which I keep finding stuck to my computer, windows and various other places which amuses the Beans. Thankfully, it's completely mess free so I am happy. Slimer himself is very true to the movie and has moveable arms for fun role play action.
Ecto 1 Playset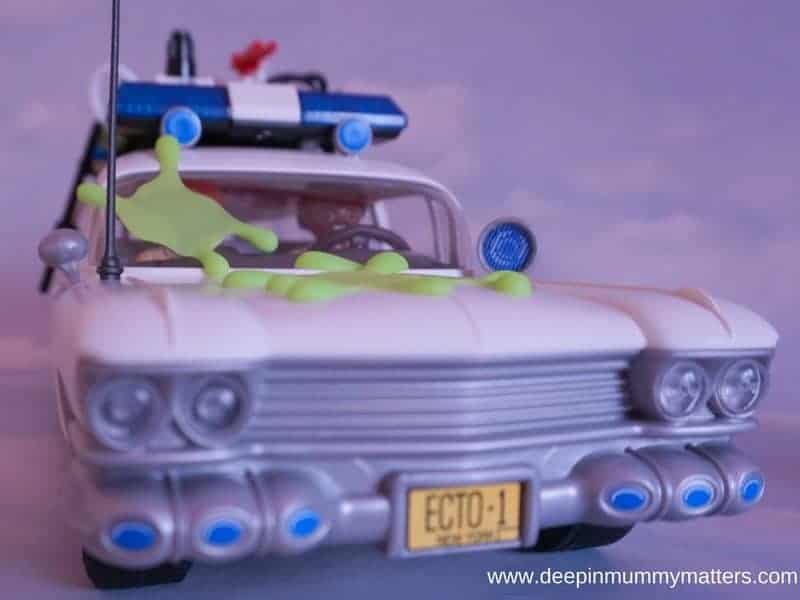 Without doubt, Ecto 1 is our families favourite item of Playmobil ever. It looks exactly like the car in the movies and has lots of fun features to make playtime fun. Even Lillie wanted in on the action when it came to building Ecto 1 (and by that I mean, she took over). This coming from a girl who doesn't like cars!!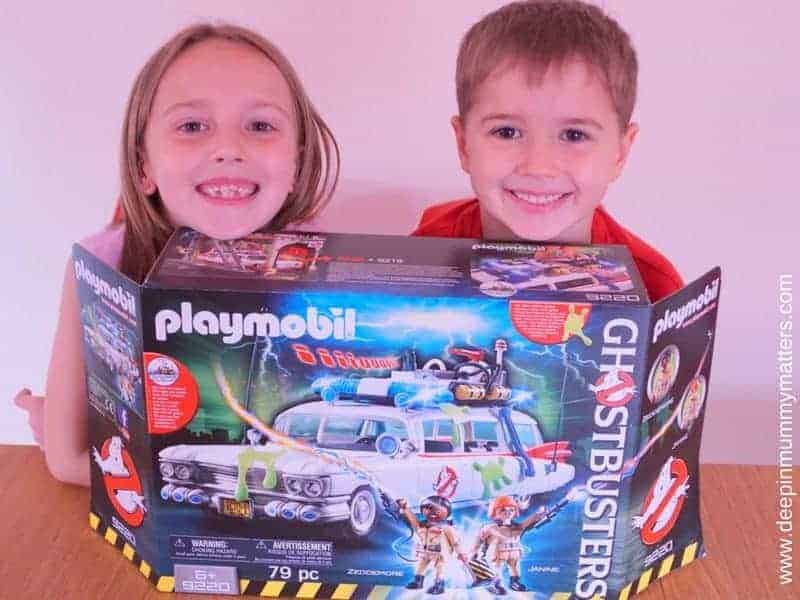 Ecto 1 features lights and sound with the flashing lights on the roof which also has an audible siren. The roof can be lighted off fully for access to the back of the car where you can store the Proton Packs, Ghost Traps and other Ghostbusting equipment.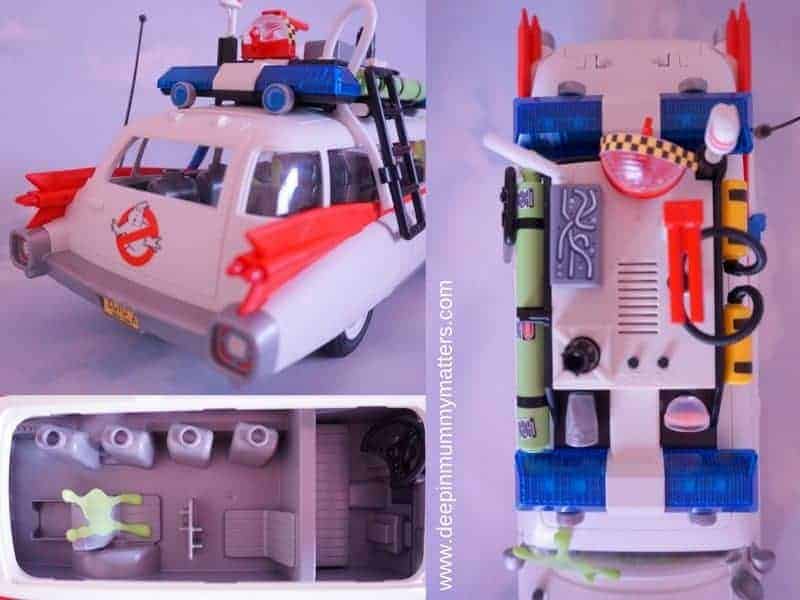 This playset also comes with Winston Zeddemore and Janine Melnitz in their Ghostbuster outfits and the Ecto 1 has enough seating to fit two further figures with all of their equipment.
What we thought to the Ghostbuster Playsets?
As I said above, this has perhaps been one of our favourite Playsets so far and we thought that wasn't possible after reviewing the Porsche Playset. I think the nostalgia value for parents and older kids mixed with the excitement of the new movie for younger children means this is a playset which spans the ages.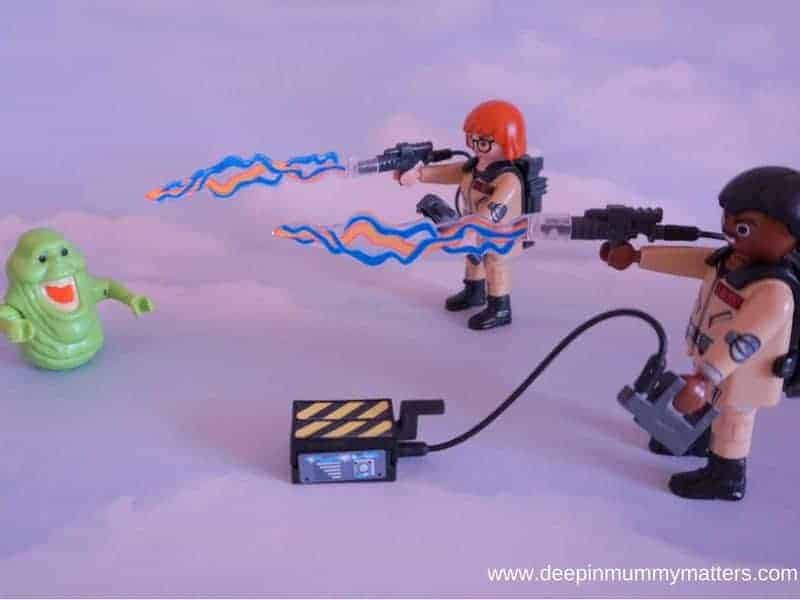 Ollie is all about re-telling films and TV shows he has watched so loves figures and playsets which help him to do that. Whilst Albie, who hasn't seen any of the films as he is still too young loves them for the fact he can create his own stories and play from his own imagination.
All in all, this has been a set which we love as a family and I have no doubt that in years to come when the Beans have all outgrown playsets, this will become a model on the office shelf because we can't bear to part with it and eventually it can be passed down to future generations.