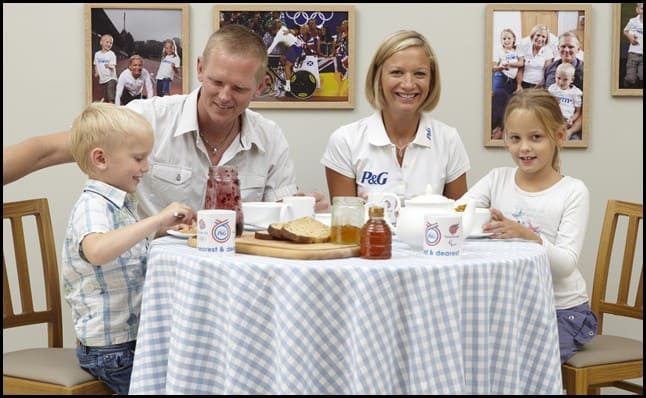 Being a parent is the most fulfilling role I have undertaken in my life so far, its definitely my proudest achievement. Each time one of them reaches a milestone or overcomes a challenge, my heart beats right out of my chest and they still have such a long way to go. At this moment in time I have no idea what lies ahead for my children, what difficulties lay in store for them, what successes they will know or what path their life will take. But a few weeks ago when I attended Sainsbury's Super Saturday, I saw a whole host of people, children and adults facing all kinds of disabilities and it struck me just how proud their parents must be of them. Unfortunately, we live in a society where there are so many people who stop working for the slightest little niggle, happy to take money from the Government rather than finding a career which they can do. Instead just saying "I can't work, full stop" without even looking to see what they CAN do. I hope these people look at our Paralympians and feel shamed. These are people who have either been born with a disability or through an event in their life have become disabled and not let it stand in their way. Some of these people could have easily said "I can't do it" but they didn't and now they will go on to become the pride of Britain, but even more so the pride in their parent's smiles.
P&G have recognised this and to say 'thank you' to the Mums, Dads and those closest to our Team GB ladies and gentlemen they are giving tickets to every single member of the Olympic and Paralympic Teams for the London 2012 Games. It's hard to believe that we are less than a year away from this major event, its time for the UK to show the rest of the world who we are.
P&G UK TO THANK MUMS AND FAMILIES OF GB ATHLETES WITH TICKETS TO LONDON 2012 OLYMPIC AND PARALYMPIC GAMES
The 'nearest & dearest' of athletes to be looked after, up to and during Games time
P&G UK has partnered with the British Olympic Association and British Paralympic Association (BOA & BPA) to create a programme that will support the family and friends of all Team GB and ParalympicsGB athletes. Research shows 78% of retired Olympic and Paralympic athletes said their 'nearest & dearest' made a positive impact on their performance.
The programme starts with a regional roadshow across the country and will bring together the family and friends of athletes, giving them advice and help on how they can best support their sons and daughters in the build up to and during London 2012.
P&G will also ensure every athlete's mum gets to see their son or daughter compete at the greatest show on earth by providing free tickets to their first appearance at London 2012 Olympic and Paralympic Games. Over 70% of athletes surveyed said that they had tried to obtain tickets for family at previous Olympic Games or Paralympic Games.
Dave Reddin, Team GB, Head of Performance Services: "Our focus for next year is to make certain every member of Team GB has the resources and support they need to reach their full potential on the fields of play at London 2012, so we've looked at all aspects that can impact that, including the role of the 'nearest & dearest'. All our research and discussions with athletes shows that strong, focussed support, not just at the events but all the way through the build-up to next summer, will help our athletes perform at an even higher standard."
Penny Briscoe, ParalympicsGB, Performance Director: "One of the biggest areas of concerns for athletes at Games time is around family and friends. When do I get to see them? How can I sort tickets for them? We want athletes to be focussed on their performance rather than distracted by worrying about their family. Having the P&G supporting the 'nearest & dearest' programme will take the pressure off the athletes, allowing them to concentrate on The Games and providing a framework for the family to support their athlete in the most productive way."
Of the former athletes surveyed, the resounding majority (86%) said the 'nearest & dearest' programme was a positive way to support the Team GB and ParalympicsGB athletes in 2012, as supported by retired Olympic & Paralympic athletes:
Colin Jackson (110m Hurdles): "I think this is a great idea and will really benefit the athletes. I know from my personal experiences at The Olympics, my family were asking how they could help and support me. I know it was always well intentioned, but because of my training, I couldn't always give them enough time to explain or help. This will provide a real support for both the families and the athletes."
Sarah Winckless, Chair of BOA Athletes Commission, Olympic medallist (Rowing):  "This certainly would have been useful when I was competing. Even as far away as Sydney, I know my family were all trying to get hold of tickets to see me compete and for those who made it, it was a really great feeling to have their support and to be performing in front of them all."
Lucy Shuker (wheelchair tennis) said: "As much as I loved the support of everyone around me, sometimes all I wanted was to focus on was my sport! Having a way to educate families on the best way to keep in touch and offer their support is positive step, particularly as I'm sure attention will be even greater at a Home Games."
Whilst having the Games held in London will undoubtedly offer fantastic support, it also brings added pressure for the athletes. For many London 2012 will be their first ever Games and for all, it will be their first Home Games. Mum of P&G ambassador Keri-Anne Payne, Patricia Payne said:
"Having Keri-Anne compete all around the world, it's difficult to find the balance between wanting to chat all the time and catch up with her and just leaving her to it; I'm sure other families will have experienced the same thing. The 'nearest & dearest' programme will therefore give us all advice and help us support our athletes in the best possible way. The fantastic offer of tickets will also, I'm sure, be warmly received by all families."
For P&G, the 'nearest & dearest' partnership forms part of its Proud Sponsor of Mums campaign and helps acknowledge the key role Mums play within the family environment. New researchby P&G has shown that as well as the time commitment involved (over 100 mums surveyed spend 15+ hours per week supporting their child's participation in sport or hobbies), mums also recognise the important role sport plays in a child's life with almost 70% saying it contributes to their physical, emotional and mental development.
Nathan Homer, Sports Marketing & Olympics Project Director of P&G UK says "We have made it our business to help mums and their families in small but meaningful ways through our brands and we're delighted to support Team GB and ParalympicsGB athletes through their families. The programme acknowledges the role of the Mum and family and looks to offer them support of their own with a guarantee of seeing their son or daughter compete."
The programme will start with the regional roadshows in October 2011, visiting 14 cities around the country and will continue up to and throughout the Games.