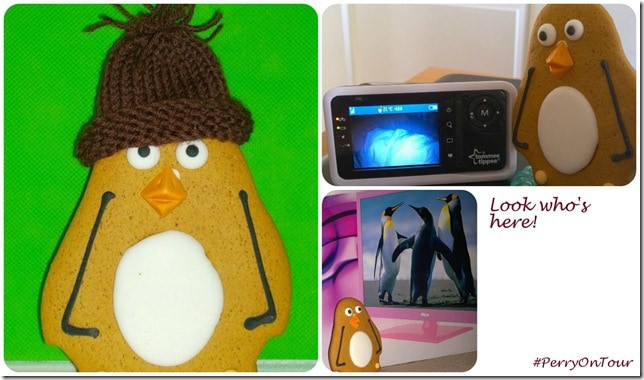 When Perry the Penguin came to visit #PerryOnTour
If you go down to Costa today, you're sure of a great surprise . . . because Perry the Penguin Gingerbread has arrived to put a smile on the faces of the younger visitors. To celebrate Perry's arrival 10 bloggers were selected to take part in a Perry the Penguin Challenge. Over the course of the last three days we were to take #PerryOnTour, have a bit of fun and blog about our adventures. This is our adventure . . .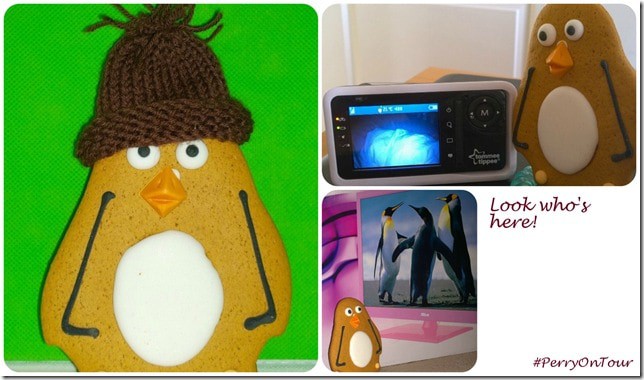 When Perry the Penguin arrived, Little Bean and Beanie Boy were at school so it was all quite quiet at home. Perry had a little look around and was very excited to spot a few Penguins he recognised and then waited patiently for Jelly Bean to wake up so that we could collect the tiddlers from school.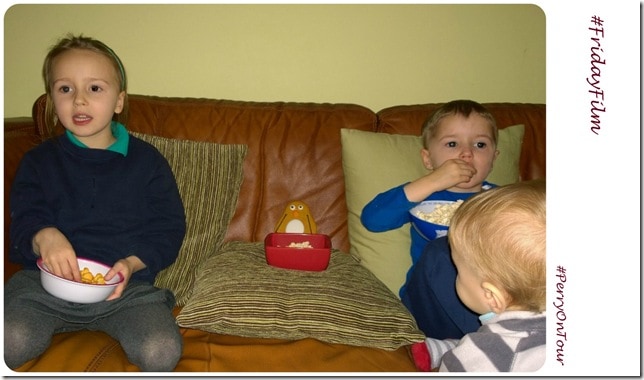 When we collected the tiddlers from school they were both feeling quite tired after a long week so we decided to snuggle up together on the sofa for a #fridayfilm with popcorn and cheesy biscuits. Perry really liked the Sweet'n'Salted popcorn.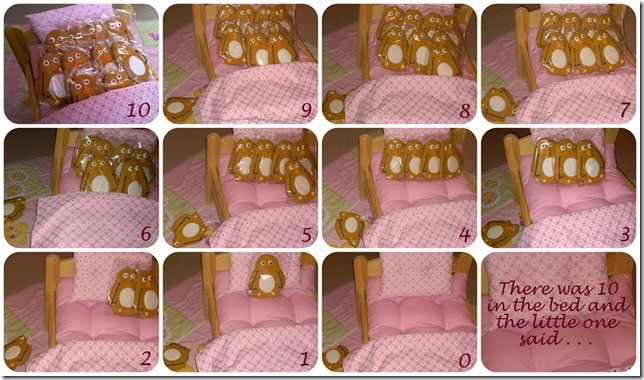 So that we didn't all have to share one Perry, we were actually sent 10 Perry the Penguin Gingerbread so we invited Perry and his Perry friends to sing along with us to one of the tiddlers' favourite songs 'there was 10 in the bed and the little one said roll over, roll over . . .'. You get the picture, it took a while!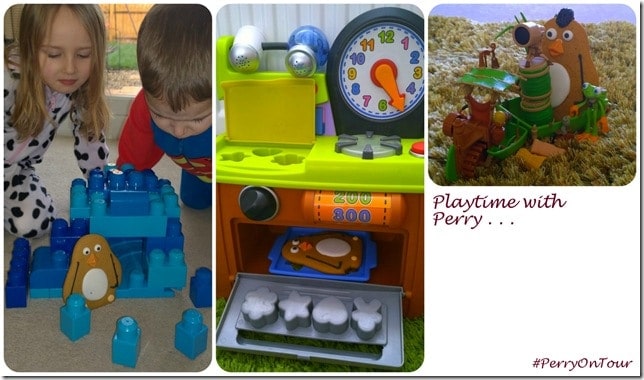 On Saturday morning the tiddlers showed Perry around the delights of their playroom. It turns out Tree Fu Tom had gone walkabout so Perry had to step in and help Zigzoo to look for him (I'm not sure about the new mohican that Perry was sporting for the mission though?). Perry did get a little worried when the tiddlers decided to bake him in their kitchen but he was very touched when they built him his very own igloo to make him feel at home.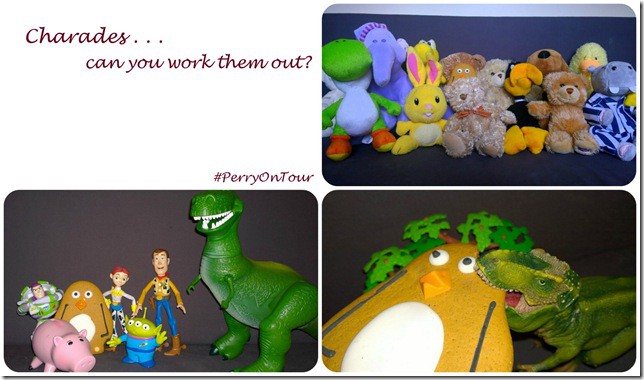 Unfortunately it was a very wet and rainy weekend here and the tiddlers reminded me from the Story of the Gingerbread Man that Gingerbread men (and therefore Penguins) don't like to get wet so we decided to stay at home and make some fun for ourselves with a game of charades. Can you guess the names of the films that we tried to recreate with a little help from Perry?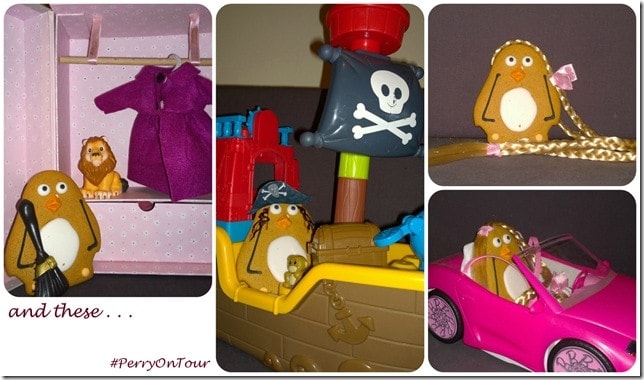 And a few more . . . (answers at the bottom of the post in case you get stuck!).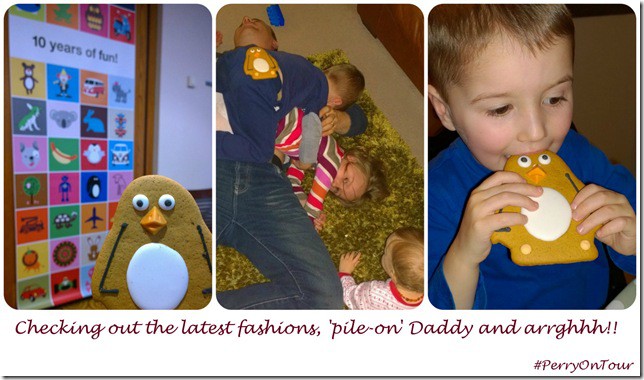 On Sunday Perry the Penguin tried his hand at fashion and came with me to get a sneak preview of SS14 clothing range for a gorgeous Swedish clothing label. Unfortunately it was a closed-door event so I can't share any of it with you just yet, it's between me and Perry. When we returned we found that Daddy was being over-run by the tiddlers so Perry did what any big brave Gingerbread Penguin would do, he joined in!!! But alas, poor Perry, Beanie Boy got his hands on him and couldn't resist a little nibble!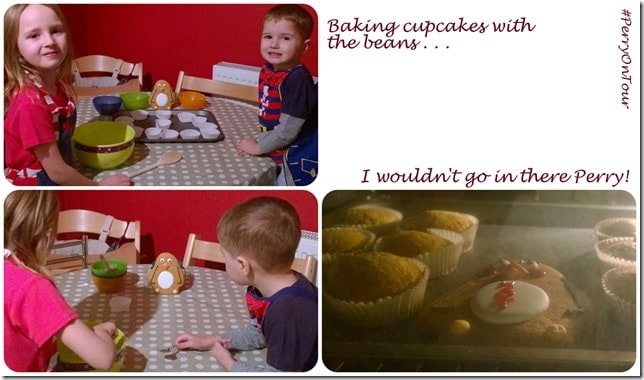 Later we headed to the kitchen to make cupcakes for the tiddlers lunchboxes for the week ahead. Perry went to check on how they were doing in the oven and said it was a little bit hot in there so whilst the tiddlers tucked into their cakes, I popped Perry in the refrigerator to cool off.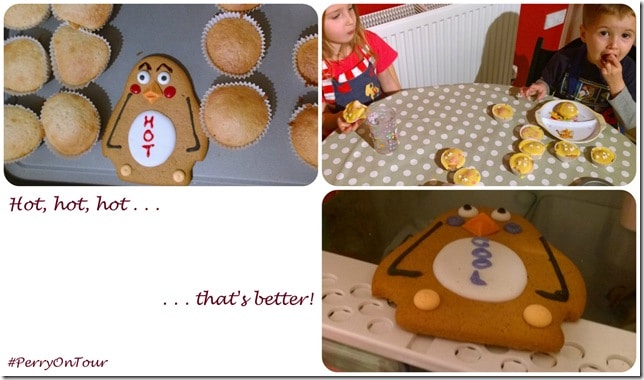 After all that adventure it was time for bed. Jelly Bean donned his favourite Penguin Pyjamas in celebration of our weekend with Perry and decided to give him one last nibble before Perry settled down to sleep.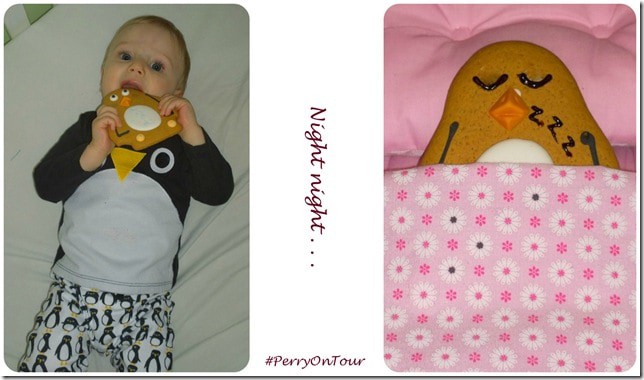 Thank you Perry it was fun, we'll be seeing you again soon in Costa but until then . . .
Night night, sleep tight xx
To see what the other bloggers got up to with Perry search #PerryOnTour or visit Costa Coffee Facebook page.
Charades answers: ET / Toy Story / Jurassic Park / The Lion, The Witch and the Wardrobe / Pirates of the Caribbean / Tangled / Barbie