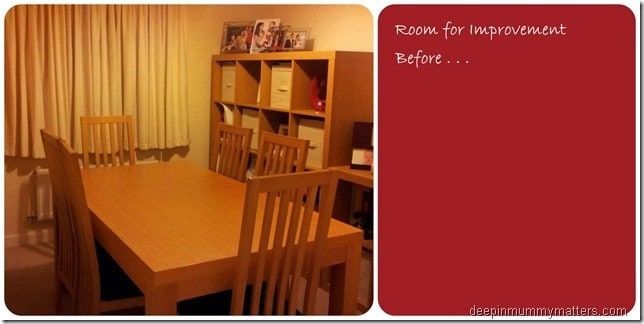 Our £50 Dining Room Revamp
I have always said that I love a challenge, I used to think that just meant my children but last week I received an email asking if I would like to take part in a competition on MoneySupermarket.com called Room For Improvement. They would give me £50 to revamp a room of my choice in my home. I chose my dining room . . .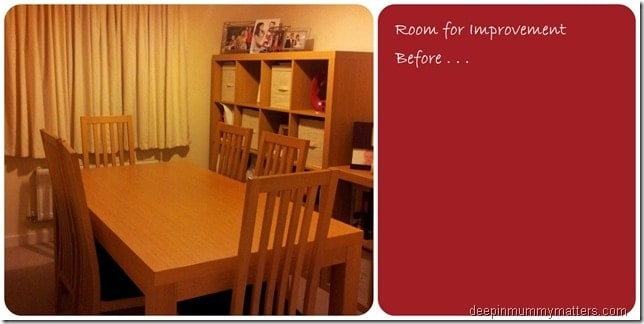 Pretty boring isn't it? We have had the curtains, the dining table and chairs for years. The table and chairs are still in good condition and we only bought the shelving units last year so they are still in good condition. The room just needed an injection of colour. This is how it looks now . . .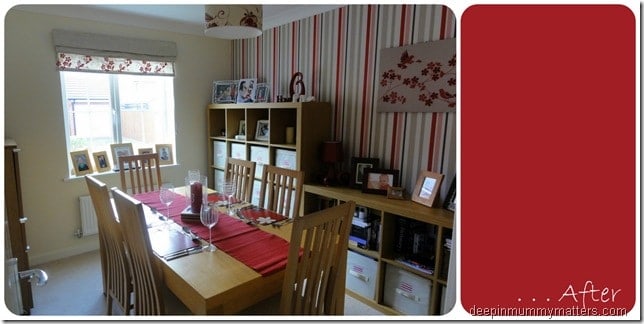 So do you want to know how I did it? First things first, I needed to decide on a colour. My kitchen is red and cream so I wanted to carry on the theme. I already had the placemats and table runner to match my kitchen so the decision was made. Next I popped down to our local B&Q store and visited the clearance baskets to see if I could find some wallpaper. I LOVED this stripey wallpaper and at only £4.96 per roll I couldn't say no. After measuring my wall I calculated that I would need just two rolls.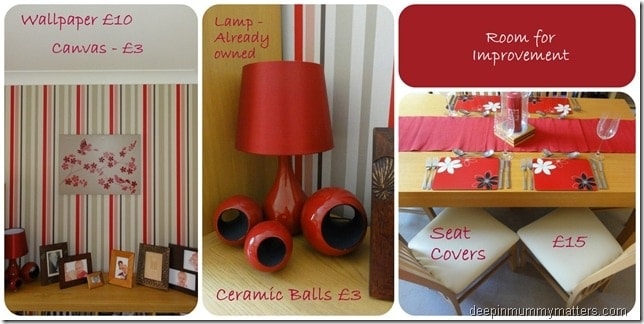 Truth be told, I have never liked our dining chairs, they look dull and boring but they were practical so we stuck with them but for this project I decided it was time to give them a new lease of life and cover them. For the fabric I went to Dunelm Mill and bought 2 metres of a wipe clean leatherette material which cost £7.49 per metre. Then I simply unscrewed the seats from the chairs and used Hubby's staple gun to tightly wrap and secure the cover over the seats before re-attaching them to the chair frames. They look so much brighter now and the wipe clean is a necessity with small (messy) children.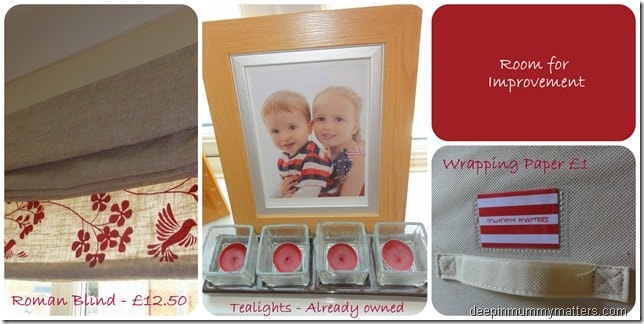 Next I wanted a new window dressing. Whilst browsing the shelves in Next Clearance looking for cheap red ornaments I discovered the blind, the canvas and the ceramic balls which were all an amazing bargain. The roman blind was really easy to fit and I feel has really opened the room up too. A visit to TK Maxx provided me with the Lightshade for £5 in the clearance section.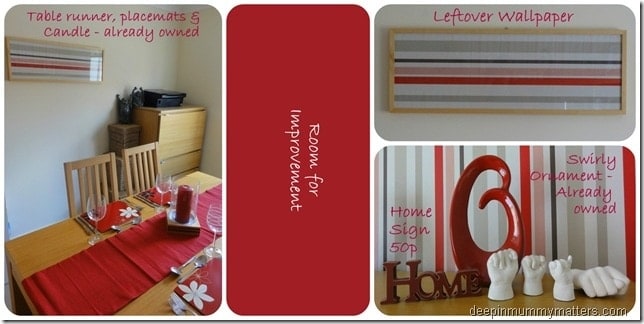 For the finishing touches I visited a local charity shop and found the 'Home' sign for 50p. I made box labels out of wrapping paper bought from a gift shop for just £1 and my favourite item in the room . . . my stripey wall art! We already had the picture frame which used to house a beach scene print from Ikea many moons ago. I cut off a strip of the leftover wallpaper and framed it with the stripes running in the opposite direction to pull the room together. Other places I would have looked would have been car boot sales and table top sales, as well as shops like The Range and Wilkos which also have reasonable priced homeware to bring a theme together.
Here is how my RFI stacked up;
Lightshade – TK Maxx £5.00
Wallpaper – B&Q – £10
Roman Blind – Next Clearance – £12.50
Canvas – Next Clearance – £3.00
Ceramic Balls – Next Clearance – £3.00
Seat Covering – Dunelm Mill – £15
Wrapping Paper – Gift Shop – £1
'Home' sign – Charity Shop – 50p
Total Cost: £50!!!! Huzzah!!!!
I think it looks pretty good, don't you?
DISCLAIMER: I was given £50 to revamp a room in my house. I was not instructed how to spend the money or indeed what to write. All words and images are my own and may not be used without my permission.
#roomforimprovement