October Half Term 2013 – Wednesday
Last night we received a message from Karin to say that Ella had fallen down the stairs and had broken her arm. When I told Little Bean this morning she said straight away that she wanted to do a picture for her friend. She made this picture as well as some cute foam daffodils and insisted that we buy her a present too. We were planning on a shopping trip into Peterborough so that Curly could spend his birthday money and gift vouchers.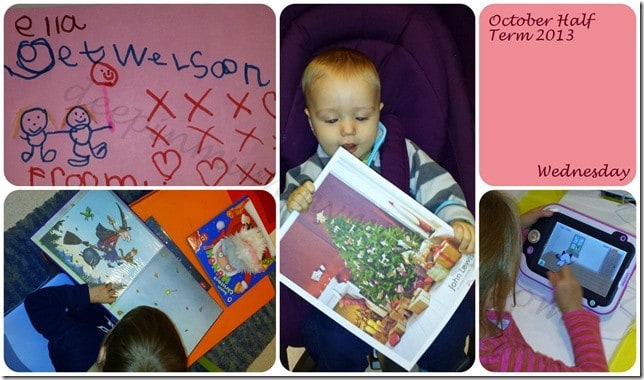 Curly had lots of fun spending his money and came home with Skylander and Lego goodies to add to his collections. Meanwhile I kept the tiddlers entertained in the toy department of John Lewis; Little Bean was checking out the new technology from Leapfrog and Kurio, Beanie Boy was reading his favourite book (Room on the Broom) and Jelly Bean . . . well he was busy eating the John Lewis Christmas catalogue of course!!!