Now you can see me! [Mac In A Sac – Review]
When I was a teenager I would cringe at the idea of a Mac In A Sac or a 'pack-a-mac' as they were more often known. As far as us teens were concerned it was tantamount to being a full-on geek but these days they are everywhere and people often have more than one, I know I do. Plus it's cool to be a geek these days!!
Mac In A Sac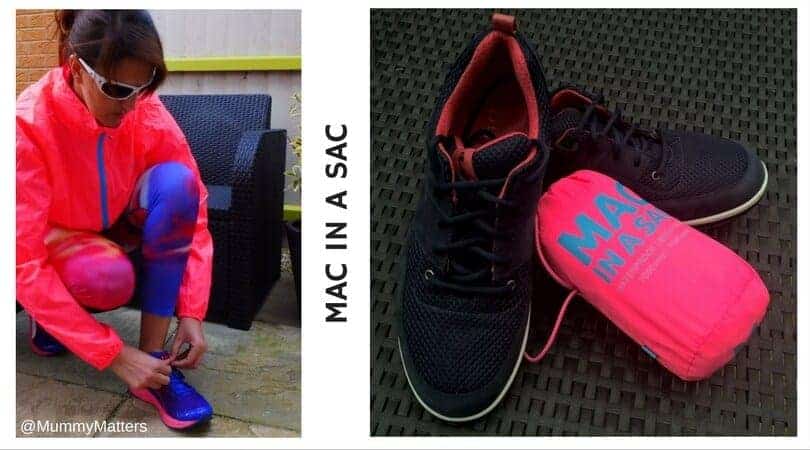 I was recently introduced to the brand Mac In A Sac which I hadn't previously heard of. I have been looking for a lightweight rain jacket for the school run since we are starting to walk more often now that Jelly Bean has moved preschools. Our walk takes us along the footpath of a very busy road so I wanted a jacket which would make sure that we could be seen at a distance. The Beans all have high-vis vests to wear over their jackets when we are walking and scooting.
I spotted the fluorescent pink and knew immediately it was the lightweight jacket I was looking for. It would also be perfect to contrast with my rather bright running gear and trainers so that I could be seen whilst attempting to whizz along the footpaths.
First Thoughts
Well obviously my very first thoughts were, 'it's bright' but that's exactly what I wanted. I love the contrasting blue zip and the reflective writing on it. The jacket is a good length to cover my bottom, nobody wants to see that wobbling around when I'm running! I have particularly long arms but I'm pleased to say that the cuffs fit right down to my wrists so I don't look like I have borrowed one of the children's jackets and the flap on the back allows me to stay cool yet protected from the elements. The hood which rolls up into the neck isn't too bulky as some of them can be and the zip-up pockets mean I have somewhere safe to store my keys whilst out and about.
Features:
Highly waterproof and breathable (7000WP/7000BR)
Water repellent zip
Fold away hood with adjustable elastic shock and toggle
Raglan sleeve
Waist pockets
Elasticated cuffs
Updated back vent
Reflective print logo at front chest, back and brack hem
Woven branded flag label at hem
Various colours to choose from
The Mac in a Sac has been a godsend for me on many a walk with a buggy when the weather has suddenly turned and I can definitely see me using it when we go camping, scooting and on any of our outdoor adventures. Mac in a Sac rolls up easily into its own little carry pouch with an elasticated drawstring pouch which can be popped into the jacket pocket when wearing it so it doesn't get lost.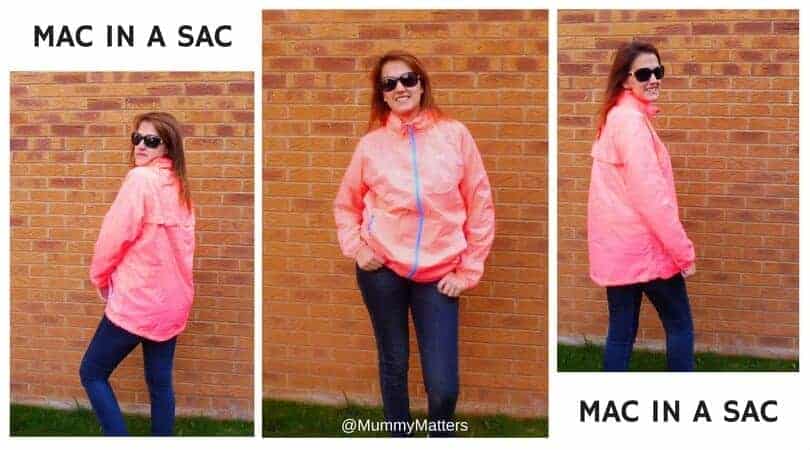 My Mac in a Sac is lightweight enough to wear over the thickest of jumpers but will keep away the chilling winds and driving rain. I can be safely seen at a distance and I don't feel like a boil in the bag rice so I really couldn't ask for more.
DISCLAIMER: I was sent the above Mac in a Sac for the purpose of this post. All words, images and opinions are my own and may not be copied without my permission. I have not been instructed what to write.