Nanogen – Help for Postpartum Hair Loss
After I gave birth to Little Bean I don't recall that I lost much hair. I knew other Mums complained of hair loss and I had read about it in books but perhaps because it was summer and I was out and about so much I didn't really notice.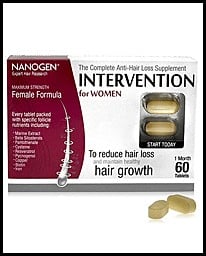 After the birth of Beanie Boy it was a whole different kettle of fish! A few months after giving birth my hair fell out by the handfull, every morning my pillow would be covered in hairs, the plughole in the shower would block regularly and the carpets had a layer of hair constantly covering them (yes I did hoover but the hair even broke that in the end!). It was actually quite disturbing as I was convinced that I would soon be bald because I was losing that much hair. It is in fact a natural process after pregnancy but it can be upsetting nonetheless.
The normal process for hair growth is that 85-95% of the hair on your head is growing whilst the other 5-15% is in a resting stage. After the resting period this hair falls out and is replaced by new growth. On average a woman will shed approximately 100 hairs per day. Increased levels of oestrogen during pregnancy extend the growing stage and there are fewer hairs in the resting stage and fewer hairs falling out. During pregnancy most women will notice how healthy and full of body their hair becomes.
Following birth your oestrogen levels fall and so more hair follicles than normal enter the resting stage which ultimately means you will lose more hair. As your hormone levels settle your hair growth and regeneration returns to normal which is usually by the time your baby celebrates their first birthday.
To combat my hair loss I was sent Nanogen Intervention for Women which is a complete Anti-Hair Loss Supplement for Women. Each ingredient has been specifically chosen for its properties in reducing hair loss and promoting healthy hair growth;
Ingredient
Amount per serving
How it helps
Marine Cartilage
Cysteine
Pink Bark Extract
Pantothenic Acid
640mg
100mg
50mg
12mg
Bio-Active Hair Cell Fortifiers: Helping hair follicles maintain thick and healthy hair growth
Curcumin Extract
Resveratrol
Horsetail Extract
50mg
100mg
100mg
Antioxidants and Phyto-Extracts: Designed to prevent hair damage
Iron
Vitamin B12
48mg
12ug
Blood Component Molecules: To help maintain oxygen levels
Vitamin B6 P5P
Caffeine
2.8mg
50mg
Bioavailability Enhancers: Helping ensure nutrient uptake
MSM
Vitamin B7 (Biotin)
150mg
1mg
Vital Hair and Skin Nutrients: Supporting strong, healthy hair growth
Zinc
Copper
Magnesium
30mg
4mg
150mg
Balanced Ion Micronutrition: Ensuring optimum levels of essential elements for hair growth
Each day I have taken two tablets, one in the morning and one in the evening. I noticed a difference in reduced hair loss within a week and my hair is feeling and looking much better, which in turn has increased my confidence. Of course, Nanogen Intervention isn't just for women post-pregnancy, there are many reasons that we lose hair and so Nanogen Intervention is available for Men and Women. There are also a number of products in the Nanogen range as part of a 4-step protocol. Nanogen Intervention is step-2 – Stabilise and Thicken.
For more information about the range, click here.
DISCLAIMER: I was sent Nanogen Intervention for the purpose of this post. All words and opinions are my own and may not be copied without my permission.