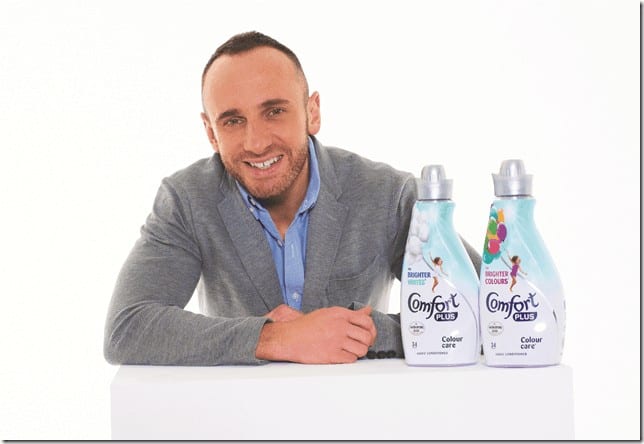 My Q&A with Mark Heyes, Celebrity Stylist
Celebrity Stylist Mark Heyes has been working with Comfort Brights fabric conditioner to encourage women to think smart about their wardrobes. I was given the opportunity of asking Mark a few questions myself. This is what he had to say . . .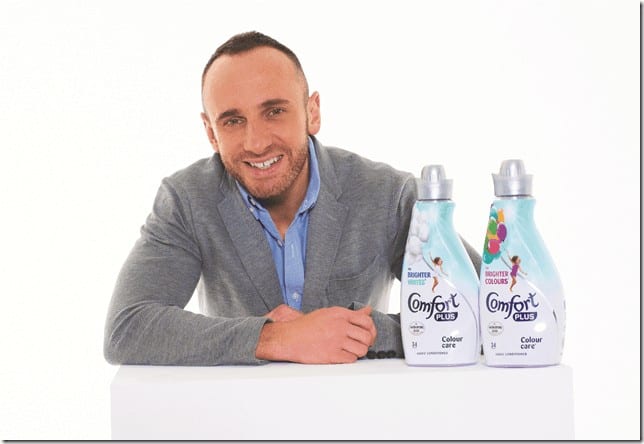 I am a bit of a clothes hoarder (actually that's a lie – I'm a LOT of a clothes hoarder!!) I still have clothes that I have been wearing since I was in my early 20's (I am now 37). I have car booted a few items and ebayed a few but on the whole I haven't really got rid of anything. My size has changed quite a bit since having my first child 5 years ago and now 3 babies down the line I am trying to get my shape back. How would you tackle my wardrobe? Would you like to come and clear it out for me!!!!! PLLEEEEEASE!!!
If you haven't worn anything in two years then it's time to get rid – unless it's a wardrobe basic that's been lurking in the back (we'll talk about wardrobe basics a bit later!) Like you mentioned car bootsales and ebay are great and why not try giving them to a great charity as well? Try categorizing your wardrobe into tops, knitwear, trousers and accessories making it really easy to see what you have. Then at the beginning and end of each season you can store away your summer or winter goods, giving maximum space in your wardrobe. Try the vacuum bags you can pick up in any hardware store, they fit perfectly under the bed and they help keep everything out of the way. Just make sure store your clothes clean and fresh by using Comfort Brights, they'll feel as good as knew when you open them up next season. Something I love to do is to put a Comfort Tumble Dryer sheet in with my clothes when packing them away, it's a little tip that helps to keep them smelling extra fresh!
Since giving birth three times my tummy, boobs and arms (ok and my bottom) are my problem areas. I have ok-ish legs and nice eyes (depending on the nightfeed status). I am still breastfeeding so I need tops which are 'accessible' but I want to look trendy and stylish not frumpy yet that's how I feel with my larger boobs, arms and tummy. Any tips
How about trying this season's buttoned up shirt trend? For a chic daytime look, fasten up to the neck and then add a statement necklace. For breastfeeding simply undo et voila! Wear with a skinny jean for optimum style.
Invest in a boyfriend blazer and some silk front tees. All the high street shops have some great options in at the moment. They're incredibly comfortable and hide a multitude of sins. Better still, the combination screams fashionista!
You say your legs are your best asset so come nighttime; it's time to get them out. Slip into a classic tunic dress-it covers both your arms and tummy, but flaunts those legs at the same time. But best of luck breastfeeding in that!
For a more practical night-time option try a pencil skirt with a loose top for easy accessibility.
I would love to give a capsule wardrobe a road test but I wouldn't know where to start, what are the key items I need to be looking for?
The key to a capsule wardrobe is a great selection of essential basics that suit your body shape and can be dressed up or down. All of these key pieces should be in a solid colour and should mix-and-match with each other. This allows trend led pieces to be slotted straight in, so there should be no more mistake fashion purchases that stay at the back of your cupboard!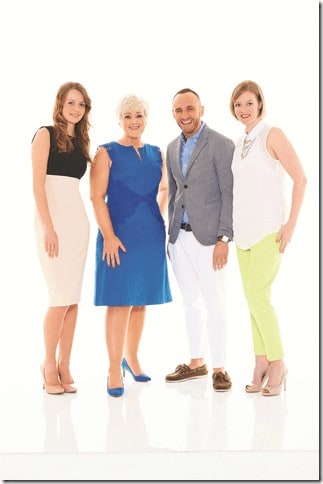 Make sure you look after your key wardrobe staples and here's what they are:
·The LBD (little black dress) and pencil skirt- Think classic and flattering to your body shape. If you're curvy flaunt that silhouette in form-fitting frock, for fuller figures-try an empire line, it's all about the body-con if you're young and slim and try a wrap style if you're more mature.
·As for the pencil skirt, make sure it hits top of the knee or the centre of the knee. Shorter looks tacky and longer looks frumpy!
·One button blazer – Just watch as the tailored lines create a waist even if you think you don't have one! This is great if you're apple shaped. Try a longer length boyfriend blazer if your pear shaped and let it skim over those hips.
·Wide leg trousers – These skim bums and lengthen legs, by creating the same width at the bottom of the leg as there is at the top, giving a column effect that visually melts away the pounds.
·T-shirts for your shape – If you are small in the bust department a turtle or crew neck t-shirt is best as the high neck accentuates what you have. As for bigger busts, try a deep-v, scoop or cowl neck to flatter the area and draw the eyes down.
·Denims – It's easier said then done to find the perfect pair of denims. A pair of skinny and bootcut jeans in each colour will serve all you denim needs. Take note, darker washes are always going to be the most flattering.
·Underwear – Always invest in good underwear, it can hide many a wobble a two! Have one great nude, black and white set. And don't forget some support knickers too! These help smooth out any lumps and bumps you'd rather not see.
How often do you think clothes should be washed and worn to keep them in their best condition?
You wash your face at least once a day and that's been everywhere your clothes have been as well. As long as you use the right detergents to keep them bold and bright with the help of Comfort Brights – well you can't go wrong!
What's your favourite pick 'n' mix sweet?
It's got to be a cable. None of those short little stubby ones. I've been known to demolish a two-foot-er in five minutes! I definitely have a sweet tooth!
Comfort Brights – a fabric conditioner specifically designed to help keep your colours and whites brighter and more vibrant – is on a mission to get the nation thinking smarter about their wardrobes with leading fashion stylist Mark Heyes www.facebook.com/ComfortZoneUK