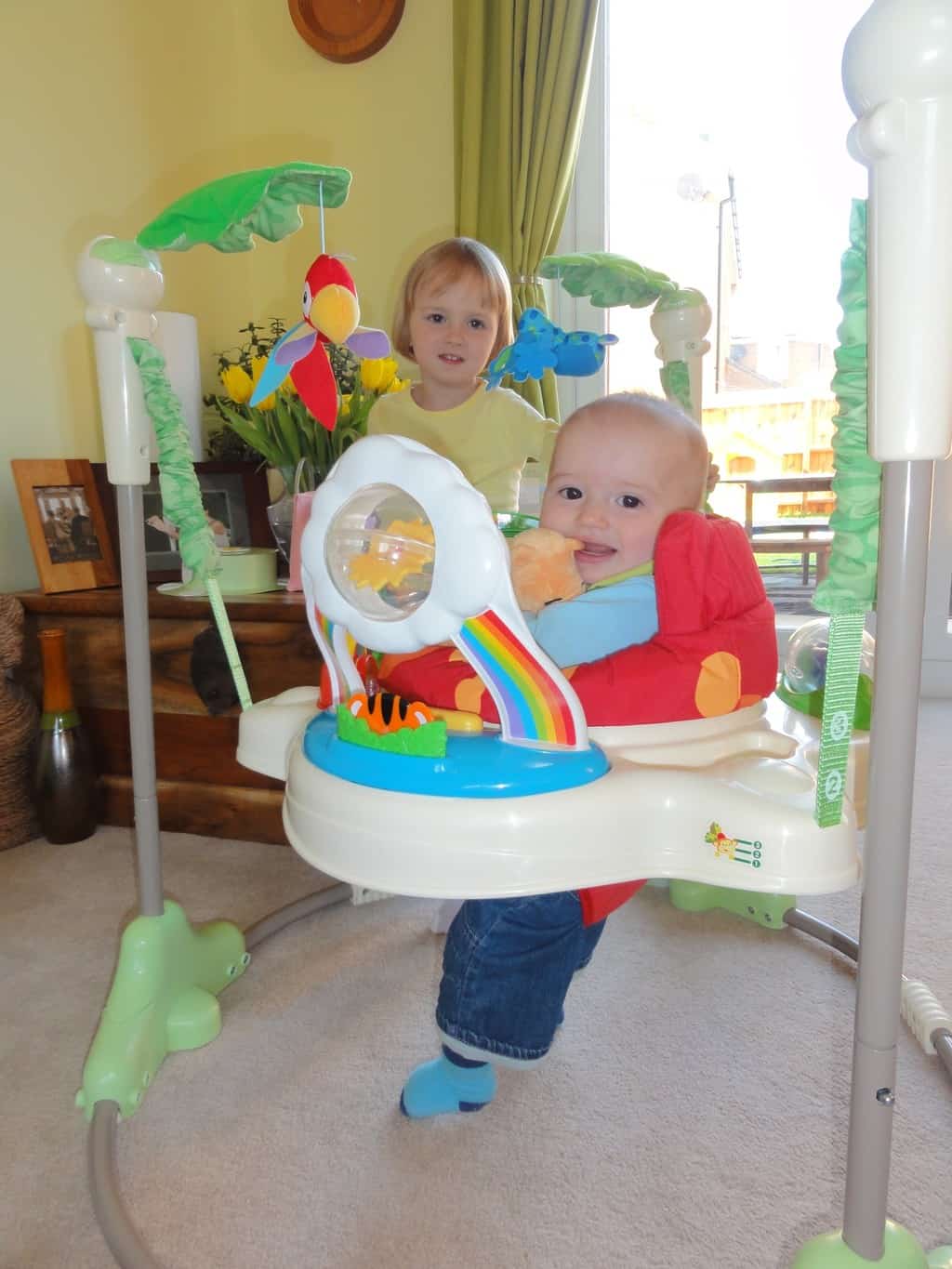 My bouncing baby boy!
Anyone with a baby will know, there comes a time when you just run out of ideas on how to keep that little bundle of joy entertained. You've sung to them, you've danced with them, rolled around on the floor with them, played with all manner of baby toys but after a while I'm sorry to say you just don't cut the mustard anymore and they get a little 'bored' of you and you need some baby free time to get a few jobs done around the house. With Little Bean the answer was a door bouncer and a ride-on baby walker and we have tried both of these with Beanie Boy. Unfortunately the door bouncer became a point of interest for Little Bean as she would try to 'swing' her baby brother and so we had to stop using it and the baby walker doesn't move on our new carpets so unless I'm in the kitchen he can't use it.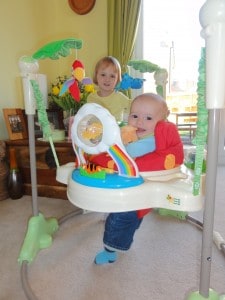 Then Fisher Price came to the rescue with the Rainforest Jumperoo which is an activity centre that baby can bounce in. It gives baby the exercise that they would get in a door bouncer but has the activity centre of a baby walker. Baby sits in the middle and the chair rotates through 360degrees so that baby can access all activities. There are 5 stations around the chair, a blue gecko that spins and rattles as small balls rotate in the container, a spinning sun at the top of a rainbow. Underneath the rainbow is a button which can be pushed to expose the hiding tiger, a spinning colour wheel, a music and lights activity centre which can be activated by baby bouncing or by them turning the elephant or moving the hanging parrot and monkey or spinning the picture wheel and a bug with tactile wings and a chewy head for the teethers. On two of the upright posts there are leaves with a hanging red parrot and a blue frog. So much to tempt your little one to reach, jump and move around for. Beanie Boy loves it!
From the minute that I sat Beanie Boy in the Jumperoo he was smiling and bouncing like a mad thing. His favourite activity so far seems to be the blue gecko that he can spin round, he has spun it so much it must be feeling a bit nauseous by now! He really loves his Jumperoo and uses it a few times a day, it supports him well and has three height adjustments to be sure that it fits your baby perfectly.
The only downside is that it is a little large (about the same diameter as a baby walker), as with most baby apparatus but thankfully we have a large lounge so it doesn't dominate, it even matches our colour scheme which is a bonus.
The best way to show you what we think of the jumperoo is to let Beanie Boy do it himself . . .