A week in the life of the Mummy Matters family
Bloggers are often accused of glorifying their lives so I thought I would do a week in the life of the Mummy Matters family so you can see that actually, we are just as 'normal' as the rest of the world.
Do you hide things without meaning to?
When Little Bean was a baby/toddler she would ONLY use these Fisher-Price dummies so whenever I saw them in the shops I would buy them because they are pretty difficult to get hold of in high street shops. I had obviously 'put them somewhere safe' because I lost them completely.
At some point during the two house moves last year they disappeared until I stumbled upon them today. Of course, she doesn't have a dummy anymore so doesn't need them. Pink definitely isn't Beanie Boy's colour and he doesn't like a dummy so I now have a stack of these in pink, blue and various other colours – car boots here we come!
The baby weight is going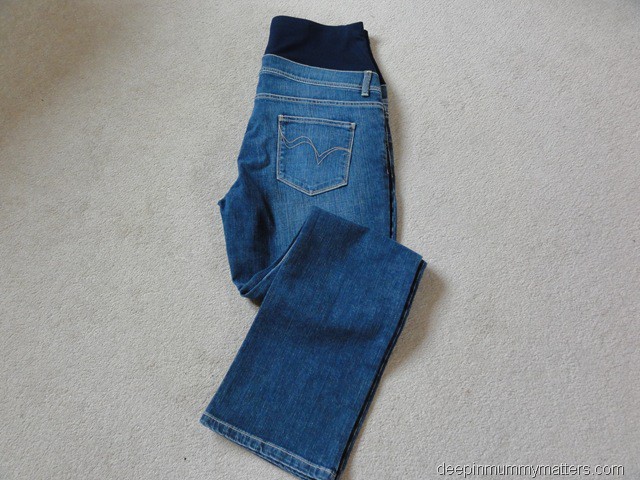 Now that I've finally lost the majority of my baby weight I've had a good sort out of my clothes and I'm going to start listing it all on eBay. I'm quite happy to part company with most of my oversized clothes but I'm struggling to say goodbye to my maternity clothes.
We have both agreed that Beanie Boy is our last baby but it just seems so final to sell off maternity clothes and baby gear. I don't think I'm ready for that just yet!
More maternity clothes to go!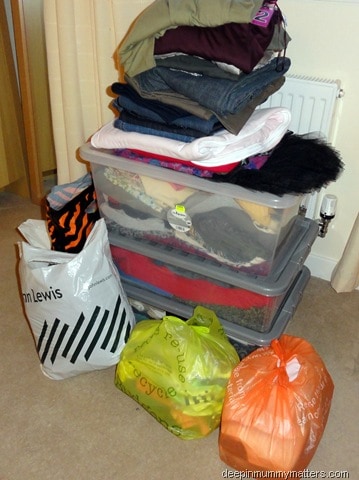 One day later and this is the total sum of all my oversized clothes that its time to say goodbye to. Quite a lot isn't there!! Well, it has been over 3 years since I was this weight. I do have some things left in my wardrobe but to say its outdated is an understatement. One step at a time hey!
Meeting Katy Ashworth
OK so this isn't your average day but it does happen quite a lot if you're a blogger. We were invited down to London for the day to attend an exclusive Bloggers Event being held by Three Mobile. We had a fun-filled day out with our friends Cafebebe, MummyManda and their children. The highlight of the day for the girls was getting to meet Katy Ashworth from CBeebies I Can Cook and join her on stage to sing with her and meet her monkey.
My funny boy
Bottoms up! I could take a photograph of Beanie Boy sleeping like this every night as it never fails to amuse me. He always has his bum in the air and he is always cuddling his teddy. He's just soo cute!
How often do you find yourself just staring in awe at your sleeping baby? I used to do this all the time with Little Bean too.
New spoons for Beanie Boy
I LOVE these spoons. They are Munchkins spoons and have dragon heads on the handle which can be bent up to face baby. The spoon tip is deep enough to get a good serving of food but also really soft-tipped so as not to hurt the baby's delicate gums. My Mum bought these somewhere when Little Bean was born and I managed to keep one of them in good enough condition to use again with Beanie Boy. I think he worries that the dragon may try to steal his food though, so he tries to stare him out before he eats his food.
Birmingham Baby
As bloggers we tend to attend blog events maybe once or twice a week, most of the time they are in London but we also get invited to events locally and other major cities in the UK or abroad. On Friday we headed off for an 'adventure' as the girls put it. We had been invited to attend The Baby Show in Birmingham so that we could write about it and tell our readers what we thought.
Many of the exhibitors commented that it was a little bit 'slow' but from a shoppers point of view, it was actually a really nice and relaxing pace. I was still shattered when I got home but we had a lovely day with our best buds!
Fun at Daddy's Work
Before I went on maternity leave with Little Bean, this was my place of work too so it's always nice to be invited back to see old friends and colleagues. Yesterday they were having an open day with lots of different activities to keep the kids (big and small) entertained. As you can see, Curly and Little Bean had lots of fun on the bouncy castle.
Reviving old toys
Toys for the kids don't have to be brand new, spangly and battery-powered! This was my Pumpkin Palace from when I was a little girl. I took really good care of all my toys when I was little and when I'd had enough of playing with them I boxed them up. Some of them I sold at car boot sales but a few of my favourites, the Pumpkin Palace and a few Fisher
Price pieces, I put away for the day that I had children of my own.
Little Bean spotted the Pumpkin Palace in the garage today and asked if she could play with it. I gave it a quick clean and it has come up as good as new, she has been playing with it for hours today. I wonder whether we'll be able to keep it for her children too?
Have you passed down any of your old toys to your children?
So that was a week in the life of Mummy Matters, a few fun days out but on the whole a pretty normal week. We have been doing lots of 'sorting' this week. There always seems to be lots of sorting and tidying jobs to do. How was your week?