Mummy's little helpers!
When you have children, you always like to think that they will grow up to be kind-hearted, thoughtful and generally good all round but sometimes it still makes you stop in your tracks when you witness them stand up and offer to help to do something without even being asked.
Little Bean has always been a great little helper, when unloading the car she is always keen to help carry in some of the smaller items, although she will try her hardest to carry in some of the larger items too.  From the minute she could walk she would take her dirty clothes and put them in the wash basket and at least 2 or 3 times a week she will make her bed without being asked.  She will always help me to empty the dishwasher (even though I would prefer her not to sometimes!), she sorts the dirty laundry into coloured piles (great for learning!)and at teatime she always lays the table.  I have never asked Little Bean to do any of these tasks but I always give her lots of praise when she does choose to help.
Recently, I've taken to baking – lots! And I love it, but even better than that, its something and Little Bean and I do together, it has even sparked her interest in helping me to prepare tea, she still won't eat it but it's a start!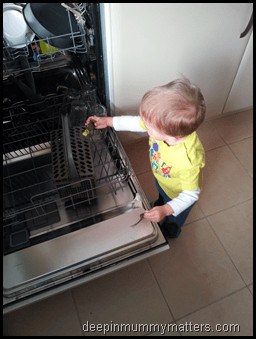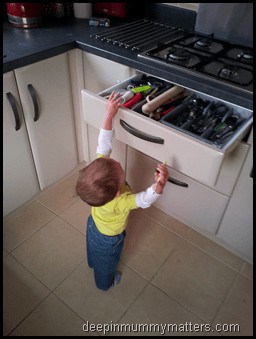 In the last couple of weeks Beanie Boy has taken quite a shine to the dishwasher and so I've been very keen to only empty/load it when he is either strapped into his highchair or out of the room but this morning I let him approach the dishwasher to see what he would do and was amazed to watch him pick up all the spoons and forks (I had already removed the knives) and stand on tiptoes as he opened the cutlery drawer and dropped them in so it looks like I have a new little helper on my hands!
As for Curly, I haven't forgotten to mention him – he's helpful when asked or when he wants something but at the moment it doesn't come so freely.  Well we can't have it all now can we!
This post is written for this week's Gallery Theme: The Kitchen – why not pop over to see what everyone else has to offer!