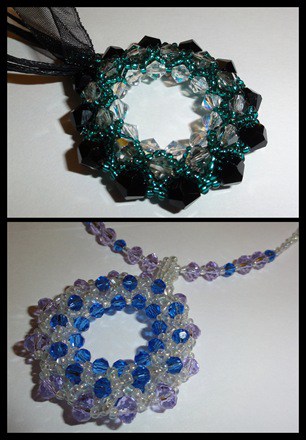 Look what I made . . . beadweaving
I have loved doing crafts ever since I was a small child and that love for crafts has never gone away, just the time to do them.
Time for me
Years ago I found Riverside Beads, a well-stocked craft shop near Peterborough who held craft classes and it became a chance for me to have some 'me time'.
Learning Beadweaving
Learning Beadweaving has perhaps been one of my favourite new crafts.  The effects build quickly and look very intricate.  These pretty circular pieces could be used as pendants on a necklace or made into decorations for the Christmas tree.
What do you do with your crafts?
I have more necklaces, bracelets and earrings than I know what to do with but I just can't help making them I love starting with a few beads and ending up with a creation all from my own hand.
Do you have any fun or exciting hobbies, what do you like to do in your spare time?