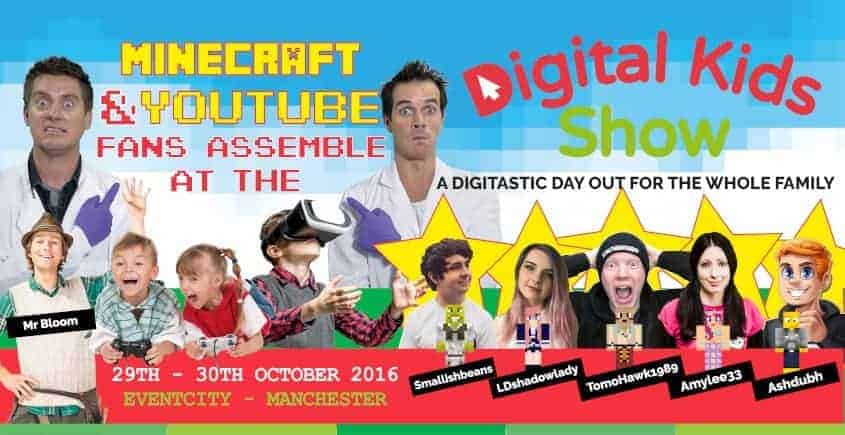 Four more Minecraft superstars have joined the Digital Kids Show line up as the who's who of the YouTube fraternity scramble to join the event roster.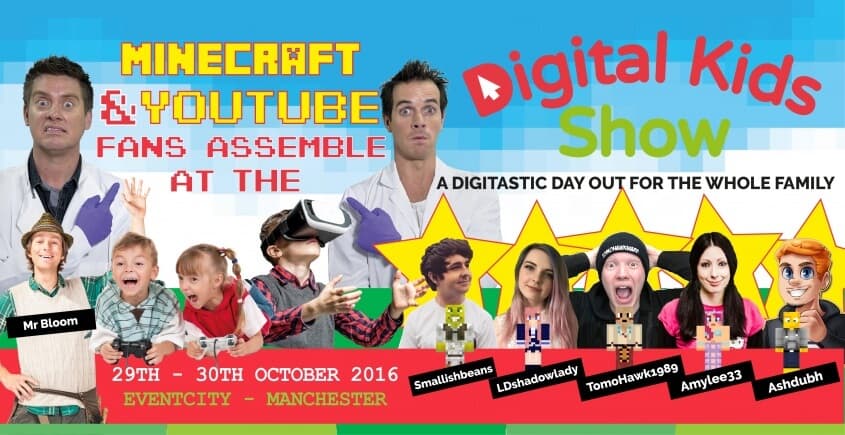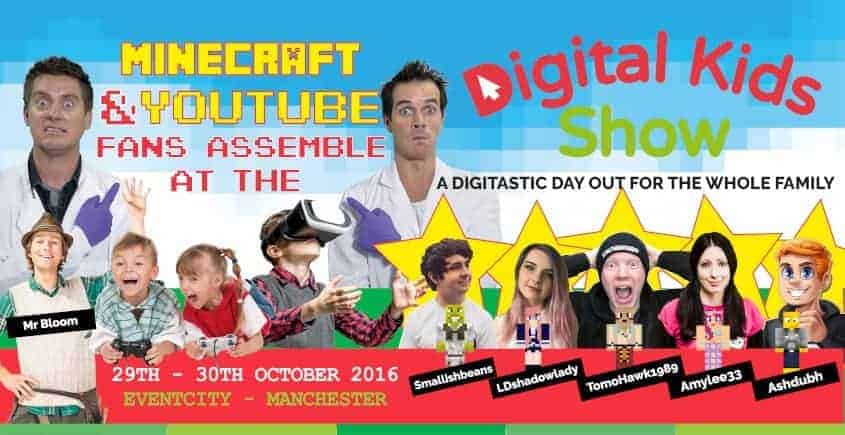 Latest additions to the show's exciting line up include Ethan Gamer, SalemsLadyM, Netty Plays and Mini Matt Smith aka MinecartMayhem who join AshDubh, LDShadowLady, Amy Lee, Tomohawk and Smallishbeans.
Ethan Gamer, from South Manchester, is the youngest to join the show's bill. Age hasn't stopped him from amassing 972,465 subscribers in the three years he's been Vlogging about gaming. Ethan vlogs about all kinds of gaming including mobile games, Roblox and Minecraft, to date Ethan has had 464 million views for his content. At 9, Ethan even has his own T-shirt range.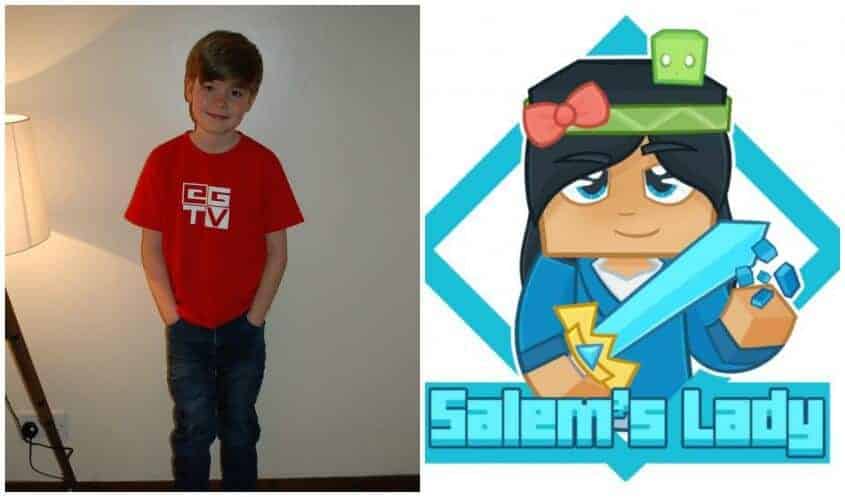 SalemsLadyM is a mother of two and self confessed crazy cat lady who loves to vlog about Minecraft and Skylander amongst others. Salem has built up 140K subscribers on her channel and over 24million views.
Netty Plays has 214K subscribers which she's built up over the last two years vlogging about her life and gaming. Netty got the bug for vlogging when she appeared in Stampylongheads sister challenge.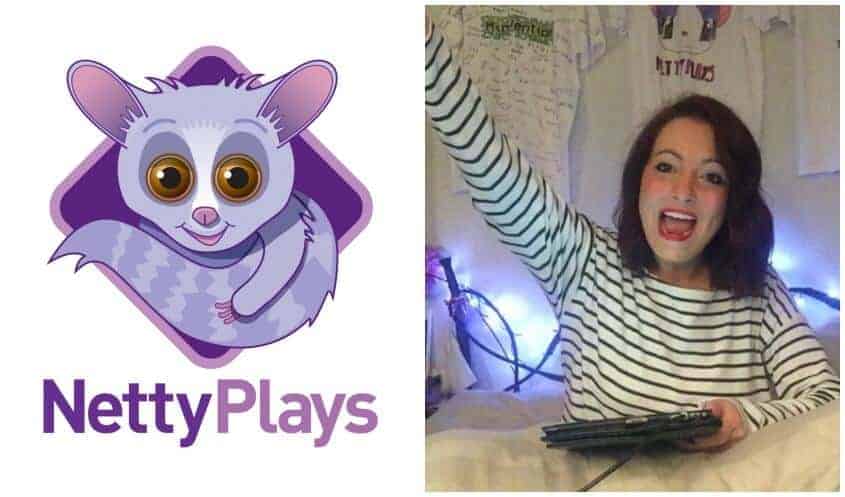 Mini Matt is a 13 year old dapper looking Doctor Who cosplayer and styles himself on the bow tie wearing 11th incarnation of Doctor Who Matt Smith. Matt loves to Vlog to his 80K subscribers, which he's built over the 18 months. He will be bringing along his very own officially licensed life-sized BBC Tardis from series 5 of the hit BBC ONE show Doctor Who, so make sure to come and grab a selfie with Mini Matt and the TARDIS at the event. All of the revenue generated from his channel is donated to his chosen charity Dreams Come True of which he is a national ambassador. He states "I want to help sick and disabled children achieve their dream because I am living my dream by being Mini Matt Smith"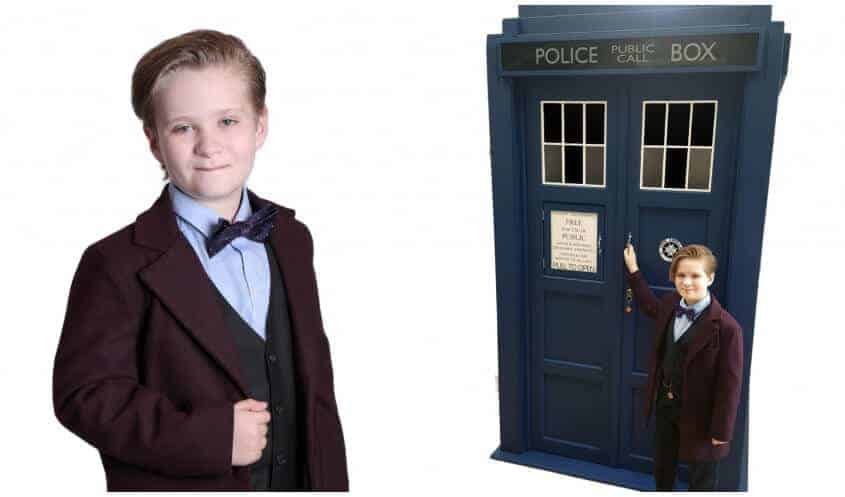 They join AshDubh, LDShadowLady, Amy Lee, Tomohawk and SmallishBeans – five YouTube superstars who have clocked up over One Billion views and with over 5 million subscribers between them on YouTube, Vlogging about Minecraft. That's nearly as many views received over all 10 series of ITV's Britain's Got Talent!
The eight Minecraft megastars are taking centre stage at the Digital Kids Show at EventCity, Manchester on Saturday 29th and Sunday 30th October.
Aisha Tilstone, Digital Kids Show founder said: "I'm really honoured to be hosting an event that features such talented and inspirational YouTubers. The current line up will appear on both days and they're all excited to meet their fans. Apart from the Minecraft and gaming element of the show, families will enjoy fairground rides, VR experiences, driving lessons for 11-17 years olds, zip wires, scooter disco, retro gaming zone, Ferrari simulator, Scalextric app enabled car racing and much much more'.
"We're providing children with the opportunity to find out how to run a successful social media channel, explore how to keep safe online, hear from inspirational anti-bullying ambassadors and we're even throwing in Dick & Dom and Mr Bloom amongst the Who's Who of YouTube. This event is for 21st century families who want a great day out but also want to embrace the digital world."
The two-day event is the first of its kind bringing to life the exciting digital world in a fun and friendly format for children and parents.
The show features six interactive zones including the amazing Retro Tech & Gaming zone where families can get hands-on with retro classics like PacMan and Sonic the Hedgehog as well as the latest releases and Virtual Reality games.
The Digital, STEM & Coding Skills Zone is for any aspiring Mark Zuckerbergs out there. Families can get hands on with cutting edge toys that are a break from the norm, think robots and electronic lego. This innovative zone will help to inspire children about the vast array of digital opportunities with fun, practical challenges and experiences, whilst opening their mind to the benefits of learning to code and one day developing the next Minecraft!
The Safe Tech Zone is all about helping to keep children safe online and will provide the very latest advice to stay one step ahead of the dangers and risks of being online, from cyber bulling to predators, hackers to viruses this zone is all about keeping your children, your tech and you safe online.
The Children's Media Zone, highlights that kids want more than just TV, they want to immerse themselves in YouTube and apps that deliver their favourite content on demand. Come and say hi to your favourite on screen idols and see what they can offer you online.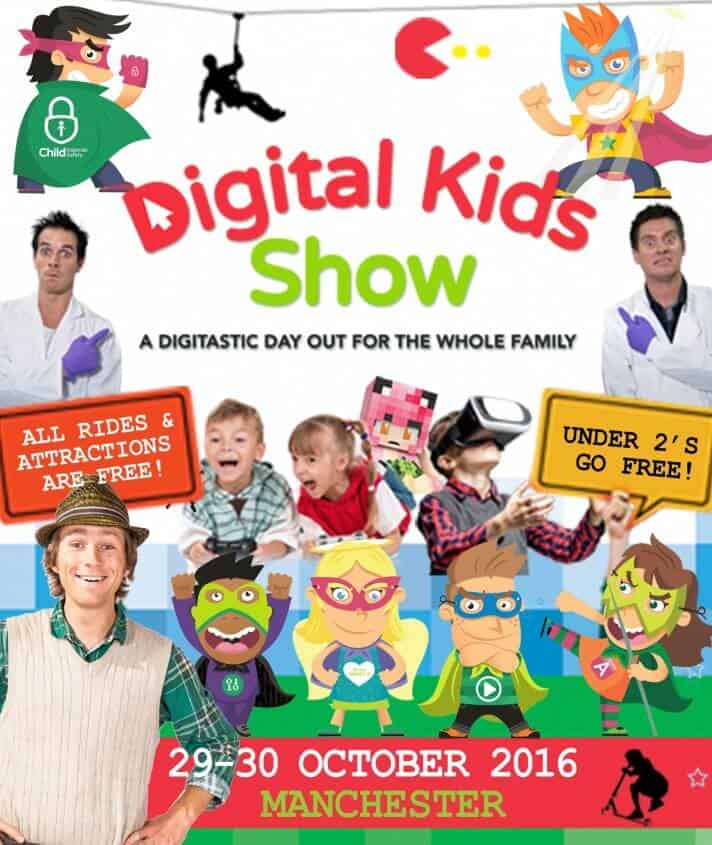 As well as loads of digital fun, they'll be lots of other fun on offer too with rides, a total wipe-out zone, scooter disco, digi disco, zip wires, soft play, a live entertainment show and performances on the main stage, a driving zone for 11-17 year olds to get behind the wheel and plenty to see and do including Minecraft Halloween fun on Sunday 30th October welcoming in kids in their best Minecraft costumes or fancy dress.
Aisha Tilstone, a mum of two Digital Kids herself, continues: "The Show will bring the digital world into a fun and engaging format for families to enjoy. There is so much to enjoy and explore online and this event is about celebrating that in a family friendly format. It won't just be the children who are set to learn, mum and dad will get lots from attending because the whole family can spend a full day at the show and enjoy each and every feature."
Book your place by clicking here or visit Quay Tickets.
http://www.ticketmaster.co.uk/Digital-Kids-Show-tickets/artist/2177468?tm_link=artist_artistvenue_module