Marvel Avengers Bedroom – finishing touches
The boys are LOVING their new Marvel Avengers inspired bedroom which we decorated last month following the arrival of their Kelly Bunkbed from Wayfair. Last weekend we made a few more changes which have really brought the room together. Initially, I had bought the boys a dual pack of duvet covers from Asda as a nod to Captain America whom they both love. These duvet covers work really well in their room but of course, they need washing regularly with stinky little boys sleeping in them and with the best will in the world, I wouldn't be able to get them washed and ironed in a day so I always like to have two (or more) sets of bedding for each child, it also gives their rooms a change of look when you put different bedding on.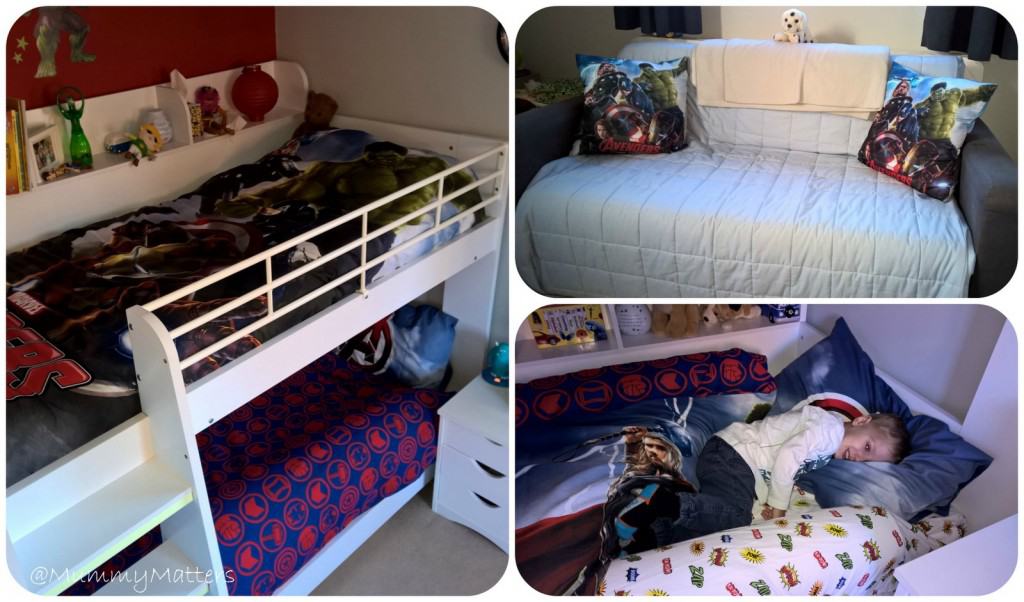 Yesterday, the boys got a surprise at bedtime when they found I had sneaked upstairs and put new Marvel Avengers Duvet Covers on their beds. Beanie Boy squealed excitedly when he saw his and even though they are matching covers, they are reversible so I was able to put Jelly Bean's on the reverse to give his bed a different look. Jelly Bean is still a little unnerved by Hulk so he wouldn't have liked Hulk's face to be the last one he sees before climbing into bed. The first shield he noticed on his duvet cover was Captain America so he was very happy and has named it his 'Captain 'Merica' bed. So excited was he that he jumped straight in!
Along with the Duvet Covers we also received two Marvel Avengers cushions which have been placed on the sofa bed which we have placed in the boy's room to give them somewhere to read books, watch TV and double up as a spare bed. We are so happy with the 'almost' finished look of the boy's room, we still need to buy new wardrobes and drawers from Ikea but this will most likely be in the new year now.
DISCLAIMER: We received the Duvet Covers and Cushions in exchange for an honest post. All words, images and opinions are my own and may not be copied without my permission.