How to make a pregnant lady feel Blooming Marvellous . . .
For some ladies, pregnancy is a breeze; their skins glow, their hair shines, and look a million dollars with a perfect little bump. For others, there's spots, greasy hair, sickness and a huge amount of weight gain. With my three pregnancies, I have experienced both sides of the coin.
This time around, my hair is shiny, my skin is clear, and it has a hint of a glow to it; I haven't put on masses of weight but enough to make me feel far less than sexy, so then we have to turn to what we wear and how we present ourselves to make us feel a bit better about it all. Don't get me wrong; I LOVE being pregnant; I always consider it a privilege to be pregnant, no man will ever know how it truly feels and sadly for some women, the same is true, so I never take it for granted, BUT that doesn't mean it's all sunshine and roses.
In the last couple of months, as I have (shall we say) blossomed, I haven't been feeling my best. I always knew with this pregnancy I wanted not to get stuck in the maternity jeans and t-shirt rut, I wanted to embrace it and feel more feminine and make the most of my curves, and with the new Blooming Marvellous range from Mothercare, I have been able to do just that!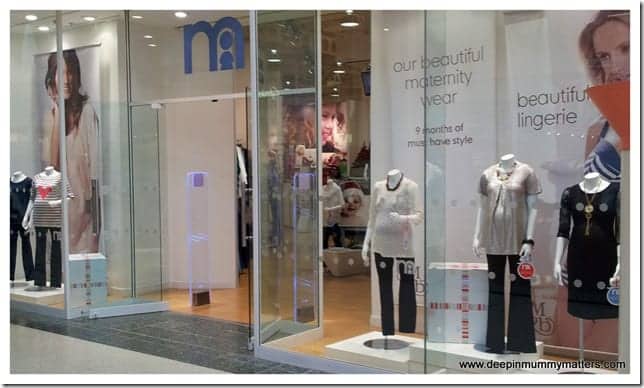 Mothercare invited me to attend my local store at Serpentine Green in Peterborough to try out the range and keep a few items for myself. Talk about a child in a sweetie shop!!! I arranged my visit for a morning when both Little Bean and Beanie Boy were at school and made the most of my child-free time.
I was greeted at the store by a welcoming team of staff who instantly made me feel at ease. They gave me a quick tour of the clothing department, explaining what was where showing me the lovely spacious changing rooms and pointing out where the bell was should I need any assistance. They explained that when shopping for maternity clothes, some ladies get confused about what size they need to be looking for but that all you do is buy the size that you would normally have worn pre-pregnancy.
I asked what the longest leg length was that they supplied and was surprised/disappointed to note that Mothercare now only cater for regular leg length, so, unfortunately, it was of no use to me as I have a 34" inside leg. I was then left to my own devices to shop in peace!!! I can't remember the last time I did that?!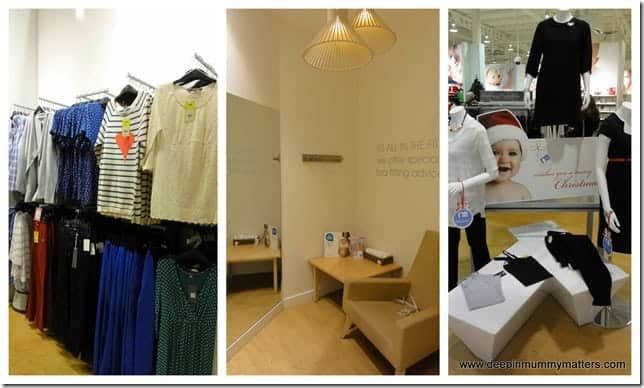 I wasted no time picking out all the items that I liked and felt would last me to the end of my pregnancy (only 8 weeks now) and into nursing as I am hoping to breastfeed again. The clothing is clearly labelled as to what is ideal for nursing, making my life a lot easier, and I felt I could shop with confidence. Once locked away in the solace of my changing room, I set to work on trying on the different outfits forming piles of the items I loved, those that I liked and those that clearly did not like me.
Whilst in the store, I thought it would be a good opportunity to get myself measured for maternity/nursing bras as so far during this pregnancy, I have just gone with whatever size feels comfortable when I get dressed in the morning. I was measured for a maternity bra, but the assistant explained that the recommendation is to wait until two weeks before your due date when fitted for a nursing bra. This will give the most accurate measurement for the size you will be post-birth. Since I am a little way off that at the moment, I have made a note in my diary to go back in a few weeks.
DISCLAIMER: I was given a selection of maternity/nursing clothes for this post. All words, opinions and images are my own, and you may not use them without my permission.