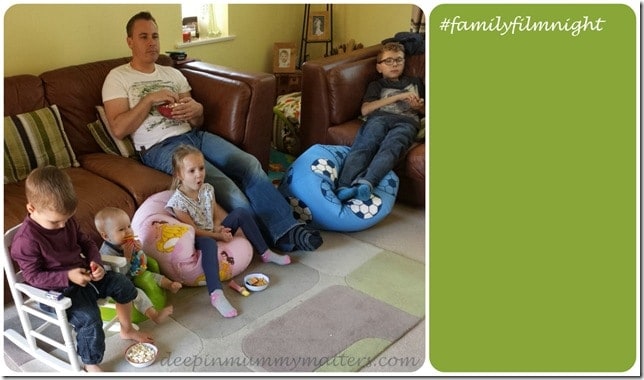 We love our #familyfilmnight
For some time now my friend Karin has been enjoying a #familyfilmnight on a regular basis with her family, I kept telling Hubby about it and said that we should do something similar with our children. I think it's nice to have a tradition, something for the family to look forward to and so eventually we caught on and started to do it ourselves.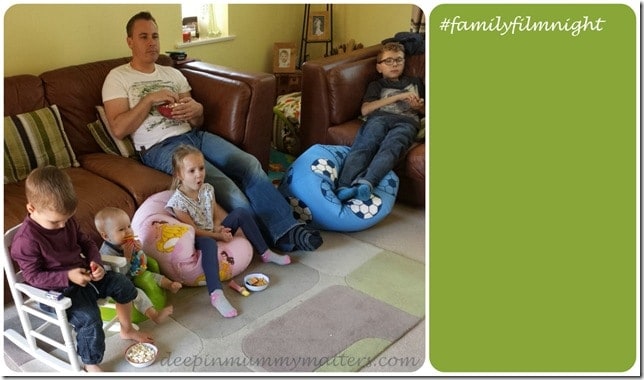 We are always such a busy family it's very rare for us to just sit down together. We started our film nights about 3-4 weeks ago and apart from taking a photograph at the start of our film we have a 'no technology' ban so that Hubby and I aren't tempted to reach for our mobile phones or the iPad.
When Hubby collected Curly from his Mum's house on Friday the first thing he asked was, "can we have a family film night again this weekend?" and I loved that. I love that it was so important to him that it was one of the first things he said. Little Bean and Beanie Boy ask most days if we can have a film night but doing it more regularly would dilute the meaning of it so we are sticking to just once a week. It's also nice to look at the photographs, in fact, the first photograph that I took of everyone sitting down waiting for the film to start made me realise just how big our family really is now. Of course having four children is no small thing but I hadn't realised just how big our family 'appeared' until I saw that photograph.
This afternoon whilst Beanie Boy was having his afternoon nap, Hubby popped out for a couple of hours with Curly, Little Bean and Jelly Bean so that I could get some jobs done. Around 4.30pm Beanie Boy woke up and was not happy to discover that he had missed out on going out with Daddy so I needed to quickly distract him. I reminded him that as soon as the others got back it would be time for #familyfilmnight and the change in him was instant, immediately he said "we need to get ready then" and toddled back upstairs to fetch bean bags for Curly and Little Bean, then he borrowed Little Bean's rocking chair for himself to sit in and set up Jelly Bean's Bumbo. Since he was the only one at home I said that it could be his choice of DVD for this week and I wasn't surprised when he chose Free Willy 2. I bought the box set (who knew there were four Free Willys???) for just £7 from Tesco and we watched the first one last weekend. Beanie Boy has been talking about it ever since and has been telling everyone he sees all about Free Willy and the 'naughty men' who wanted to kill him.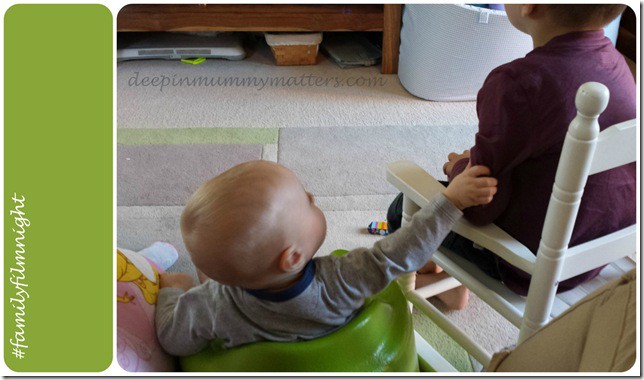 Once everyone was home Beanie Boy ushered everyone to their seats as Hubby sorted out the popcorn and snacks. Sitting behind the children on the sofa I feel such a warm glow watching my babies all sitting together so nicely, especially when Jelly Bean reaches up to Beanie Boy like this. I love my not-so-little family so much and I am so thankful for these times together, I can't believe we have waited so long to do something so simple which means so much.
Do you have any family 'traditions' that you look forward to?