Tonight can be your night off!
It's been a hard day, things didn't go your way at work, you got stuck in traffic, missed your train, the children have driven you potty – we have all been there and on days like that the last thing that you want is to slave over a hot stove four hours. You just want to prepare something quick and easy so that you can sit back and relax and let the troubles of the day slip away.
The trouble is 'beans on toast' just doesn't quite cut it. Just because you haven't got the energy to make a nice meal, it doesn't mean to say that you don't want to eat something wholesome and tasty.
Tonight Cooking Sauces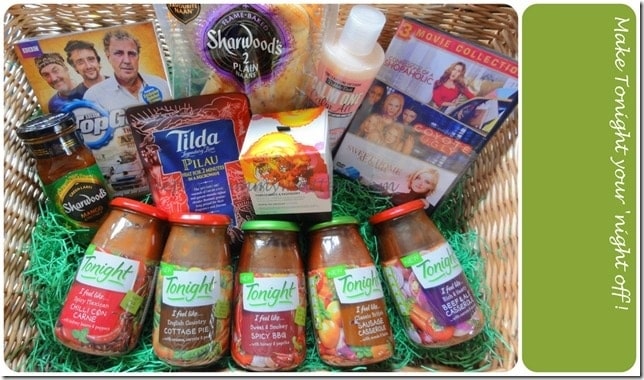 The new Tonight range of sauces is just the thing you need since they are all about offering family meal favourites – with all of the flavour and none of the fuss. To celebrate the launch of the range I was lucky enough to be sent a hamper of the Tonight range of sauces which launched in September along with a few other goodies so that we could have a few enjoyable 'nights off'.
For Mum's Tonight
A lovely scented candle and bubble bath to relax and unwind. I chose Sausage Casserole for my night and it was scrumdiddlyumptious!! The sauces are so easy to use, just add your own meat and meal accompaniment and the meal is ready in minutes.
For Dad's Tonight
Top Gear DVD and curry – the Mild Curry is delicious. We used Quorn Chicken pieces and pilau rice and used the mango chutney and Naan bread included in our hamper. One 500g jar of Tonight Mild Curry will serve 4 people with one serving (100g) containing just 95Kcal and 1.0grams of saturated fat. Ok so Hubby and I may have been a little bit piggy that night and had a slightly larger portion each but we didn't eat it all! Honestly!!
For Movie Tonight
Invite some friends around, get the children to bed early and enjoy a yummy Chilli Con Carne – just add minced meat (again we chose Quorn minced meat) and we used pearl barley instead of rice for a really tasty meal. Pop the DVD in and pass around the popcorn for a light post-meal snack.
Other sauces available in the range include Beef and Ale Casserole, Spicy BBQ and Cottage Pie. What would you choose for your 'night off'?
Further Information
For more information visit www.chickentonight.co.uk or www.facebook.com/chickentonightuk/ or follow @ChickenTonightU on Twitter.
DISCLAIMER: I was sent the above-pictured Hamper for the purpose of this post free of charge. I have received no payment for the post and was not instructed what to write. All words and images are my own and may not be copied without my permission.