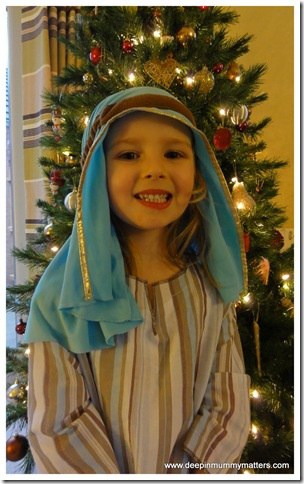 Little Bean's First School Christmas Production . . .
This afternoon a very proud Mummy, Daddy and Beanie Boy arrived early, yes me, EARLY to be sure to get a front row seat to watch Little Bean in her first school Christmas performance. We have been hearing the songs around the home, in the car, at the Grandparents and even just walking around the supermarket for the last 3-4 weeks, I felt like I was one of the chorus myself as I could sing along with the songs.
I was a little gutted initially because you could only have two tickets per child which I think is a little unfair because Little Bean's Grandparents would have loved the opportunity to see her too but even on Grandparents Day you could only have one ticket which we felt made it unfair on the others so we decided to say that no-one could go. When I collected Little Bean from School on Monday she was upset because she thought that we had forgotten to go and watch her, then we had the same again on Tuesday. Her face was an absolute picture when she spotted us today and although for the majority of the performance we were looking at the back of her head (because she was too busy watching it herself to be involved!!) Hubby and I both very overflowing with pride at how much our little girl has grown.
I videoed the whole thing, as I have done with all of Curly's school performances and we came home to watch it on the big TV with Nanny and Grandad, Little Bean was a little over-excited to see it herself so we had a few false starts. When we had finished watching it, I decided to have a 'tidy up' on my camera and in my infinite baby brain state I managed to do the unthinkable, I DELETED it!!!! Cue much anger, stroppiness and tantrums from me and cuddles from Little Bean and Beanie Boy to tell me "it's ok". I chastised myself over and over in my head and then remembered the time I thought I had done the same with Little Bean's baby photographs, I was told, DO NOT TOUCH THE CAMERA OR MEMORY CARD! So I didn't!
I searched online and found Wondershare.com, downloaded the software and less than an hour later I am smiling again because I have recovered my precious video footage. Now I would have a glass of wine to celebrate but I'm pregnant so peppermint tea it is!