Little Bean's World Book Week
This week was World Book Week and at Little Bean's Pre-school the children were invited to go in dressed as their favourite book character. I really would like to have been a fabulous mother who made an outstanding costume for her using my spectacular imagination but that was never going to happen, I just don't have the time or patience at the moment.
Little Bean Fairy Princess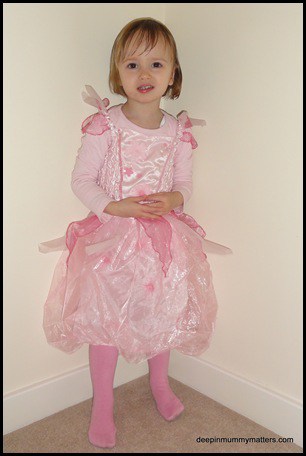 It just so happens that one of Little Bean's favourite books is about a Princess with the same name as Little Bean and she was given this fairy dress for Christmas. We just left the wings off and hey presto Princess Little Bean was ready for school!
Paint Splat Woes
I must admit though, I was a little bit peeved when I collected her from school to find dark red paint splattered all the way down the front of her dress.  Many children had gone to school in shop-bought fancy dress costumes which as a general rule aren't cheap, did they really need to do a painting that day?  And if so, shouldn't they have been wearing better protective clothing?  A couple of the mother's complained that their children's costumes were covered in paint too so I wasn't alone.
The main thing though was that Little Bean thoroughly enjoyed her day and didn't want to take her dress off when she got home so she was my Princess for the day (if not a little tired and grumpy one!).
A walk in the park
Today we met our good friends Karin and Little Miss for a walk in the grounds of Burghley House, it was a beautiful day and I was really looking forward to stretching my legs and getting some fresh air.  As always I had good plans laid out, be there for 10.45 am so that I could feed Beanie Boy before heading off for our walk into Stamford, have a look around the market, have some lunch and then walk back.
Best Laid Plans
By 10.30 am as I was ready to leave the house, Beanie Boy decided that he was ready for his feed right there and then, so I told Karin and fed him at home.  We finally arrived at Burghley House around 11.20 am and promptly got out the Phil & Teds ready for our walk. 
One look at the tyres told me that I wouldn't be walking anywhere until I had pumped them up.  I got the pump out, connected it up and someone let out more air than I could get into it. In my frustration at myself, I threw a very non-adult hissy fit.
When Karin arrived I asked her to have a go but neither of us was successful so our plans needed to change.  As Karin had her Stokke Xplory with her we decided that Beanie Boy could travel in that whilst Little Miss and Little Bean would walk.  This meant that we could only walk in the grounds of Burghley as it would be too far for them to walk into Stamford and back but even this would prove to be too much for our girls. 
What a picture!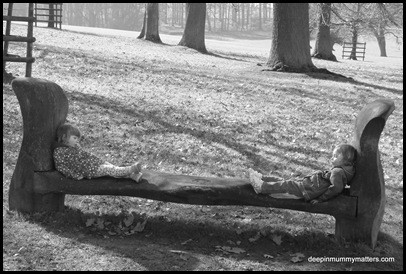 Every now and then they would run ahead, then they would fall out with each other, then be best friends again, then lag behind.  We have passed this bench hundreds of times before but today we got the girls to take a rest on it – I love this picture!
I also managed to take a few other really great shots today – the weather was beautiful and Burghley provides some beautiful backdrops. I could take photographs here all day long.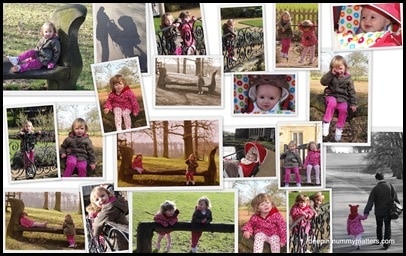 Have you been to Burghley park before? If not, where is your favourite place to walk with your little ones?