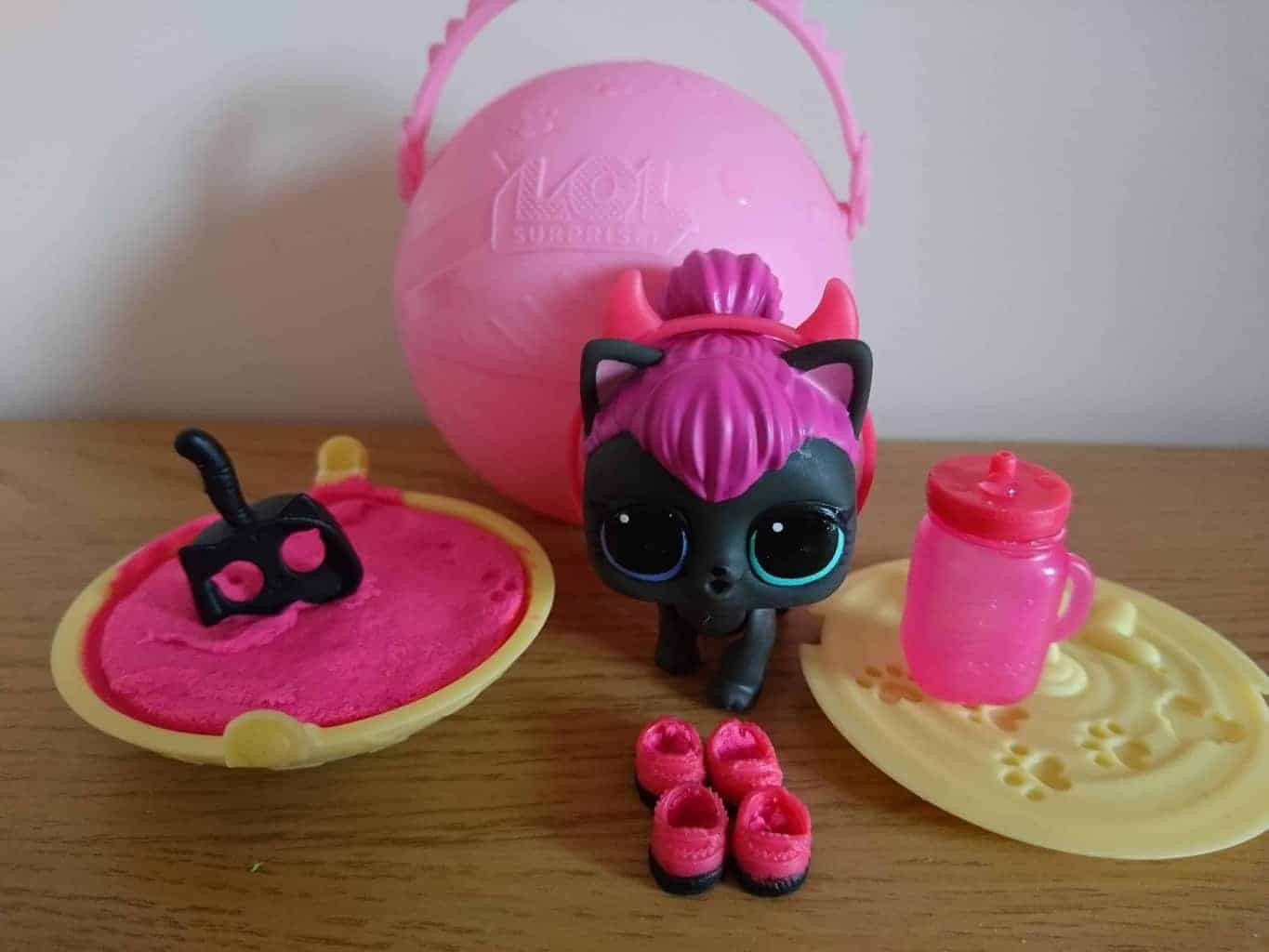 Lillie reviews LOL Surprise Pets
Lillie is back again with another great review for you all and this time it's the LOL Surprise Pets which she was very excited about receiving. As well as the LOL Surprise Pet she also received two chocolate paw prints lollies which she very kindly donated to her brothers "because they haven't had anything to review Mummy" *heart melt*. She also received some fab 'pet' cookie cutters though I'm ashamed to say we haven't had time to make anything vaguely cookie related for a while.
What are they?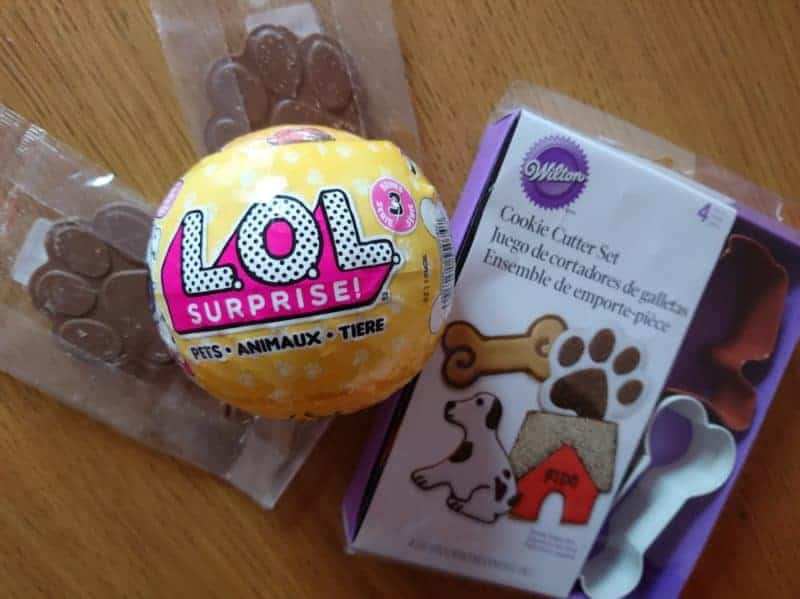 Lol Surprise Pets are a tennis ball-sized toy which has seven layers of surprises for children to unwrap. Within each layer you will find more surprises for your special Pet who is hiding inside the ball within the last layer. Pets can be a kitten, bunny or hamster who you will need to feed and care for with the surprises hidden within.
The pets, like their Lol Surprise Lil Sister counterparts can tinkle, cry, change colour or perhaps even something else but you'll only find out what when you unwrap them and bathe them. The difference with the Lol Surprise Pets is that they also come with a litter tray which is packed with a kind of play sand/dough. Lillie was very excited by this, especially since hers was hot pink!!
There are 35+ pets to collect so you could soon have your own little pet parlour.
Lillie's LOL Surprise Pet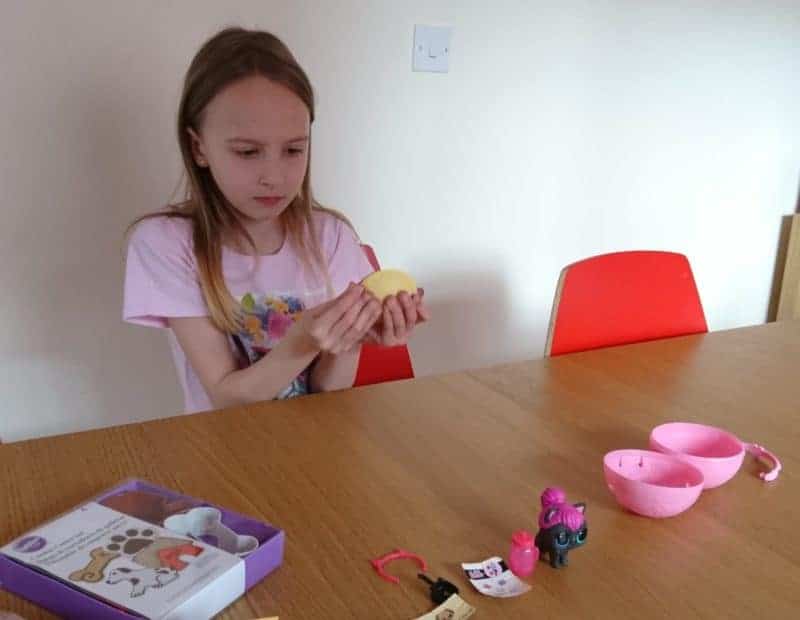 Lillie can sometimes find it difficult to get into each layer of the wrapping so we have found that it works well if she uses a pair of scissors to get them started. Obviously with smaller children you would need adult supervision and assistance. I am always with Lillie when she opens hers so I am on hand if she needs help.
What's inside?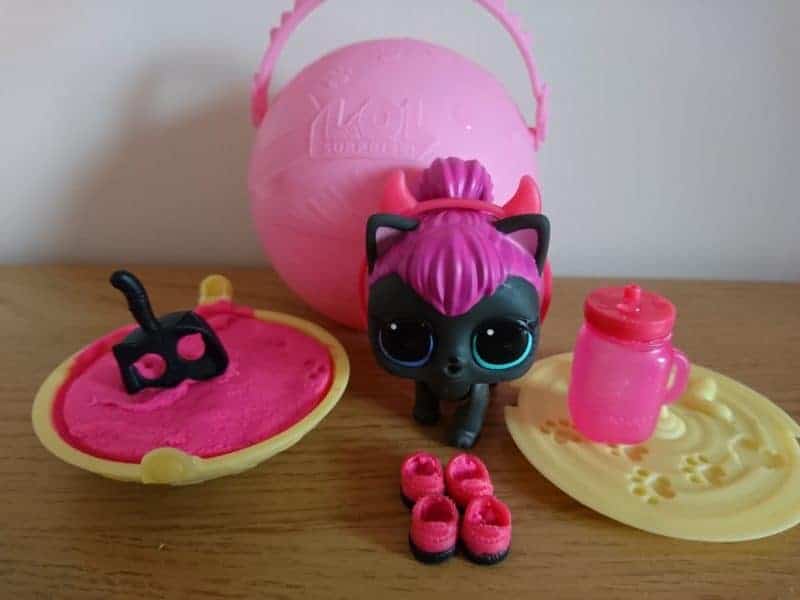 Inside Lillie's Surprise ball she discovered a very cute kitten with great big eyes, a hot pink devil horns headband, hot pink shoes, a hot pink drinks bottle, a cat design 'pooper scooper' and a little tray with hot pink sand. When I first saw the sand in the little tray, I must admit I was a little worried for my carpets and furniture but it's actually very similar to kinetic sand. It's fun for Lillie to play with but it doesn't spill everywhere and very easy to clean up. No carpets or furniture have been harmed during the testing of these products.
What Lillie thought?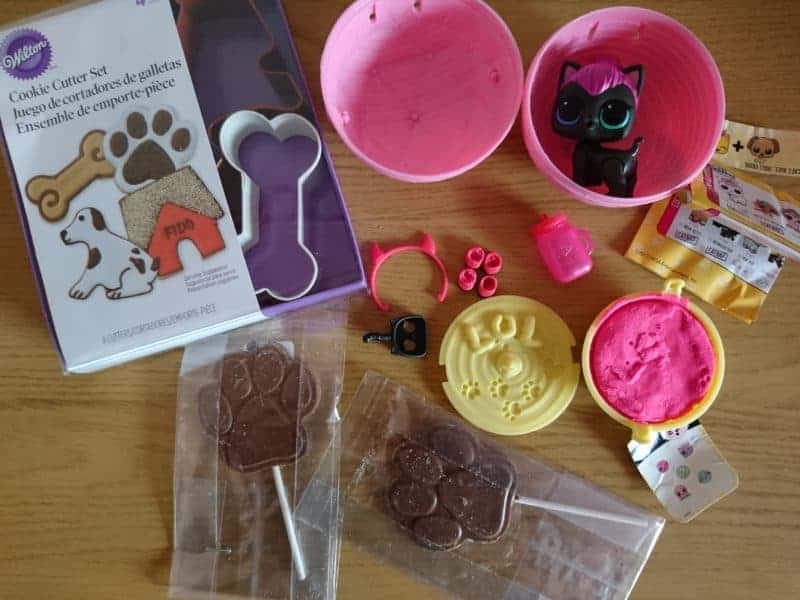 I really love the Lol Surprise Pets because you don't just get the pets and their accessories but you get their little tray with the sand too which really adds to the fun. I love my kitten, she is so cute. I took her to school to show my friends and they all loved her too.
DISCLAIMER: Lillie was sent the LOL Surprise Pet for the purpose of this post. All words, images and opinions are our own and may not be copied without my permission. I have not been instructed what to write.