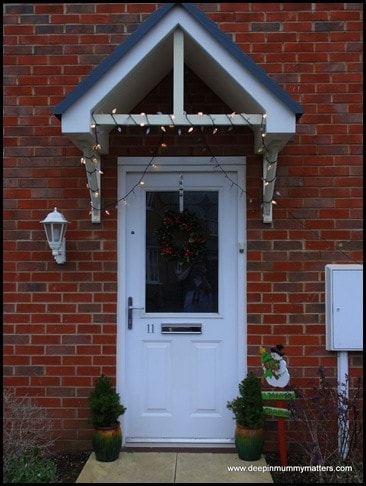 Let Notcutts light the way this Christmas . . .
As soon as the festive season begins, we have a little ritual that we do most evenings when out and about in the car. We drive a different way home from school/shops to go "Christmas spotting". The tiddlers love it and it helps to get them into the Christmas spirit as well as giving me ideas for future Christmases' on how to/not to decorate our house. It's lovely to see each year that more and more houses are getting trimmed up with lights and decorations on the outside as well as the inside of their houses and I think that comes down very much to the fact that Christmas lights and decorations are so reasonable now.
We were sent a set of these LED Cone Lights from Notcutts which come in their own plastic tub which is great for storage. There are 100 lights which have about 8 different settings, the children get to choose each night which lighting display they want. Hubby has hung ours around our porch making us look a little more festive but I'm not about to stop there, I have many more ideas on how I would like the house to look but with a new baby to prepare for we had to keep things to a minimum this year and have concentrated our efforts indoors.
These cone lights are suitable for indoor or outdoor use and have a clear cable which makes them look even better. They are fantastic value for money at the moment too at only £14.99 instead of £29.99 and cover an area of up to 5metres.
There are so many different lighting and decoration options to choose from at Notcutts, why not take a look for yourself. There's still time to grab a bargain before Christmas if you place your order before 10am on Thursday 20th December and orders over £30 will get their goods delivered for FREE!!!
DISCLAIMER: We were sent these Christmas lights for the purpose of this post. All words and opinions are my own and may not be copied without my permission.