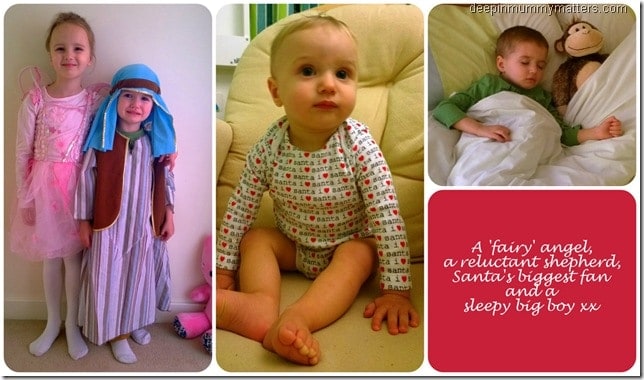 Hopefully you will understand but I'm not planning on writing too much over the Christmas break, I have been looking forward to our Christmas break for ages. This is Jelly Bean's First Christmas and being our last baby, this is our last 'First Christmas'. Given the situation with Hubby's job it is also the last time that I know for definite that we will have Hubby home for the majority of the Christmas period, next year hopefully he will be in a new job and there are no guarantees that he will be able to get time off work so this is our Christmas in pictures and just a few words . . .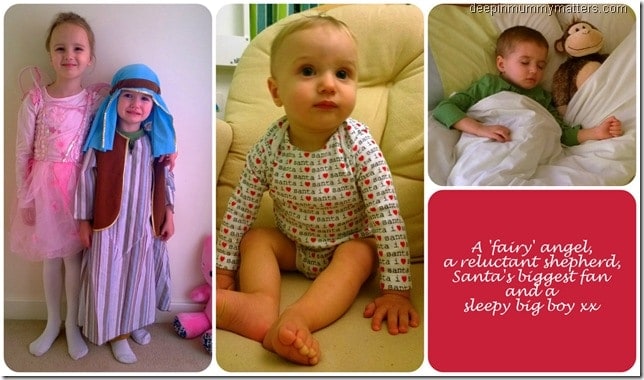 During the afternoon of Christmas Eve Little Bean and Beanie Boy went to the Crib Service at Church with Nanny and Auntie E. The children were invited to attend dressed as Shepherds or Angels. Unfortunately we didn't have an Angel costume for Little Bean so she chose to be a Fairy and as you can see from Beanie Boy's face he was a rather reluctant Shepherd (the costume came off immediately after this photograph was taken). I had just woken him up from a morning nap and I don't think he was quite awake enough for fancy dress. At Church Little Bean was asked by the Vicar if she would like to light the Christmas Candle, initially she said yes but then told the Vicar she didn't want to. Apparently, she had promised Mummy that she wouldn't play with candles (so she does listen occasionally then!).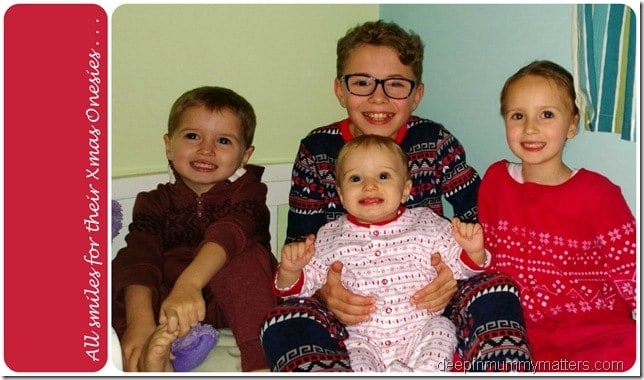 The tradition in our house on Christmas Eve is for the children to find an early Christmas present on their beds when they head upstairs for bathtime, their early Christmas present every year is Christmas PJ's, this year they were all presented with Christmas Onesies which they were extremely excited about!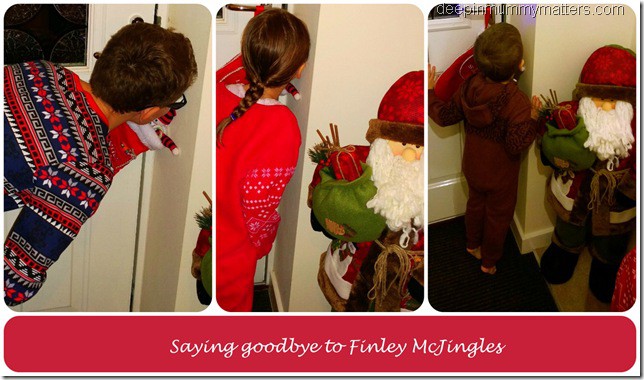 If you have been reading Mummy Matters throughout December you will have no doubt seen the posts about our Magical Christmas Elf, Finley McJingles. The tradition for Christmas Evles is for them to return back to Santa on Christmas Eve. Since Finley was leaving us the children asked if they could touch Finley just once to say goodbye so I 'asked' Santa and they each gave him a kiss before he made his journey back to the North Pole. They have asked if he can come to stay again next Christmas.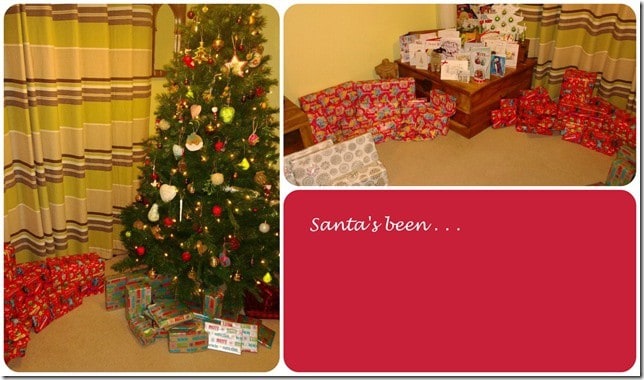 This was the calm before the storm, Santa had been and left his presents but the playroom, dining room and our en suite were FULL of further presents to bring down once the children had got through the first wave of presents! With four children, let me tell you that is a LOT of presents . . .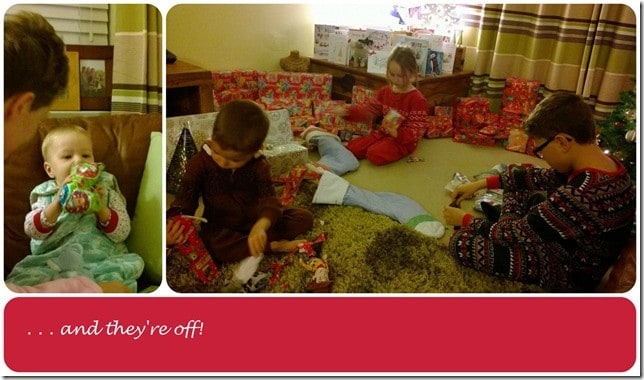 Thankfully Santa had managed to get the majority of the presents the children had requested in their letters to him so it was smiles all round and many, many surprises too . . .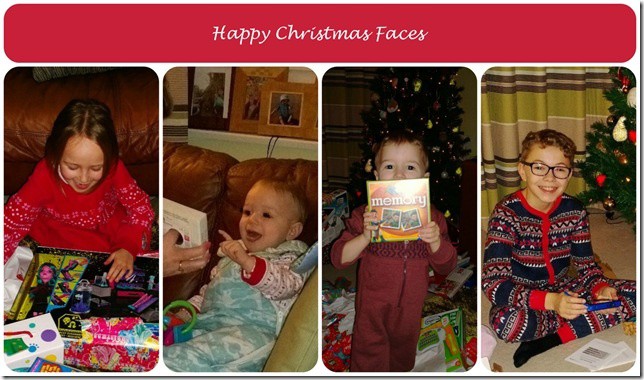 Jelly Bean was the stereotypical baby, he was far more interested in the wrapping paper than the presents. We took things very slowly with him and continued opening his presents over the next couple of days. The tiddlers found this almost too much to bear as they eagerly asked me every day if they could open Jelly Bean's presents for him.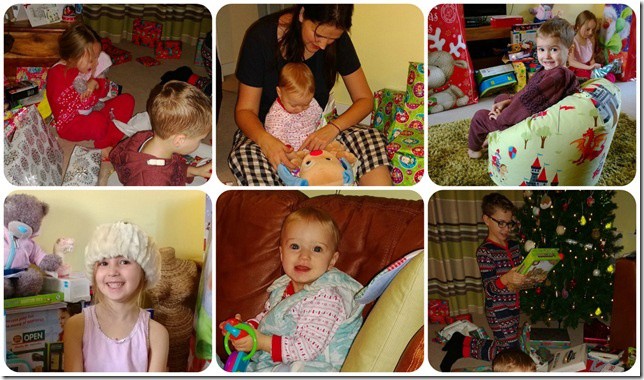 We had 10 for Christmas Day lunch and just about managed to squeeeeeze everyone into our dining room. We are definitely thinking we need to know through the kitchen into the dining room another year though to make more room. I finished my Christmas Cake late on Christmas Eve and I have to say I was pretty pleased with the outcome, it looked ok but it tastes DEEEEELICIOUS!!! Thank you Amoretto you did me proud again!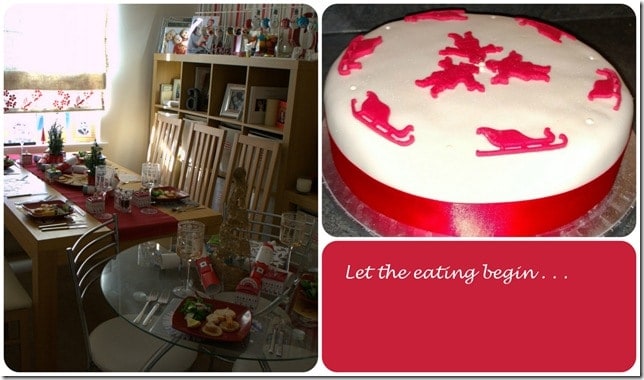 Jelly Bean was all smiles with each present he opened and he gets to do it all over again at the end of January as we celebrate his first birthday!! My gorgeous little man xx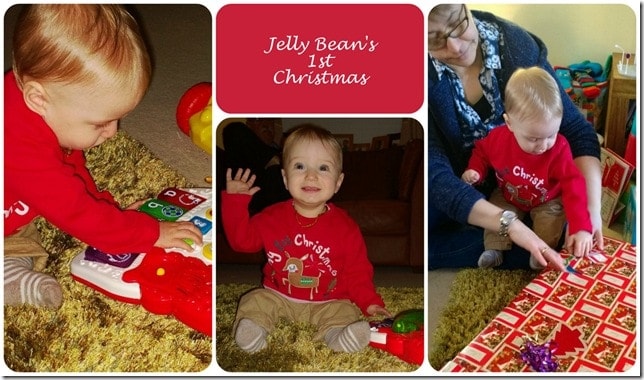 Spot the odd one out! Hubby completely forgot to put his colour-co-ordinated shirt on for the obligatory Xmas family photo. You see we are just a 'nice normal family'!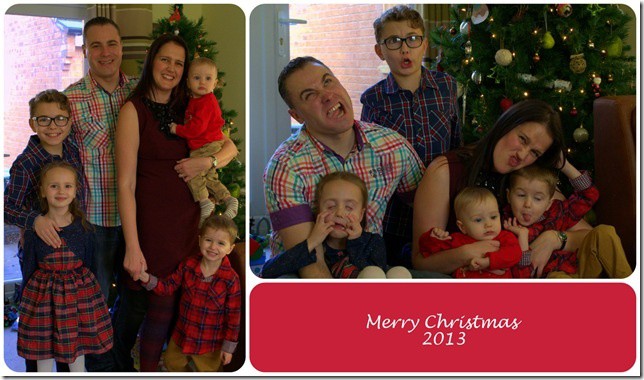 A few year's ago the UK would have laughed at the idea of wearing a 'Xmas Jumper' but just look at us now, the shops were selling out of them fast but thankfully I managed to find one for each of us (even though Hubby refused to wear a cutesey reindeer jumper – come back next year, I will get him wearing one!).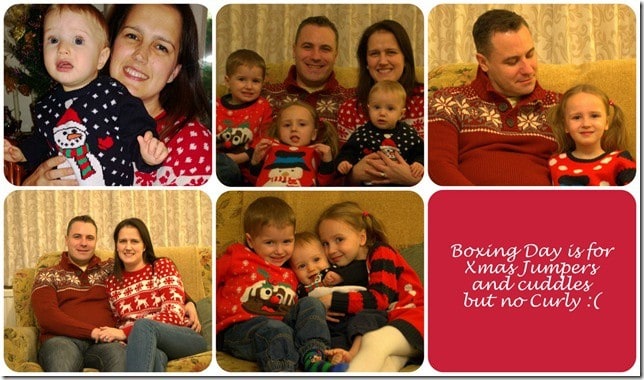 Merry Christmas to all my lovely Mummy Matters readers, I would be lost without you all. Thank you for your great support and lovely comments. We wish you all a Merry Christmas and a very Happy New Year, let's hope it's a good one xxx