Jana Reinhardt Ethical Jewellery – Elephant Necklace
Jana Reinhardt has revolutionized the world of jewellery with her exquisite designs that captivate the eye and warm the heart. One standout piece from her collection is the Elephant Necklace from the Out of Africa collection, a testament to Jana's commitment to craftsmanship and ethical practices. Each piece is handcrafted in their seaside studio with meticulous attention to detail; this necklace embodies elegance and charm while telling a powerful story of conservation and sustainability. Step into a world where style meets conscience with Jana Reinhardt's Ethical Jewellery Elephant Necklace.
Jana Reinhardt Inspiration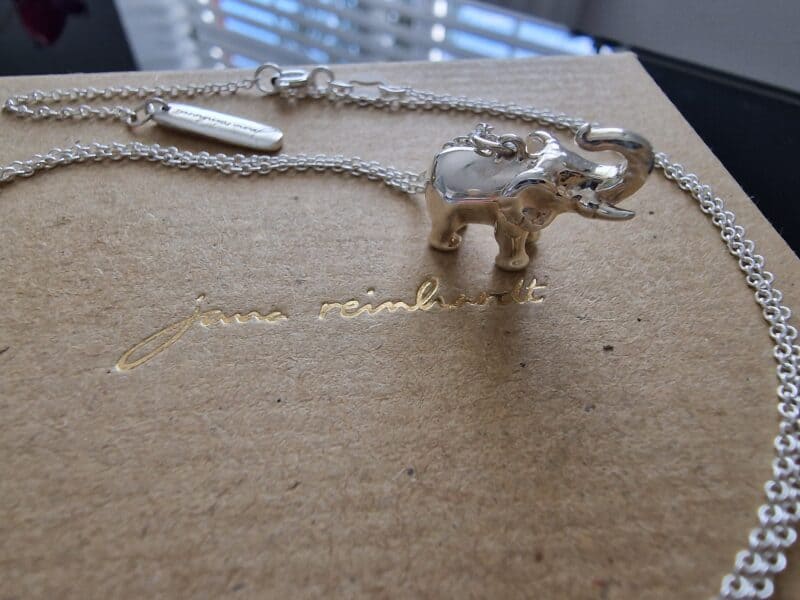 The Jana Reinhardt Ethical Jewellery Elephant Necklace is not just a beautiful piece of jewellery; it is also inspired by the majestic and intelligent elephant. Elephants have long been revered in many cultures for their strength, commitment and patience, and this necklace captures the essence of these magnificent creatures. The intricate design showcases the grace and beauty of elephants, with every detail carefully handcrafted by skilled artisans.
Elephants display remarkable intelligence and offer valuable lessons in cultivating gentleness and effective communication within our relationships, whether with friends, family, or partners. They exemplify strength and resilience when safeguarding others yet demonstrate tender care and nurturing qualities when needed.
Ethical Production
What makes this necklace truly special is that it reflects Jana Reinhardt's commitment to ethical practices. The brand uses only recycled gold and silver sourced from suppliers who adhere to responsible mining practices, ensuring no harm is done to the environment or communities involved in the production process. Additionally, Jana Reinhardt donates a portion of each sale from their Animal Wellbeing Collection to animal welfare and environment charities. In the past three years, they have donated over £10k.
Handcrafted Excellence
Each animal piece is meticulously designed and sketched by Jana. From there, she painstakingly transforms these concepts into wax carvings, subsequently entrusted to our skilled casters, creating exquisite wildlife jewellery. By adhering to traditional wax carving methods and meticulous craftsmanship, Jana Reinhardt ensures that each piece of jewellery possesses a unique and one-of-a-kind charm akin to a living, breathing animal. Lillie was lucky enough to be gifted the Polar Bear necklace a few years ago and still gets compliments on it today.
Symbolism and Meaning
In many cultures, elephants symbolize good luck, happiness, and longevity. They are revered as sacred animals for their intelligence and ability to gracefully navigate challenges. By donning the Jana Reinhardt Elephant Necklace, we can invite these positive energies into our lives and cultivate a sense of resilience and positivity.
Moreover, elephants are known for their strong social bonds and deep connections within their herds. This necklace serves as a reminder of the importance of nurturing relationships with loved ones and staying connected to our community. It encourages us to prioritize unity over division in today's fragmented world.
From my own perspective, the elephant necklace was a gem to find. I have followed Feng Shui practices for many years, and according to Feng Shui principles, elephants are believed to bring positive energy and prosperity into one's life. This is especially so when the trunk is up as if showering itself in good fortune.
My Thoughts
The Jana Reinhardt Elephant Necklace is a unique and stunning piece of jewellery that captures the beauty and grace of elephants. Its intricate design and attention to detail make it an actual work of art that will draw admiration from all who see it. I love the weight of the necklace; it feels solid and not fragile. Not only does this necklace serve as a beautiful accessory, but it also carries a more profound meaning by symbolizing strength, wisdom, and protection. Whether you are an elephant lover or appreciate exquisite craftsmanship, the Jana Reinhardt Elephant Necklace is a must-have addition to any jewellery collection.