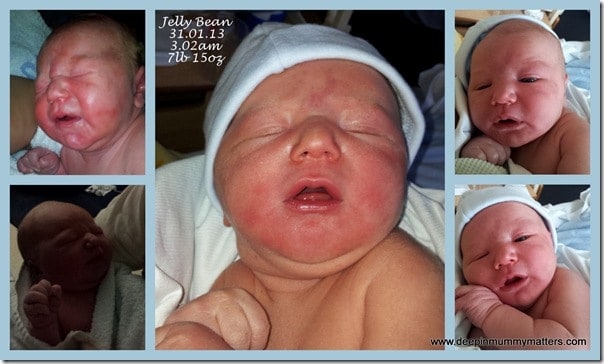 Introducing the new baby on the blog!
How can it be that my little Jelly Bean is already 1 week old?! It doesn't seem 5 minutes since I was waddling around with a huge bump, inadvertently rolling my eyes every time someone commented to me "isn't it time you had that baby yet?". As it turned out, Jelly Bean was only 5 days late but right from the beginning of my pregnancy I had it in my head that he would arrive 2 weeks early so I guess my mother's instinct was way off!!
You may have noticed that I have taken a little break from blogging in the last week, I think you'll agree though it's pretty understandable when you look at my precious newborn son. Who would want to pass up cuddles with him in favour of a laptop?!? Not me that's for sure!! That said, I also want to show him off to you all, you have been on my pregnancy journey with me and I want to show you the most beautiful result of that pregnancy, a seriously cute 7lb 15oz baby boy who has come to complete our family, Mummy Matters readers – I would like to introduce Jelly Bean!