How Much Does Interior House Painting Cost? Prices Explained
Sometimes, all your house needs is a new coat of paint to freshen things up. If you've been browsing paint palettes and thinking of new colours, it might be time to consider painting your home's interior! This is the best way to make your home feel brand new. To find out more about the best exterior house paint for stucco, be sure to read Paisley Painting's blog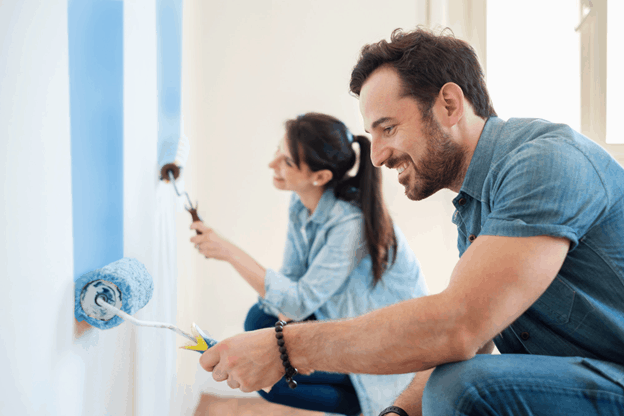 While the first thing you'll want to do is start finding the perfect colour, it's important to know the interior house painting cost. Different factors go into painting a home's interior, and once you can get the financial aspect out of the way, you'll be able to focus on the creative details.
Read on to learn more about the cost of painting a house interior!
Cost to Paint a House Interior
When painting your house, you'll want to first weigh the cost of painting it yourself versus hiring a professional painter. You'll notice that different painting companies will have different prices, with some varying significantly. Check their individual websites to see if there's a price estimator or if you can receive a quote.
Whether you're interested in hiring a service or doing it yourself, there are still several factors to consider.
DIY Interior Painting
One of the biggest factors to consider if you plan on painting your own home is the cost of materials. Expect to pay anywhere between £75-£150 for paint, sandpaper, brushes, and tape. Even if this seems inexpensive, it also depends on how much of your interior you plan to paint.
It's between £10-£20 for a gallon of paint and about 2-3 gallons for an average bedroom. That means painting multiple rooms can add up quickly. Not only that, but you'll need to make sure you're able to tackle the workload of painting multiple large spaces.
You may be the world's greatest painter — or excited by the idea of saving money — but remember that it isn't worth the cost if you're going to have to paint over it again because the quality isn't ideal. There are pros and cons to everything, and this is no exception. This is why you should have knowledge of how to paint stencils on wood or even on plain cement. This is why you should have knowledge of how to paint stencils on wood or even on plain cement.
The best thing you can do is research and compare costs. Think long-term. You might save money now by not paying labour costs, but will it last you as long as using a professional painting company? Those are things to consider.
Cost to Hire a Painter
Usually, professional painters determine the cost of an interior house painting job by:
Measuring everything that needs to be painted
Determining the number of hours, it will take, including prep work and cleanup
Multiplying those hours by the hourly rate of their painting company
Adding the cost of paint and materials, as well as any equipment rented for the job
The hourly wages usually include the wages of the painter, the projected net profit of the company, and payroll contributions. Once you get an estimate, you can compare it to the cost of doing it yourself and see how it measures up.
The average cost of painting a square foot is about £2 but can go up to £5 depending on the complexity of the job, the overall square footage, and the quality of the paint. This means that if your home is 2,000 square feet, it'll cost about £4,000-£5,000 to paint your entire home.
One of the biggest costs is labour and the type of paint used. If you want to hire a painter but worry about your budget, consider the more affordable paint brands or paint a smaller section of your home.
Lower-end flat/matte paints can go from £15-£25 a gallon, while the high-end paints with uncommon colours go for £75-£100 a gallon. If you're looking for something in the middle, there are durable and appealing options for £30-£40 a gallon, too.
If you're looking to paint a smaller portion of your home, that'll save you time and money. Professional painting companies, like Textbook Painting, will take care of all the complicated measuring aspects. All you have to do is sit back, relax, and watch your home transform.
Cost to Paint a Bedroom
Similar to the process for determining the cost of painting your entire home, a painter will measure a bedroom and add the cost of materials. So, the cost really depends on how large the bedroom is and whether there are any complicated layouts involved.
Generally, a room that's 10×12 square feet will cost about £220-£550. Again, it depends on the type of paint and how expensive the painting company is.
Cost to Paint a Kitchen
The same rule applies to the kitchen, except there's more detail. It depends on the type of paint job you have in mind, but the same type of labour and materials are used. The wall surface has to be prepped, the cabinets and kitchen have to be protected from paint, and any trim has to be covered.
Kitchens are usually small, about 120-150 square feet. This means that you won't be paying much, even if you do decide to go for the highest quality paint. If your kitchen is on the bigger side, you'll be paying more.
Interior House Painting Cost
If you're tired of looking at the same interior house colour you've known for years, it might be time for an upgrade. Painting your home can give it a new sense of life — especially if you decide to go for an exciting, bold colour. Maybe you just need to revitalise an old paint job!
Either way, you'll want to do your homework and see what the best option for you is. Consider the interior house painting cost and see if it's better to do it yourself or hire a professional painter. You'll be in what feels like a new space in no time!
If you enjoyed this guide and are looking for more, check out our interior design section!