Home movie night with DC's Justice League on BluRay
As a family, we are big fans of 'superhero' films like those from DC Comics and Marvel. We have books, DVDs, games and a whole army of superhero figures – even a few clones! On Wednesday I received a copy of Justice League on Blu-Ray to review which fell perfectly with Will's midweek visit so once the younger Beans were all tucked up in bed, we fired up the TV and Blu-ray, grabbed a few bowls of snacks and sat down to watch Justice League which we have been eagerly anticipating for a while.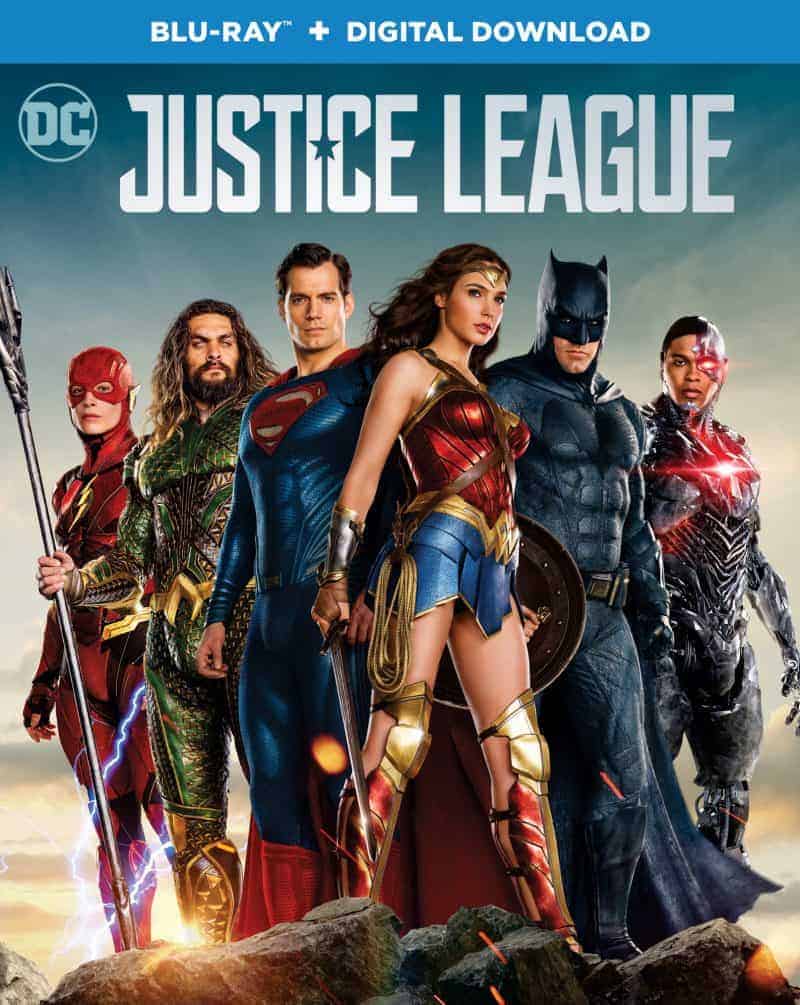 Justice League Synopsis
Fueled by his restored faith in humanity and inspired by Superman's selfless act, Bruce Wayne enlists newfound ally Diana Prince to face an even greater threat. Together, Batman and Wonder Woman work quickly to recruit a team to stand against this newly awakened enemy. Despite the formation of an unprecedented league of heroes — Batman, Wonder Woman, Aquaman, Cyborg and the Flash — it may be too late to save the planet from an assault of catastrophic proportions.
Superhero Cast
It's an all-star cast with the likes of Ben Affleck (Batman), Gal Gadot (Wonder Woman), Henry Cavill (Superman), Ezra Miller (The Flash), Jason Momoa (Aquaman) and Ray Fisher (Cyborg). Also amazing supporting roles from Amy Adams (Lois Lane), Jeremy Irons (Alfred), Diane Lane (Martha Kent), Connie Nielsen (Hippolyta) and J.K. Simmons (Commissioner Gordon).

What we thought?
We were big fans of Wonder Woman so we had high hopes for Justice League too and whilst it was definitely watchable, it didn't always manage to hold my attention fully. It's the usual tale of a bad guy coming to destroy Earth, this time in the form of Steppenwolf. Batman and Wonder Woman decide that they must form the 'Justice League' to fight off the evil warlord and save the world.
It was only as the film began that Simon and I realised we still hadn't watched Batman v Superman, so we were a little confused as to why Superman and Batman had a grievance with each other and it would appear that Superman was indeed dead?!
Sadly Ben Affleck, who is usually equally brilliant in movies like Runner Runner when at the poker table, he didn't really cut it as Batman, he looked like he needed to lose a couple of pounds and perhaps loosen up a bit and I'm afraid there's only one Alfred for me and that's Michael Caine – sorry Jeremy. Jason Momoa, on the other hand, made for a fantastic Aquaman, although I must admit I did get a little distracted by his tattooed torso in a couple of scenes and didn't actually hear a word he was saying.
This is definitely a film that I would watch again but it hasn't gone up there as one of my favourites I'm afraid.

Blu-Ray Bonus Features
The 4K UHD, Blu-ray™ 3D and Blu-ray™ will include all-new bonus scenes never before seen in cinemas as well as featurettes and interviews with the cast, filmmakers and creators.
The Blu-ray™ discs of "JUSTICE LEAGUE" will feature a Dolby Atmos® soundtrack remixed specifically for the home theatre environment to place and move audio anywhere in the room, including overhead. To experience Dolby Atmos at home, a Dolby Atmos enabled AV receiver and additional speakers are required, or a Dolby Atmos enabled sound bar; however, Dolby Atmos soundtracks are also fully backwards compatible with traditional audio configurations and legacy home entertainment equipment.
JUSTICE LEAGUE is available on 4K UHD, Blu-ray™ 3D, Blu-ray™ and DVD on March 26 and on Digital Download on March 12. A Steelbook is also available exclusively with HMV. 
Join the conversation
Facebook | Twitter | #JusticeLeague