Happy Feet Two on DVD now!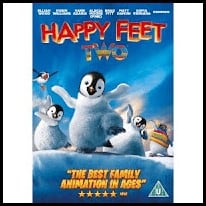 I LOVED Happy Feet so I was really looking forward to seeing Happy Feet Two. When Little Bean was a baby she would bounce like crazy in her baby bouncer when I watched Happy Feet, she loved the music and I loved Mumble.
Happy Feet Two is the sequel to the much-loved family movie and once again is packed full of great music and banging beats. It's a bit like Glee for Penguins mixed with Stomp from the West-End stage. Mumble is now grown up with a family of his own but he's having issues with his son Erik who doesn't want to dance and runs away. Mumble follows Erik and they encounter a flying penguin by the name of Sven. Meanwhile their home is under threat and together Mumble and Erik do all they can to save the day.
Before seeing the film I had seen a few negative reviews but I still really enjoyed it, there was only one song which Erik sings which I didn't particularly like. Little Bean and Beanie Boy loved dancing along with the penguins but sadly lost interest about 10 minutes before the end so Hubby and I finished watching it alone. Sometimes these children have no staying power!
We were sent a special Happy Feet bundle from Warner Bros for the purpose of this post which included Happy Feet 1 and 2 along with March of the Penguins which I LOVE! Penguins are just the cutest animals, even more so since Beanie Boy saw them at Chessington Zoo last week and declared them Penmins – how cute!
DISCLAIMER: We were sent the Happy Feet bundle for the purpose of this post. All words and opinions are my own and may not be copied without my permission.