Half Term – A problem shared . . .
How does the saying go? A problem shared is a problem halved? Well nothing could be more true than if you're talking of the half term break. All of a sudden you are home alone with your children for a whole week, they are used to structure and planned activities at school and suddenly WHAM they are stuck at home with just you for entertainment! And then you feel the walls coming in on you . . .
But STOP don't panic, there is light at the end of the tunnel. This half term break my sister and her children came to stay from midweek, what is the point of both of us sitting at home pulling our hair out when we can do it together AND the children get playmates to keep them entertained (or argue with – so it's just like school!).
On the days prior to their arrival we spent the mornings at home whilst Beanie Boy was having his morning nap. Little Bean, Curly and I would curl up on the sofa and watch a DVD which had been kindly sent to us from Warner Bros. Then we made a start on Curly's latest school assignment "Mountains". I didn't want it to be hard going for him, so we chose to do some of the craft pieces for his assignment to make it more fun. Little Bean didn't want to be left out so I set her a 'project' similar to 'Bro's' so that she felt she had a purpose too and I was very shocked at the end of it all when they both gave me a hug and a kiss saying they'd had a great time. Once Beanie Boy was awake we would head out for the afternoons to the local park so they could get some fresh air into their lungs and spread their wings for a while.
On our first day with my sister we visited a local shopping village which has something for everyone, I can hear you all screaming 'shopping with children?' but not so! This shopping village has an expanse of differently themed gardens which the children can run wild in, we go there through all the seasons to see the different species of flowers which grow, to see how different the colours of the trees are throughout the year and to feed the ducks and the fish. We get to play hide 'n' seek, chase and just have a giggle. But once the chill began to set in from being outside we made our way to the warmth of the garden centre coffee shop to have warm drinks and cakes and a look around the toy section before heading to the soft play centre so that the children can let off steam some more. Bearing in mind that the gardens are free to enter the only cost of the day out was the soft play centre and any refreshments we chose to buy so that was a really good cheap day.
The cupboard under our stairs is the children's treasure trove for crafts, everything that I come across and think, "they could make something with that" goes under there and is saved for quieter days at home where we pull it all out and have a craft fest, the children love to be creative, especially when they have other children to spur them on with their ideas. Crafts don't have to be expensive, just use up old boxes, cardboard rolls, sweet wrappers and old bottles can be so much fun when you pair them up with a bit of glue, glitter and some coloured tissue paper.
One morning I presented the children with the playdoh box whilst Beanie Boy was sleeping and they entertained themselves making shapes, pretend food and monsters for nearly 2 hours without any fuss at all. It was BLISS! In the afternoon we played dancing games on the Wii and danced our socks off.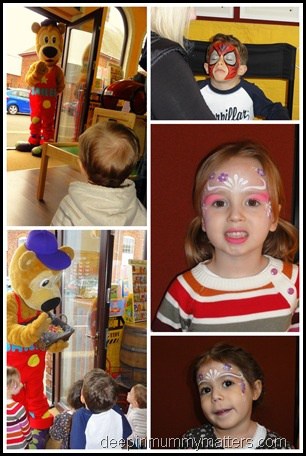 My friend was holding the grand opening of his Traditional Toy Shop so on the Friday we took the children over there where they had their faces painted, made friends with a 'real life bear' and each got to take home an inexpensive special new toy. My sister and I even treated ourselves to a Cat's Cradle each and spent the evening trying to remember how to do it all!
On our final day together we went for a walk in the woods so the children could explore. They collected sticks, stones, leaves and all manner of rubbish treasure but to them it was amazing. As far as they were concerned they had climbed mountains and crossed rivers because their imagination is so fresh and full of adventure, do you remember how great it was to be a child?!
So my advice for a happy Half Term is don't feel pressure to spend lots of money, there are lots of fantastic free things to do, children don't care how much money you spend on them its the experience that matters and if possible, share the experience with someone else (for your own sanity!).