048/366 – When I Was A Kid Grand Opening!
Today I proudly took my sister and our children over to Nene Court in Wellingborough for the Grand Opening of When I Was A Kid Traditional and Wooden Toy shop. I first came across When I Was A Kid nearly four years ago and am very happy to be able to call the proprietor (or Daddy as he prefers to be known) of When I Was A Kid, Paul Warner and his lovely wife Linda my friends. As you can see from the sign above the door, Paul is licensed to sell fun, laughter, happiness and dreams, and if anyone is qualified to do that then Paul is. He's actually just a big kid at heart and he believes in good customer service. Paul wanted to be sure that he got the shop just right so he enlisted the help of myself and Rebecca to make sure that the shop met Mum's expectations.
The shop looks AMAZING thanks to the handy brushwork of Linda who knows better than to let Paul loose with a paintbrush. The shop is magical from the moment you walk in the door with the tinkling bell, the train set above your head, mobiles, hot air balloons and the biggest duck you've ever seen. There is a play area which will be themed (beginning with music) where Paul actively encourages the children to play with the toys and get a feel for what they like.
There are toys for every pocket without a piece of plastic or a battery in sight but it's not all about the children, if you are looking for a special gift how about Scrabble Art, choose your own words/phrases and have them artistically arranged and framed.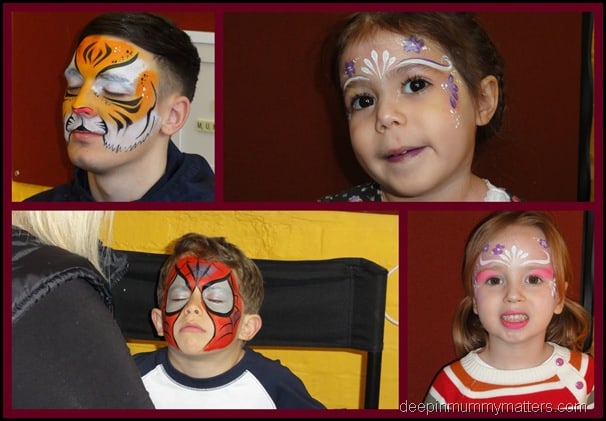 It was great to see a constant stream of people visiting the shop today, the children (and some adults) were treated to free face painting, cakes, drinks, sweets and the odd cuddle from a real-life teddy bear! As we were walking around some of the other shops at Nene Court (well it would have been rude not to) it was great to overhear a woman making a call on her mobile to say "you should get down here to Nene Court, there's a new traditional toy shop opened up and it's gorgeous" what more could Paul wish for!
If you can't make it as far as Wellingborough, never fear, Paul still sells all his fabulous gifts and toys online with the same first class customer service.