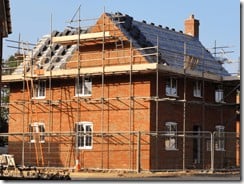 Getting excited now . . .
Last night on our way home from a weekend away we decided to stop by our new house to see how things were coming along. We have both been getting a little anxious that it wasn't going to be as great we had originally hoped.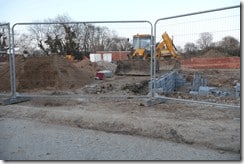 This is the first house either of us have bought "off plan" so it was a little nerve-wracking. Thankfully the house we wanted was exactly the same as the show house, although the design had been "flipped" so the house was the opposite way around. But apart from that it was essentially the same. The bit that was worrying us was the garden. Initially, the garden was supposed to be almost two gardens as there was the main area and then a secondary area behind the garage where we had envisaged putting the children's play equipment. However, as the houses started to go up and we got site of the plans we noticed that our "second" garden had shrunk to an area about 1 metre wide by 6 metres long. Not exactly the size for housing children's play equipment!! Apparently somewhere in the extremely small print it said that they could change the plans at any time providing it didn't detract from our use or enjoyment. Clearly, this was something that we disagreed on because we felt it DID detract from our use and enjoyment but our solicitor couldn't find a way out so we decided to go ahead regardless.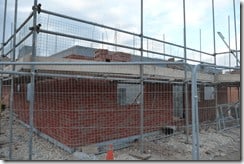 The house has gone up very quickly and its been fun watching it progress week by week. A couple of weeks ago we were told that it was going to be delayed by about a month due to problems with getting the services to the houses on the other side of ours. Initially we were pretty peeved but as it turns out, hopefully it will be for the best as it will give us enough time to get ourselves sorted in our rental property before moving into our new home. Just as long as we're in before our baby decides to show his face then we will be happy.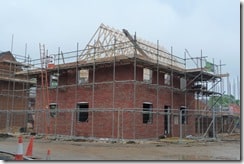 Last night we (like naughty children) sneaked behind the fences to have a peek through our windows and stand on our patio. The kitchen cupboards are all in and look gorgeous. All the walls are plastered ready for a coat of paint. The patio is laid and the top soil has been spread in the garden. They have now laid the foundations for the double garage and I'm very pleased to say that the space behind the garage, (although still not big enough for children's play equipment) is big enough to perhaps build a children's play house/den. We'll have to see how adventurous we're feeling?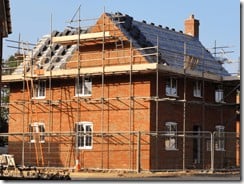 Finally, we are starting to see the finish line and can get excited about decorating and buying all the finishing touches. We're being very sensible about what we need as this isn't our first house. We're re-using or updating as much of our old furniture as possible but we're most excited about decorating the children's bedrooms. We really want to see their faces light up when they see their rooms for the first time so we're scouring magazines and websites getting our ideas together.
Which rooms take priority for you in a new house and why? How do you decide on a theme for your rooms?