Base Jumping – Brave, selfish or stupid?
As I sit in the comfort of my lounge with my feet up on a bean bag, I'm watching the programme Men Who Jump Off Buildings; I feel physically sick.
These are adrenaline junkies who parachute jump from fixed objects such as buildings, statues or really high mountains and cliffs.
What is Base Jumping?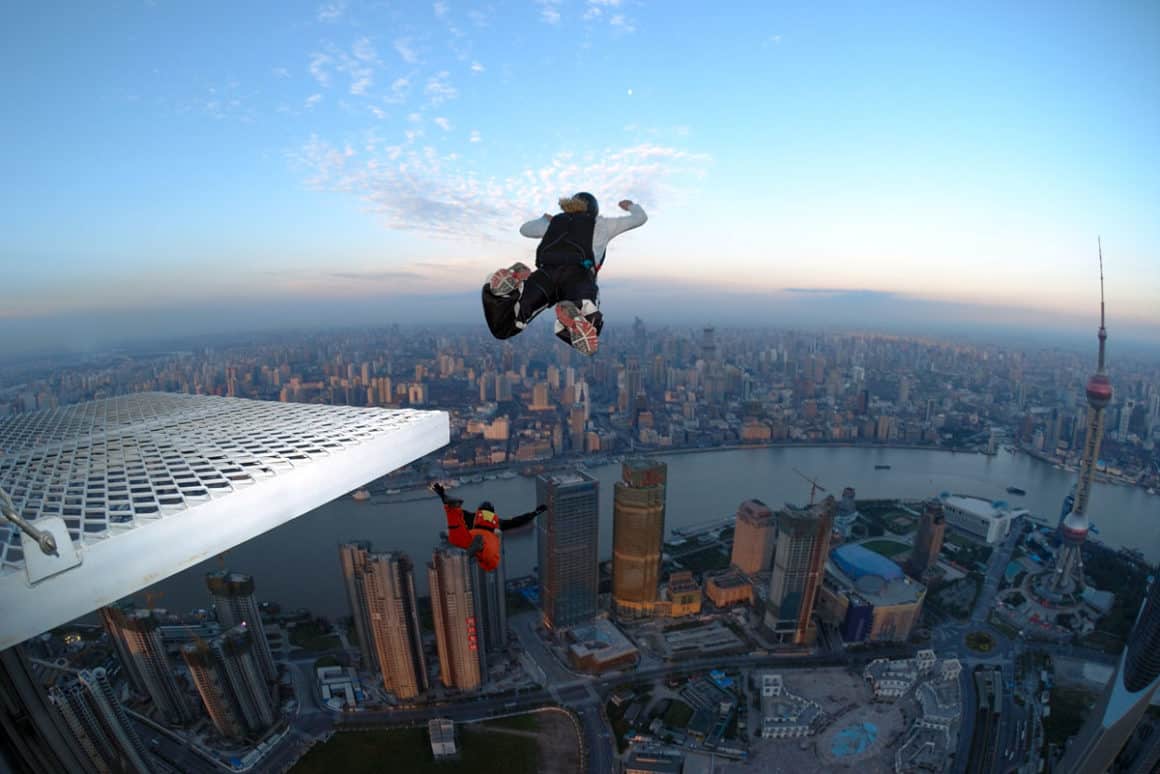 Base jumping in the UK is a secretive sport, often done in the middle of the night to avoid being caught by security and police.  It is not illegal but very often the jumpers can be charged with trespassing.  BASE is an acronym which contains the major groups of objects used in jumping:-
B – Building

A – Antenna

S – Span

E – Earth
The jumper begins by packing their parachute into a closed container, then jumps from their desired object and opens their parachute to stop the fall before gliding to a chosen landing spot.
The lowest "safe" jumps are heights of 100ft, but this depends on the size and weight of the person jumping, because of how quickly they will fall.
Forming my opinion
When I started watching the programme, I thought the men involved (though there were probably women doing it) were basically stupid or slightly unhinged.  Seriously, who in their right minds wants to jump from a building unless its burning or falling in the name of fun?
Then as I got into the programme and saw the preparation and planning which went into each jump, I could see their passion for it, how seriously they take it and saw how brave they must be.
At times they were jumping from sites illegally, after one jump the Police arrived and the jumper said: "I'm going to kill the Pilot, this isn't the landing ground is it?" This of course highlighted just how bad security is in some places because the jumpers were merely dressing up as security men then walking into buildings (the new Wembley Stadium for instance) before commencing a jump.
It could have been worse
On one jump, the guys' parachutes opened facing the wrong way and threw him into a wall before he crashed on a roof and broke his ankle badly. After breaking my ankle a few times, this made me feel really queasy.
When they went to Austria and Switzerland where they were jumping from heights over 2000 feet.  On their final day, they decided to do an unscheduled jump and it went wrong again.  The jumper who had previously broken his ankle had another more serious accident.  His parachute cords twisted as it was released meaning that he couldn't control his parachute.  He landed very badly and was lucky to be alive with two broken ribs, a punctured lung and a badly broken elbow.  A year later he was still not back to full recovery.
Considerations
Both of the men who the programme featured on were married, though neither had children yet.  Do they think about their partners when they do these jumps? Perhaps their partners are adrenaline junkies too?   I understand that this was probably who they were before they got together with their partners, but what about their families?  Their parents and siblings? We don't live our lives to please our families, but the interviewer did speak to one mother who said she hated what her son did and was waiting for the fateful call.
When they spoke to one of the women, she was genuinely shocked to hear her husband announce that the thought running through his mind before he jumped was "I could die", then he laughed (but she didn't). They will be insured, yes but money doesn't replace someone you love.
Thankfully, my husband isn't an adrenaline junkie and would never do anything like this, though accidents can happen any time, any place some people love dicing with death.  So I go back to my original question, are they brave, stupid or selfish? Personally, I think they are a little bit of each; they have bigger balls than me, that's for sure!!